A Hundred Rogue R1 FX-B Fixtures Give Red Bull's Elektropedia Room A Club Atmosphere
Posted on September 15, 2016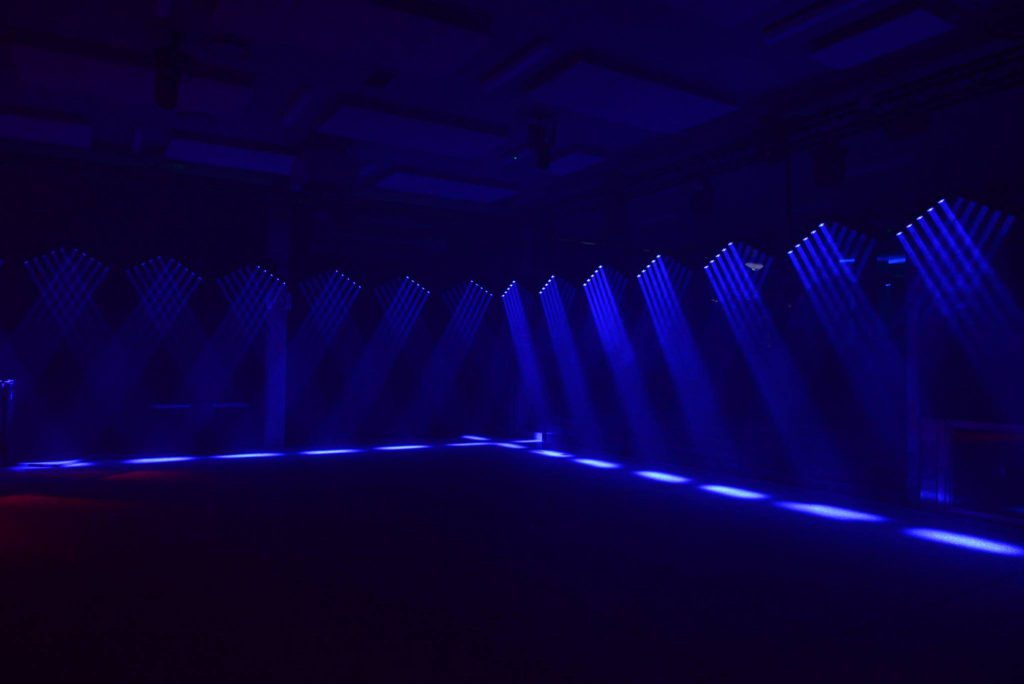 FLANDERS, BELGIUM – The Red Bull Elektropedia Room at Belgium's 10-day Lokerse Feesten festival delivered a high-energy club-like feel with a stunning fast-moving lightshow designed by Ignace D'haese, Jonas Weyn and Tijs Coene of Arf & Yes that included 100 CHAUVET Professional Rogue R1 FX-B fixtures, supplied by Phlippo.
With 500 individually controlled moving heads, the collection of 100 Rogue R1 FX-B fixtures gave the stage a mesmerizing multi-dimensional look. Positioned around all four sides of the large industrial-style indoor space, the fixtures formed an unbroken chain of light. Constantly changing and moving during the week-and-a-half long festival, this light chain created an immersive environment throughout the dance floor.
"This year, we wanted to create something really unique for the Red Bull Elektropedia Room, something which would really give the festivalgoers a lot of variety in terms of atmosphere," said Weyn. "After trying out the FX-Bs in the run up to the festival, I realized that we could create spectacular, versatile and beautiful looks by utilizing the various features of the fixture and its classic five beam aesthetic throughout the whole 10 days of the festival. Thanks to the FX-Bs, we were able to successfully recreate a club atmosphere."
Thanks to their 360° rotating feature, the Rogue R1 FX-Bs contributed to the wide variety of looks that unfolded over the course of the festival. "The number of looks from the FX-Bs are virtually endless," said Weyn. "This was crucially important because the stage was open until 5 am throughout all 10 days of the festival. Using the fixtures in the horizontal position, we were able to create an uninterrupted line of lighting to encircle the entire room. Then to create a completely different atmosphere, we suddenly changed the fixture to the vertical position, which triggers an absolutely crazy reaction from people!"
To reflect the energetic electronic music played at the stage, Weyn utilized the individually controllable 15W beams of the fixtures to create a visual symphony of light, flowing in unison with the pounding high BPM rhythm of the music. He was able to shape the looks of the room by quickly changing the looks of the lightshow to reflect the various DJs and performers.
The beams produced by the Rogue R1 FX-B came in for special praise from Weyn. "The narrow beams are incredibly punchy considering their relatively compact draw and footprint," he said. "Each of the 500 individual beams cut through the space to provide some completely unique looks at the stage."
Weyn drew on the color rendering capabilities of the Rogue R1 FX-B to create an atmosphere reflective of the key colors of the sponsor, Red Bull. "While I was free to design the space how I wanted, I nevertheless wanted to build Red Bull associations at various parts during each evening with some intense atmospheric reds and blues," he said. "Not only are the reds and blues vibrant and saturated, all colors were consistent throughout all of the fixtures — essential due to the fact that the entire room was filled with FX-Bs shoulder to shoulder."
With the 10-day festival over for another year, Weyn and his colleagues at Arf & Yes have ensured that the Red Bull Elektropedia Room rings on in memory for a long while to come. "Every day of the festival there were a lot of people asking me, 'What are those lights?' The reaction from the public was overwhelming," he said. "The design was completely unique, and was certainly made possible by Rogue R1 FX-B. The possibilities of this fixture are incredible!"