A Lesson In LEDs
Posted on August 3, 2015
Back in April the lighting trade magazines ran an article entitled "Nelson Enterprises Helps Schools Step Into The LED Future." The story focused on how this Bloomsbury, NJ company worked with a local high school to transform its theater by replacing its aging incandescent system with a new largely LED rig just in time for its theater department's production of Shrek The Musical.
Naturally, we were happy that CHAUVET Professional products played a key role in this transformation, but beyond that we were impressed with the thoughtful, dedicated and informed approach that company owner Bill Nelson took toward educating schools about the benefits of LED stage lighting. Although Nelson's approach doesn't always work — when we talked to him for this article, he spoke frankly about schools that refused to make the move to LED stage lighting for reasons of cost, convenience or just plain inertia – but he is unfailingly optimistic that time is clearly on the side of LED stage lighting in schools at all levels, from elementary to college.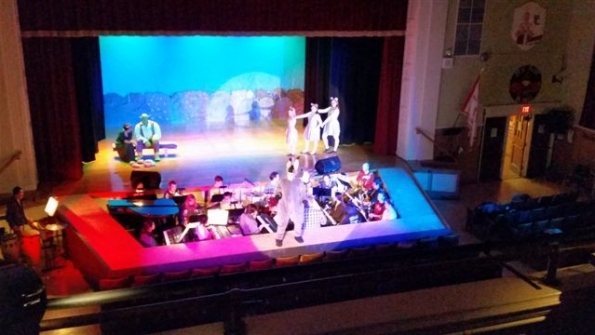 In recent years, Nelson has successfully placed LED systems in school theaters at all of these levels, in large measure as a result of his ability to explain LED stage lighting from the school's perspective. Nelson also has a knack for letting schools implement LED stage lighting at their own pace. Does a school already have an investment made in costly incandescent ellipsoidals? No worries, Nelson can show them how LED battens and washes can work with these fixtures to give their stage beautiful color.
We caught up to Nelson to talk about placing LED stage lighting in schools. In addition to sharing his insights on the topic, we've include an article at the end of this interview about one of his recent stage lighting installations at Frenchtown Elementary school. We believe that article – along with Nelson's entire approach to his work — demonstrates that it's never too early to get schools interested in LEDs.
You've replaced quite a few incandescent systems at school theaters with LED systems. How do you convince schools that this switch makes sense?
"Usually one of the most deciding factors is when we explain the differences in dimming between LD and incandescent or quartz fixtures. The fact that the LED lights have a dimmer built in really helps minimize the concern about any cost differential between them and conventional fixtures. We encourage schools to do a cost analysis on this subject. When they do, they'll typically find that the LED lights and cable can usually cost less than having to run conduit, wire/cable, and a separate dimmer. Selling schools is an educational process."
Do the energy saving advantages of LEDs play a big role in this educational process?
"Oh yes, absolutely. Almost all schools are astounded to learn that they can plug multiple LED units into one 20amp power source. This of course represents a huge leap in efficiency over traditional lighting fixtures. I can't overstate how astounded people are by this efficiency gap. Then there's the ease of the installation, cost effectiveness of the fixtures (now that the prices have come down a bit) and the ease of use. All of these factors, plus the green energy factor, are making LEDs a much easier sell to schools at all levels."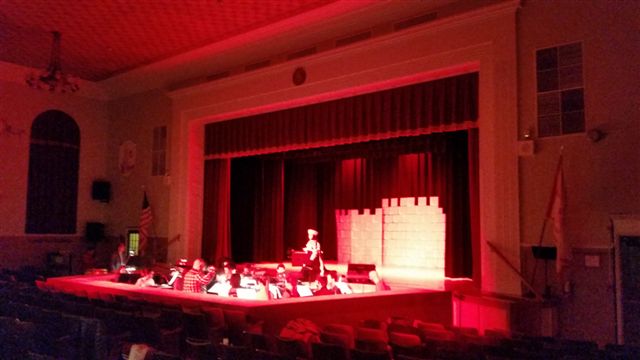 All the benefits you just outlined notwithstanding, what are the big obstacles that need to be overcome to convince schools to make the move to LED stage lighting?
"It is usually difficult to convince a school to switch over entirely to LED –particularly when it may have updated its inventory of lighting fixtures to newer quartz style fixtures. In some cases this upgrade to quartz may have been made relatively recently after the school used its previous stage lighting system for more than 30 years. So now we're asking the school to upgrade again, but after a much shorter time frame than 30 years, so there's some understandable resistance.
"On the other hand, there are schools that are looking just at upfront costs, so they're reluctant to go with LED fixtures. There was one job that we lost last year as well as one just recently where the school just went with lowest bidder and elected to stick with some form of traditional dimming, because they thought they were saving money. Honestly I am sure they will end up regretting that decision."
On the subject of budget, how do you address these concerns with schools?
"We always try to work within a potential customer's budget — even mixing different manufacturers' products in some cases. With today's technology many manufacturers' products lend themselves to working with each other rather than being proprietary. This has been a major step in product development."
Are there special adjustments you can make to save a school money on LED theatrical lights, such as using another kind of fixture instead of an ellipsoidal to focus light on stage?
"Yes absolutely. We just did that very thing with our recent installation at Frenchtown Elementary School in Frenchtown, NJ. We installed a large number of COLORdash Par-Quad 7 fixtures with barn doors in a front of house position and used them in an ellipsoidal-like fashion. Everyone has been very pleased with the results."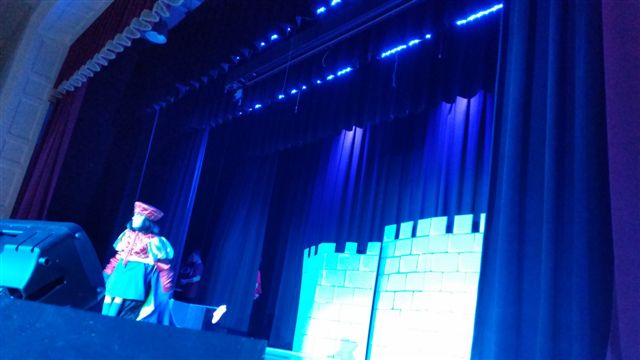 As you just mentioned, you sell theatrical lighting to elementary schools; what is the big difference between them and high schools as far as lighting is concerned?
"The difference is primarily in the size of the facilities. In the secondary schools, you have a larger stage area that requires more lighting and additional equipment. We also find that more often than not, most elementary schools do not desire to have as much of a technically advanced system as a high school. Most schools do not provide people who are dedicated to the theater. So often an elementary school will want a simple 'set it and forget it' system. — although there are a few we have encountered that really do get into theater and desire to have a challenge. It really does depend upon the specific facility and application. We have done both."
From a sales standpoint, do you approach elementary schools differently than you would a high school?
"Yes, for many of the reasons I outlined when answering the previous question. Again, at our organization we really try to work with the customer's needs and budget. We try to get in with customers and work with them on an ongoing basis, rather being a onetime only vendor. After all we are a fully functioning 'one stop shop' theatrical supply company, and theatrical systems integration company that offers every aspect of the technically oriented theatrical solution."
What's the thing about LED lighting that surprises schools the most?
"How energy efficient and bright it is. Really the thing that blows people away is literally how many LED fixtures we can plug into one simple outlet."
Do you see more schools taking the plunge into LED?
"Absolutely!"
For more information on Nelson Enterprises visit:
www.nelson-enterprises.com
---
Nelson Enterprises Opens New Possibilities For School Stage With CHAUVET Professional
Working on the theater at Frenchtown Elementary School, where he installed a collection of COLORdash Par-Quad 7 fixtures from CHAUVET Professional, represented something of a homecoming for theatrical systems integration specialist Bill Nelson of Nelson Enterprises. It was in historic Frenchtown, which ironically more closely resembles a bucolic British village than a town in France, that Nelson opened his first office/warehouse after moving his fledgling company out of the basement of his parents' house 30 years ago.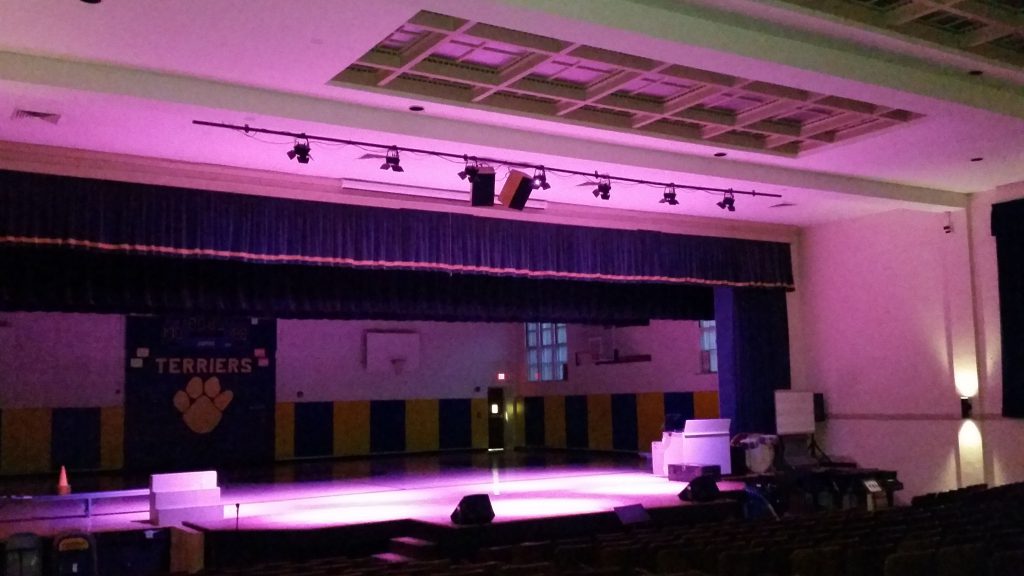 "There's definitely an emotional connection to this town, and this school," said Nelson. "So yes, it was certainly very gratifying on a personal level when we got the school to upgrade its stage lighting, not only for the students, but also for the community theater group that uses the school."
The path to this upgrade began not with the COLORdash Par-Quad 7 fixtures that were eventually installed, but with another CHAUVET Professional product, the COLORado Batten 72 Tour. "A year or so ago, when we were correcting some issues with the school's sound system, we demo-ed a COLORado batten fixture for the acting principal and eventually received a purchase order for a pipe batten, the lighting fixtures, cable, and a Chauvet Obey 70 control console along with installation," said Nelson. "However during this process the school appointed a new principal. We took this as an opportunity to introduce that individual to a newer product that had just been introduced –the COLORdash Par-Quad 7 with the optional barn door accessory."
Nelson made this recommendation because he believe the par-style units with barn doors would be better suited to the school's application. "Since the lighting fixtures were going to be front of house, we thought it best to swap out the batten units for the COLORdash Par-Quad 7 fixtures," he said. "The COLORdash units provide more coverage and with the optional barn door accessory they can be more controllable or focusable. The school currently doesn't have a budget for ellipsoidal units, so we felt that a color mixing fixture with a barn door would be the best solution."
The Par-Quad 7 units were installed in a front of house position on Schedule 40 1-1/2id pipe. The new par style LED fixtures replaced track lights that had been mounted in the FOH position.
"The school had a series of incandescent track lights mounted to an electrical track on the ceiling previously, much like a museum would use to highlight paintings or exhibits," said Nelson. "Obviously, this really did not serve to illuminate the stage very well, so we were glad to replace them.
"There are also some incandescent multi-lamp strip lights run from rheostat style dimmers that are still on stage from the previous rig," continued Nelson. "We hope to be able to replace those one day too."
Meanwhile, the addition of the COLORdash Par-Quad 7 LEDs has greatly enhanced downstage coverage, says Nelson. Featuring seven quad-colored (RGBA) LEDs, the new fixtures allow the school to cover the stage in deeply saturated colors as well as whites, giving it a range of colorizing options that were not available before. Adding barn doors to the units has given the school greater flexibility to focus light on stage more tightly.
"The addition of the new fixtures with the barn doors opens so many more possibilities for the school to use its theater in ways that benefit students and the community," said Nelson. "I like to think we helped bring the stage into the 21st century and turn it into a more valuable learning tool, while still saving the school money. As someone with a connection to Frenchtown, that makes me feel especially good."