Adding Punch To CRUSH Dallas
Posted on March 30, 2017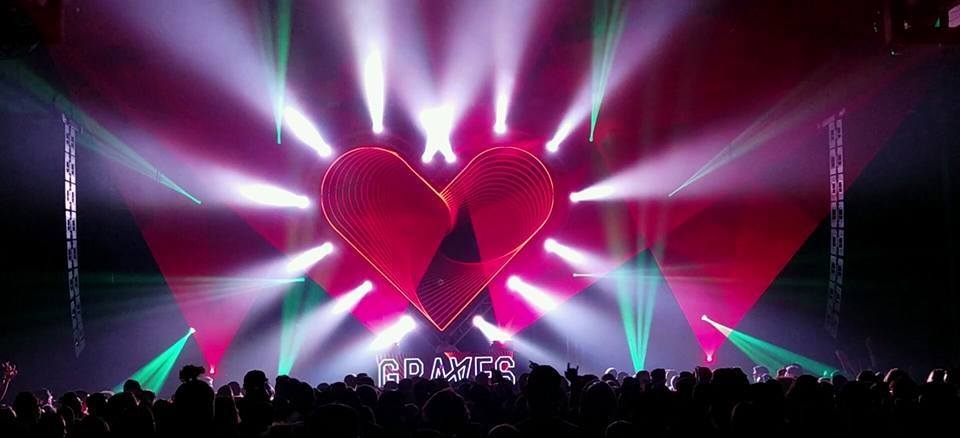 The Creative Production & Design team builds versatile looks for a multi-artist show. This was especially evident recently when the Austin, Texas based company created a lighting and video show for CRUSH Dallas 2017, part of a four city production from Insomniac. Their immersive, high octane rig engaged the packed house at the South Side Ballroom, while also supporting the diverse musical styles of artists on stage, thanks in part to a massive collection of our PVP X6IP LED video panels.
"My business partner Justin Jenkins and I always try to make our show designs flexible and well rounded," said Dan Wyatt, of Creative Production & Design (CPD), who served as the production manager and designer on the project. "This event was no different. Not only did we have DJs like Yellow Claw that just need a table full of CDJs and a front video wall, we also had artists like Keys N Krates that performed with keyboards, drum kits, and more on a separate riser setup. We put everything on rolling risers and casters so it could be moved around to accommodate what each artist needed to make the best fan experience."
At the center of the rig and providing a consistent, but always changing visual element, was a massive PVP X6IP video wall set behind a 21′ tall by 24′ wide heart-shaped truss structure. "Our video designer Kendall Clark used a heart shaped mask in Resolume to clean up the edges and keep all the video content within the heart structure," said Wyatt. "This heart shape was not just used in Dallas but at other Insomniac CRUSH shows this year. It's an important aspect of their show branding for CRUSH, letting the fans have a similar visual experience at shows in different cities."
Clark used a simple heart shape outline and applied different types of feedback loops to create some evolving animations on the PVP X6IP tiles. "Whenever we work with a stage design that has multiple screens or interestingly shaped screens, the first thing we do is create a video raster," he said. "I took the pixel information for the various video products being used and made a 1:1 screen area map within my 1920×1080 video canvas."
After he made his stair-stepped heart, Clark was able to trace along the video raster to create the smooth edged image. He masked the additional triangles of the stair steps, so they were not visible to the audience.
"Once I had the heart mask dialed in, then all of my regular VJ content worked perfectly on this setup," he said. "The heart shape gave the stage the CRUSH look. However, by displaying different video content with the heart, we were able to give each artist a unique background."
In addition to the large heart shaped background, CPD's stage design included a video wall on the DJ booth, which was made with 16 PVP X3 panels. "We kept the DJ booth pretty simple since we had to put it on casters so we could move it out of the way for some of the artists," said Wyatt.
"Normally, on a multi-screen stage design, I like to take the entire look of all of the screens and create a perspective-corrected look in which my entire 1920×1080 video canvas is applied over the entire stage," added Clark. "However in this case, since the heart and the DJ booth were two very distinctly different elements, I decided to display the center of my video canvas on both screens."
The video images were closely coordinated and matched with the light show, which included 12 Legend moving fixtures. This connectivity, which enhanced the overall effect of the stage design, was the result of seamless team work on the part of the CPD crew.
"Our lead lighting operator Andrew Roman and I have worked so many shows together over the past two years that we can just read each other without too much effort," said Clark. "We generally try to color match each other — or sometimes I will call out a color to go to. We always make sure to leave space for each other to shine independently during a show."
"The coordination and support from Dan Wyatt and Justin Jenkins is also pretty incredible," continued Clark. "Once you start working this level of shows — where there may be an LD, VJ, and laser operator — you really have to work together, just like a band, to create an evolving show. No one wants to listen to a 35 minute guitar solo. The same goes for the FOH team. You have to come together to create a constant flow of interesting looks."