AMP'D Entertainment Creates Show Feel At Beyond Pink Fundraiser With CHAUVET Professional
Posted on November 4, 2016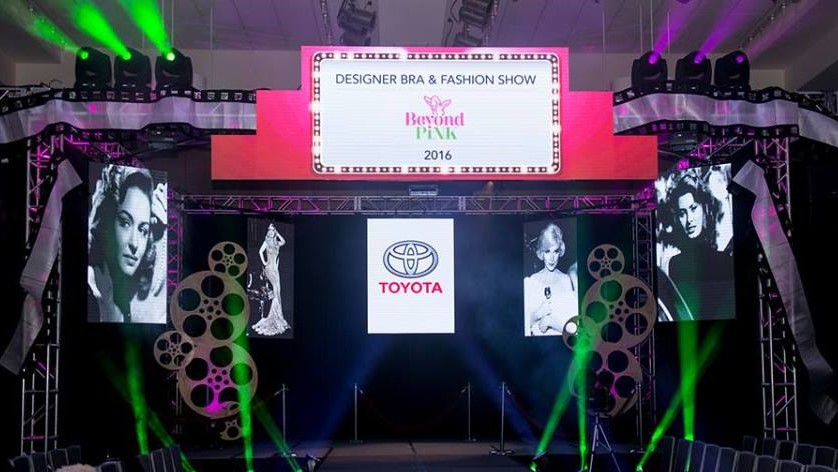 SPOKANE, WA – Even a charity dedicated to the most serious of causes can inject some humor into its events. Anyone who doubts this should have visited "Beyond Pink Designer Bra Fashion Show" at the Spokane Convention Center ballroom in mid-October.  This fundraiser was held by Beyond Pink, a nonprofit dedicated to early breast cancer detection . As part of its Old Hollywood theme, the event featured 12 different humorous fashion show vignettes, such as "Bra Wars," which showcased Star Wars-inspired characters dressed in custom-designed bra costumes.
A collaborative design by the women of Beyond Pink, the fundraiser provided those in attendance with a fun-filled evening. Creating a show-time feeling around the proceedings, which raised roughly $160,000 (in part by auctioning off the bras seen on the runway), was a lighting and video rig designed by Justin Haas of AMP'D Entertainment that featured a collection of fixtures and panels from CHAUVET Professional.
"We used Rogues and Ovation ellipsoidals to engage the audience and highlight some of the cool scenic elements in the room," said Haas. "The video panels were used to create three walls, one of which was designed to look like a theater marquee."
Haas positioned six Rogue R2 Spot fixtures equally on a pair of downstage truss towers, which were located on either side of the video wall marquee. He used the high output from the 240W LED fixtures as spots during the bra auctions. At other points during the evening, he used the fixture's two color wheels (with split colors and 7 color capabilities) to energize the room with vividly hued aerial effects.  To give the runway added depth, he also created gobo projections with the fixture's two gobo wheels.
"The versatility of the Rogues allowed us to create a lot of different looks without using a lot of fixtures or taking up a lot of space," he said. "Of course, since they're LED fixtures, we generated very little heat, which I'm sure the models appreciated."
For stage lighting, Haas relied on 12 Ovation E-190WW ellipsoidals, positioning them in the ballroom's grid. "We used the Ovations as a front light and center stage wash," he said. "They gave us a nice even field of light on the models and auctioneers as they were walking out."
The Ovation E-190WW also worked very well projecting gobos for Haas. "We used them for gobos with the sponsors' names, as well as for a few stock 'Broadway' gobos, which added to the atmosphere in the room," he explained.
Also contributing to the "It's Showtime!" excitement in the ballroom was the video wall located in the center downstage area. Created with PVP S5 LED panels the 10-panel by 8-panel by 6-panel wall was designed to resemble a theater marquee. It was flanked by four stage right and stage left screens, measuring 2 panels by 4 panels each. There was also an upstage video wall measuring 3 panels by 4 panels.
Run with a Chauvet media server and driver, the panels served double duty, showing the names of sponsors and displaying a variety of breakout patterns and graphics that contributed to the evening's good times. "It was really a fun filled event," said Hass. "We were happy to be a part of it and raise money for Beyond Pink."
Founded in 2010 by friends Charlie Brewer and Karla Porter, Beyond Pink is dedicated to raising awareness of early breast cancer detection through thermography and funding exams using this technology for women and men. By helping to fund this effort, the event was not only funny – it was seriously good too. For more information on Beyond Pink visit http://www.beyondpink.net.