Arcadia Spectacular Calls on CHAUVET Professional at Ultra
Posted on April 3, 2015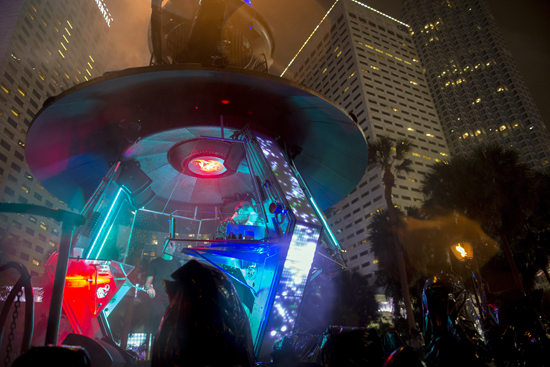 MIAMI – There were many sights that riveted attention at this year's Ultra Music Festival, both on the stage and off. Among the more spectacular in the latter category was a towering "Afterburner" on Arcadia Spectacular's Resistance Stage. Located in a walkway area at the festival, the captivating attraction featured a collection of ÉPIX Tile 2.0 boards and ÉPIX Strip 2.0 strips from CHAUVET Professional. To describe this giant structure made of recycled metal objects as unique is akin to calling a South Florida hurricane "windy."
Resembling a rocket ship from an old school sci-fi film, the towering structure has a DJ booth made from a discarded military satellite dish and a spire that shoots flames 30 feet in the air, as well as a swirling lightshow that shoots beams in every direction in channeled synchronization.  Surrounded by a heavyweight L-Acoustics Sound System and flaming tree sculptures, the Afterburner creates a transformative atmosphere for dancing, escaping and enjoying life and music.
At this year's Ultra Music Festival, Arcadia Spectacular added ÉPIX Tile 2.O and ÉPIX Strip 2.0 pixel mappable tri-colored LED fixtures to the impressive structure. The tiles were added to lend an extra layer of depth as well as a video component to the structure's design, while the strips were used to accent the unique DJ booth.
"We wanted to add a video look to the design without truly getting into video," said Tim Smith, Technical Production Manager at Arcadia Spectacular. "We don't use raw videos; we prefer abstract effects and the ÉPIX is perfect for this function. They also added more texture to the DJ booth than we would get with standard DJ lighting. The ÉPIX units are run on ArtNet so we can control them from a light deck or a media server.  We use an Avolites Sapphire Console and Ai Media server to send ArtNet to the ÉPIX units."
The intensely bright output of the ÉPIX units served the Arcadia Spectacular team well in the bright Florida sunshine. "They are super bright, which is obviously very important in an outdoor setting," said Smith. "They are so bright we even toned them down using a frost filter. In terms of colors, we liked to run the ÉPIX red and white, since it accents our metallic look very well."
Since the ÉPIX units are modular, they provide the Arcadia Spectacular team with the flexibility to build different structures with them. Given the creative track record of this group, that's something that is certain to happen many times in the future.