Atmosphere, Inc. Adds Glamour to Comcast After Party With CHAUVET Professional
Posted on May 21, 2018
WASHINGTON, DC – The Organization of American States headquarters attracted worldwide attention when it opened its doors in 1910. With its marble façade and staircases, monumental halls and stunning tropical patio, the sprawling Mediterranean-style building projected elegance, warmth and timeless beauty. Now more than a century later, the structure still exerts a unique transformative power that makes it an ideal setting for upscale events.
This much was very evident recently at the Comcast White House Correspondents' Dinner After Party, when the evocative structure and its surroundings were illuminated in richly colored and textured light from a Benjamin Tschudin design that featured a massive collection of CHAUVET Professional WELL Fit LED fixtures.
Tschudin of Atmosphere, Inc. positioned 162 of the IP65-rated RGBA fixtures throughout the building's generously proportioned grounds. "The majority of the WELL Fits were used to uplight the building, both on the museum side and main OAS side," he said. "We placed an emphasis on framing the windows with light to create a sense of depth."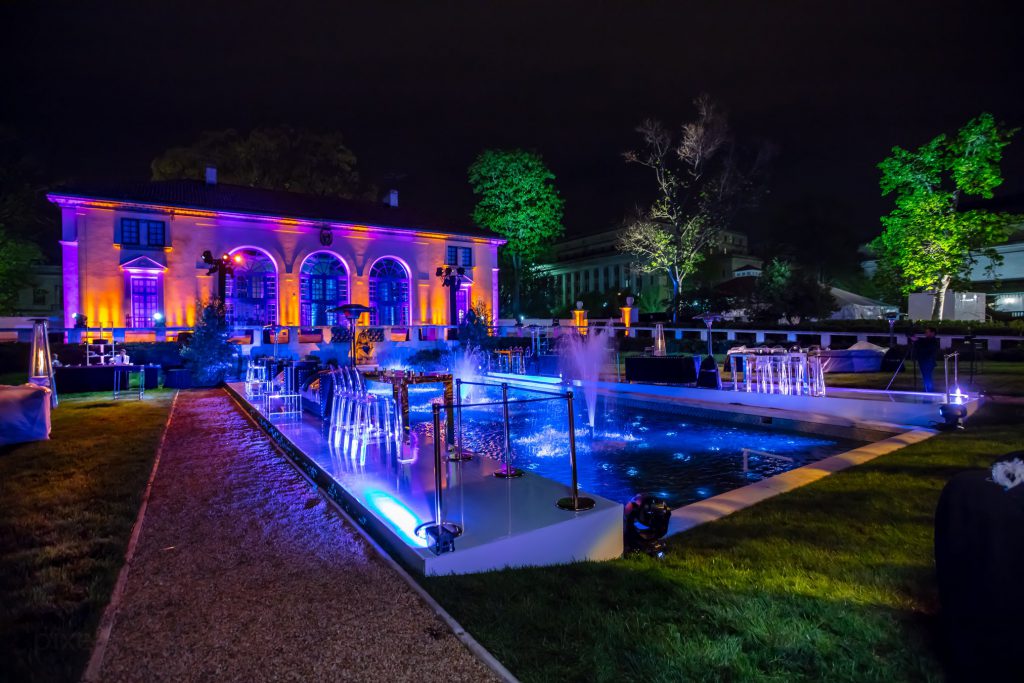 By colorizing the building façade and endowing it with an extra level of dimensionality, the WELL Fit fixture allowed Tschudin to achieve the delicate design balance his client was seeking. "The client was looking for a glam feeling, but at the same time they did not want this to look like a prototypical Hollywood premier," he said. "Washing the building with richly colored light definitely projected the image that this was something special, but at the same time we avoided crossing a certain threshold."
For added color and effect, Tschudin and the Atmosphere, Inc. team lit the pathway leading up to the building with 36 CHAUVET DJ Freedom Par Quad-4 fixtures. Lighting from these units played off well against the building's grounds that glistened from off and on rain showers.
On the subject of inclement weather, Tschudin was very impressed with how the wirelessly controlled WELL Fit and Freedom Par fixtures worked in the rain. "We got a lot of favorable comments on the fixtures, both in terms of how they looked and how they withstood the elements," he said. "The fixtures were more than pretty, they were workhorses too."