Baz Halpin Creates Connections on Florida Georgia Line Tour with CHAUVET Professional STRIKE 4
Posted on June 10, 2016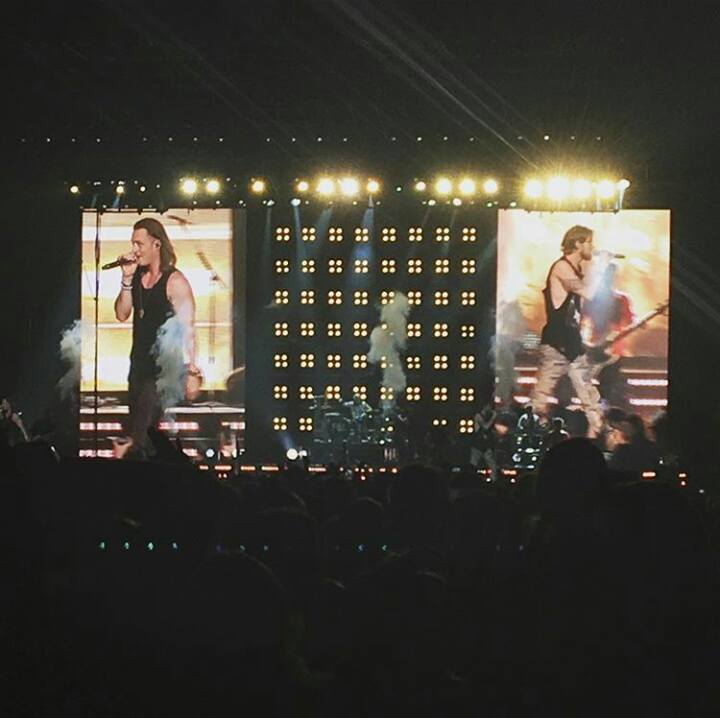 SUNRISE, FL – Belmont University in Nashville is about 468 miles from the border separating Florida from Georgia. But it was at this leafy Christian university where the world-famous Florida Georgia Line began in 2008, when Floridian Brian Kelley met Georgian Tyler Hubbard. It was an encounter that would lead two years later to the formation of one of the most successful country duos of all time. The group's current Dig Your Roots Tour gives fans a chance to learn more about the story behind Florida Georgia Line, while enjoying Kelley and Hubbard's latest hard driving country bro music, all animated by a Baz Halpin designed lightshow.
Halpin and his co-designer Chris Nyfield, both of Los Angeles-based Silent House Productions, are creating a visual mood that manges to be both intimate and impactful on
the 60-city tour with a lightshow that's anchored by 62 STRIKE 4 multi-formated warm white LED fixtures from CHAUVET Professional. The LDs arranged the STRIKE 4s, which were supplied by PRG, on five light ladders. Positioned on a trolly style track upstage, the ladders are moved horizontally during the concert.
"The design gives us power and movement, which captures the feeling of the artists and the tour," said Halpin. "We have some very bright movers on the rig with the STRIKE 4, so there's a lot of intensity. The STRIKE 4s have no problem keeping up. However, we're also using the fixtures to contribute to a feeling of intimacy."
During the more reflective moments of what has been described as a very personal tour, the STRIKE 4 fixtures set a soft tone with their warm white wash for songs like "H.O.L.Y." "This has been a very versatile fixture for us," said Halpin. "We use it as a blinder, a strobe, a wash and an audience light. For some songs on the set list, we're running the fixtures 100% for an overwhelmingly powerful look. At other times, we're running a lower sequence for backwashing the artists."
In all cases, says Halpin, the warm white light of the STRIKE 4 fixtures contributes to the evoactive mood of the show. "We like the warm white tungsten look," he commented. "This not only evokes nice old school images, it also creates a sense of intimacy with the audience, which fits the Dig Your Roots theme of this tour."
Running their rig with a grandMA2, Halpin and Nyfield control each 100-watt LED cell in their STRIKE 4 fixtures individually. Given that there are four cells per fixture and 62 fixtures in the rig, this translates into 248 individually controlled cells, resulting in some captivating chase sequences. These sequences, along with the moving light ladders, create a fluid visual impression on stage, which provides a perfect complement to Florida Georgia Line's animated and edgy brand of country music.
Beyond the edginess, though, the Dig Your Roots Tour is providing fans a chance to connect on a more intimate level with the first and only country artist ever to receive the Digital Diamond Award, for crossing the 10x platinum threshold. In a statement released before the tour, Brian Kelley thanked the fans for the group's success and promised: "Tyler and I are going to make this year very personal with the Dig Your Roots Tour. We want our fans to feel right at home with us as they learn more about our story and we learn about theirs."
This sense of intimacy seems to flow from every element of the Dig Your Roots Tour, from the music, to the artists' rapport with their audience, to a lightshow that succeeds in being both animated and evocative.