Baz Halpin: Evolving Light
Posted on July 15, 2015
If there's one thing that Baz Halpin's fertile imagination can't conjure up, it's the thought of being anything but a designer. Indeed, the only time the renowned LD, who's worked for Pink, Katy Perry, Usher, Taylor Swift and a host of other superstars, seemed at a loss for words during our enjoyable discussion was when we asked him what he would have done if he didn't pursue his current profession. "I'd be unemployed," he quipped.
Anyone familiar with his formidable talents knows that's not true, but the point is well taken. Just as Pavarotti seemed born to sing and Miles Davis to play the trumpet, Baz Halpin appears to have been destined to be a creative force in live entertainment.
Of course, in keeping with the restless creative spirit that has made the former Parnelli Award winner one of the most acclaimed LDs, Halpin has moved into more than lighting, having achieved notoriety as a producer, director, production designer and all-around creative force in helping shows and tours reach their visual apex.
This evolution has occurred quite naturally for Halpin, who started off at 17 as a lighting crew chief and rigger for British rock legends Jethro Tull. Back then, lighting was essentially the only visual statement on stage. As lighting became interwoven with other scenic elements, so did the scope of Halpin's creative efforts, as was readily apparent to anyone who saw his work as creative director of Katy Perry's 2015 Super Bowl Halftime Show. Taking time from his busy schedule on a Sunday evening, Halpin talked to us about his design philosophy. The conversation left us with a renewed appreciation of how lighting and great lighting designers are never in the same place for long. Enjoy and evolve!
You came from a very musical family and played trumpet as a teenager. Do you still play an instrument?
"No, sadly. I am going to buy a piano soon. I can still play, but there is too little time. I am working too much!"
That's good and bad probably. Speaking of work, does your musical background help in that regard. Your productions always seem to connect very intimately to the artist's music. We're wondering if your musical roots play a role in this.
"Absolutely true; the foundation I got from music gives me an insight into how to translate musical compositions into light. It helps me understand the emotional intent of music and break down the elements of a song so I can find a way to light it that reflects the music. In fact a lot of the best programmers I work with have a musical background; it helps them find where dynamics and beats of a song are going, where instrumentation is going and how to accent that with programmed light."
How do you begin to interpret music with light?
"You set the space first of all, what the general space is going to look like, then you look for the musical accents you're going to want to reflect in your lighting design. You look for the vibes and the moods conveyed in a song and what it means to the artist. You have to be comfortable with these things before you design. There are no steadfast rules, just the one that demands that you know the music on a variety of levels before you set out to design for it."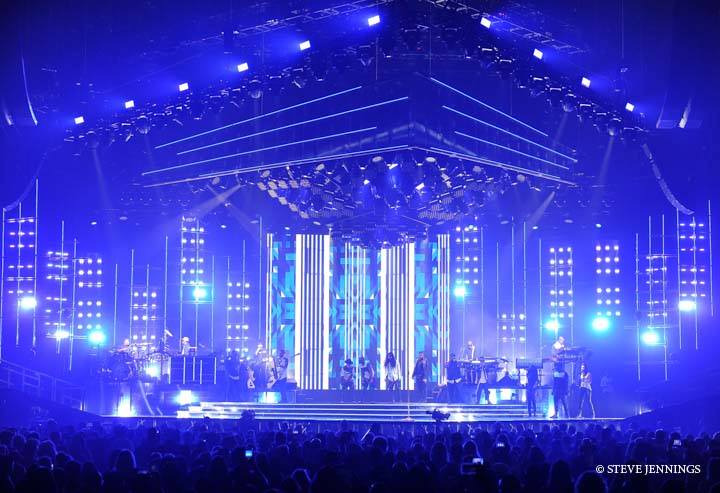 Do you have to like music to program it well?
"No, you have to know the music inside out, but you don't have to love it on a personal level, but it does help if you do."
What kind of music do you like listening to on a personal level?
"All kinds really – people's musical taste get locked in in their mid-20s. I am eclectic musically. I listen to everything from jazz and classical to hip-hop and metal. I like anything that is good and interesting"
Has technology made it easier for you to reflect music in lighting designs?
"You can reflect music more accurately with time coding. In this respect, technology lets you break music down and program things that you wouldn't have been able to program before. In some ways the design process has gotten more elaborate and exact, but it's still a process that is laborious, but at the same time requires a great degree of inspiration."
Are artists today more involved in the lighting and production design than they were in the "early days" when you worked for Jethro Tull?
"It depends on the artist. Some like Usher get very involved in the details of their lightshow; others take more of general view. They have definite ideas of what they want their overall show to look like, but they don't necessarily get involved in all of the different elements that have to come together to achieve that look."
Now you've gone on to become a production designer, which encompasses lighting design, but also covers so much more. If you sat next to someone at an airport and they asked, "What do you do," how would you respond?
"That's tricky. For the majority of the shows, I'm the director and producer of the show. I work with the artist to create the theme and the look of the show. I fill multiple roles. I focus more intently on the lighting than I would if I didn't have a lighting background, though. Back in the days of Jethro Tull, the lighting was the entire visual landscape. Now there are many more scenic and architectural elements involved, so you have to look at lighting as something that's integrated into a design."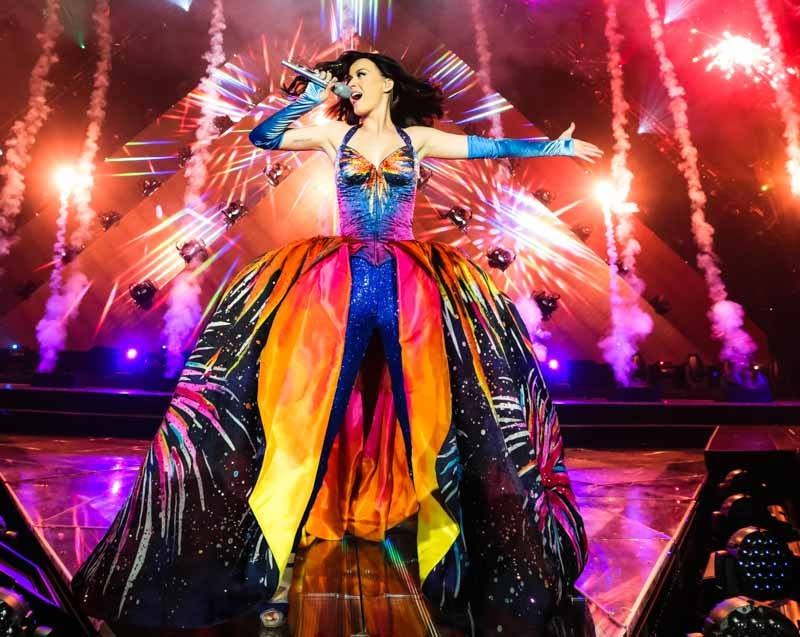 Where do you start the creative process?
"The first thing I do is build a set list with the artists. I create an overall concept of what the show is going to be about. I have to ask things like, does the show have one story line, or multiple story lines? How does it reflect the artist's music, intentions and personality? All of this informs what the set is going to look like. Once the set is designed, we look at how the light is going to contribute to the experience. Then we go on to other things like costumes and choreography."
Where do you draw your creative inspiration from? Is there something you do to free your mind and get the creative juices flowing?
"The artist's songs generally speak for themselves, so listening to the music is a key source of inspiration. Sometimes I'll see something sculptural or architectural, or maybe I'll see a work of art. Inspiration comes from many sources, but it always starts with the music. I usually get a visual picture or sense of shape from the style of the music."
Your countryman, the great novelist James Joyce, once said, "Writing is never finished, it's abandoned," meaning that you take your project as far as you can and then let go. So how do you know when a show design is finished?
"You can tweak the show for eternity, but fortunately we have deadlines just like writers do. Ultimately, you know your show is finished when the audience walks in."
Do you ever tweak a tour's design after the first or second show?
"Usually I do not do anything more than a tiny tweak after the show is started. Sometimes like with Katy Perry we will re-tool a design if the show tours the states then goes overseas and comes back again. In those cases, we will want to add some new element to a show to keep it fresh when it returns to the US or another market."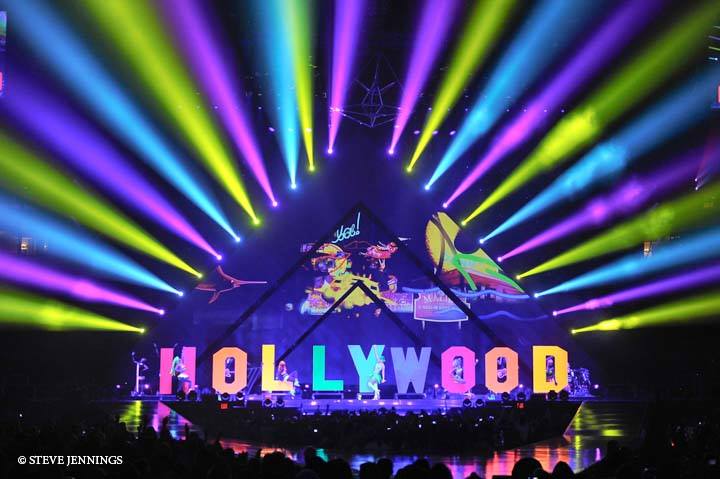 As you have noted, concerts have become more theatrical. Has this changed the way lighting is used? Are designers more likely to incorporate fixtures into video displays and scenic elements? We're thinking of how you used moving fixtures with hydraulic flippers on the sides of LED screens for Katy Perry's Prismatic Tour.
"Yes to a degree. As lighting has become more intense, you have to be more careful how you work it into a theatrical design. You have to figure out how to work the light more harmoniously with all the other elements. Definitely there are artists like Katy Perry and Pink who have a large theatrical element to their tours. . We always try do things from a technical and/or design standpoint that has never been done before when working with them."
In the Britney Spears show at Planet Hollywood in Vegas you used projection, and on other projects you used LED video panels. What are your thoughts about when to use each?
"In the case of Britney, we used a lot of projection because of the architectural elements of the room. Projection allows you to do more things in terms of projecting content and getting it to more places where LED panels won't fit. On the other hand, LED panels give you more brightness. Generally it's not a choice based on one being better than the other; it's which fits your particular project."
We understand that you used 625 lighting fixtures at that Britney Spears show, which is more than is used at touring concerts. Can you tell us about that?
"It's a big stage 120' wide 55' deep. Programming-wise it is more work, but I look at it as the amount of lighting per square footage of truss."
You were creative director for Katy Perry's Super Bowl Halftime Show, and Bob Barnhardt was the LD. So how do you communicate your ideas about lighting to an LD, given that you started in lighting yourself?
"I have a great relationship with Bob and the other lighting professionals I work with. In terms of my own lighting background, it means that rather than say I want it to look sort of like this, I can give specific details about how I want to achieve what I want. In general terms, communication is more important than ever today because there is so much more collaboration required on the more intricate projects you see today. As a lighting designer, you have to be an interpreter, understand what other people are envisioning and translate it into a design that works."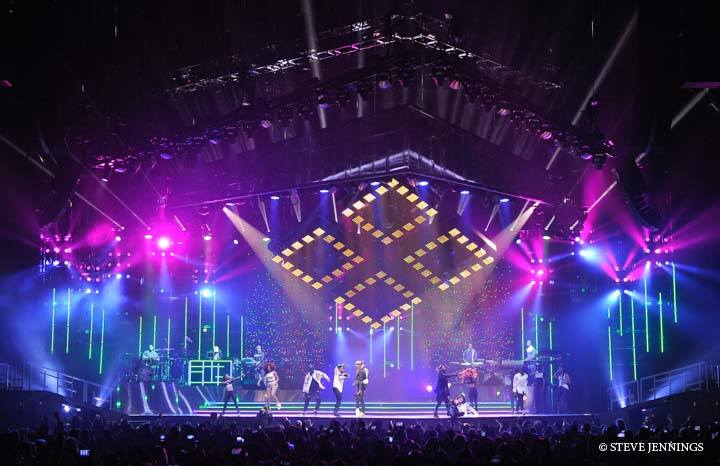 You've worked with a great many superstars, and quite often they have very different personas. How does the personality of the star influence the way you design a show?
"The personality of the artist is of paramount importance. I have been asked to create pitches for artists to get them to go on a tour. I always say no to these requests, because the inspiration has to come from the artists first. People are not coming to see a Baz Halpin show, they are coming to see the artist. So before I start a design, I have to talk to the artist first. With an artist like Pink, who I've known for 10 years, the process is different, but with artists I don't know, I always have to talk to them first to get a sense of who they are and what inspires them, because the show has to feel like it's the artist's visual presentation of their body of work. With Pink what you see is what you get and this is going to be reflected in her show. Katy Perry is an over the top, larger than life character, so her show is always going to be pop colorful. "
Do artists change how they view lighting after they've been around awhile?
"By the time they get to their third tour, they have a very good understanding of what lighting is supposed to do. The artist's vision will also change with maturity. For example, Taylor Swift was 19 and her shows had a young fairytale quality, then they went to pop spectacle during the RED tour and now the 1989 tour is more artistic, refined and grown up. So as the artist grows, the shows can take on a different aura."
Speaking of career paths, who were the big influencers in your career? Phay McMahon played a major role in your early career; can you talk a bit about him and others?
"Phay was there at the start when I was 17. He said, do you want to go on tour -as a rigger with Jethro Tull. Then Phay pushed me into design. Phay has always been a great supporter and friend. Mark Fisher was another great mentor; he pushed me into directing and designing. Mark introduced me to a whole different world. I would not be here today without him. Al Gurdon – I used to program all the awards in Europe with him in the early part of the 2000's. Al is one of the greatest lighting designers and a great mentor."
What do you think you would have done if you didn't become a designer?
"I would be unemployed probably. I feel that this is really what I was meant to do. I can't imagine doing anything else. Of course I do keep branching out to do new things and take on new challenges in film and television, but it all springs from the same source: I like to challenge myself."
How do you want to be remembered as a designer?
"I just want to be remembered as someone who enjoyed what he did and always gave it his best. I don't want to be looked at as someone who coasted through any show."
Photo Credit: Steve Jennings