CCI Solutions Helps Turn Movie Theater Into Church With CHAUVET Professional
Posted on December 7, 2016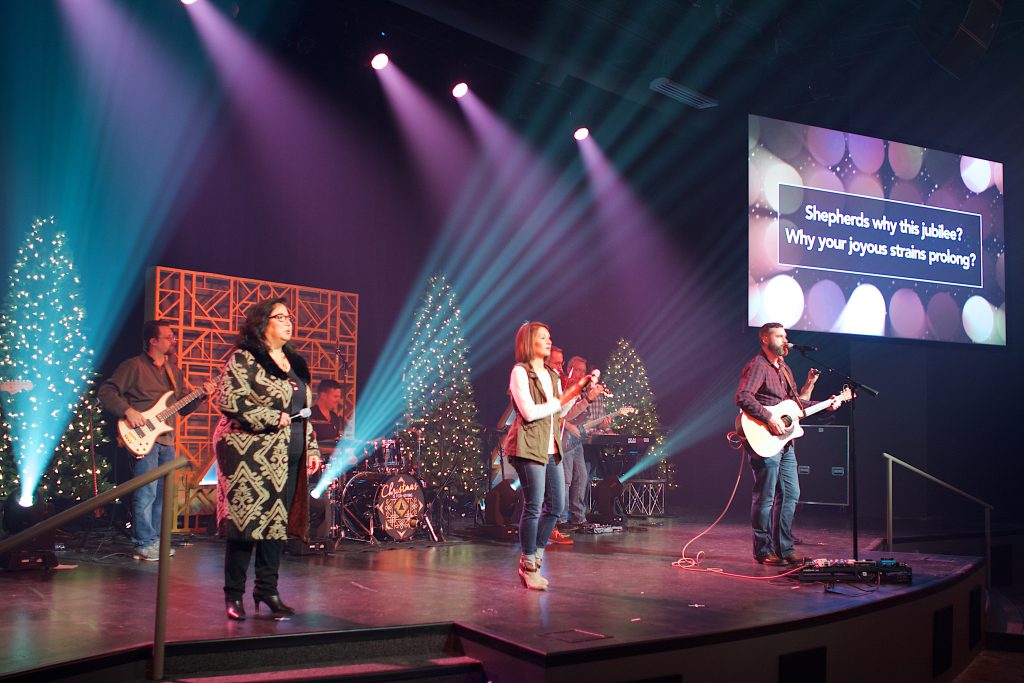 ANDERSON, IN – At 3 pm on Monday December 5, a large crowd turned out at the former site of the Mounds Showplace Theater for a ribbon cutting ceremony marking the opening of Northview Church's third satellite campus building. Tracing its roots back to a day in 1980 when 30 worshippers gathered in the cafeteria of a Carmel, Indiana school, Northview Church has become one of the fastest growing houses of worship in the country with seven total campuses.
Being located in a former movie theater, Northview's new Anderson campus was a dark room that needed to be transformed to create a supportive worship environment.  To do this the church turned to its trusted AVL partner CCI Solutions, asking it to design and install new audio, video, and lighting systems. As at all Northview campuses, the key design objective at Anderson was to create an immersive worship experience similar to what is found at the church's main 2,500 seat Carmel campus, only on a smaller scale.
A key ingredient in creating this kind of environment is to have a lighting system that is both camera friendly and also capable of creating an immersive look from the stage to the back of the room. Having had so much success with CHAUVET Professional products at other Northview campuses, the CCI Solutions team designed a lighting system at Anderson that is built around the company's LED fixtures.
Front lighting for the stage is handled by five of CHAUVET Professional's Ovation E-260WW ellipsoidal fixtures and six Ovation F-95WW Fresnels. Working together, these fixtures can create a tight yet even lighting zone downstage center as well as an even wash for the entire stage. An additional single E-260WW ellipsoidal and four F-95WWs are located upstage to handle top lighting duties, giving optimal coverage and blending for video lighting.
Just as importantly, the new church's lighting system can transform the entire look and mood inside Northview's Anderson campus by changing colors on the stage and throughout the 350 seat room. CCI Solutions positioned eight COLORdash Par-Quad 18 fixtures in the room, split on each side of the stage to provide a general color wash. There are also 12 Rogue R2 Wash and six Rogue R2 Spot fixtures on — or flown above – the stage to provide both color and aerial effects. The result is a highly dynamic lighting system that can go from rock music to video friendly in the press of a button.
"This is our third campus now with Northview, and our goal at each of them has been the same," said Duke DeJong, Vice President, of Systems Integration at CCI Solutions. "All of their campuses need to look and feel like an extension of the main campus in Carmel, yet be extremely user friendly and low maintenance, since there are no full time technicians on staff at these sites. With Chauvet fixtures we've been able to give them great lighting capability in a power-efficient and low maintenance system."
Mike Sessler, CCI's Project Lead for the Northview Anderson campus, believes the lighting system's ability to render rich and realistic colors is essential to creating a good worship atmosphere in the windowless former movie theater. "Having fixtures that can give you the colors you want and can adapt quickly and seamlessly with color or movement really sets lighting designers up for success," he said. "The church's worship style demands a lot of movement and use of color from the lighting fixtures. The Chauvet fixtures in this system deliver, big time."
With such versatile, high quality and high output fixtures at their fingertips, the Northview Anderson team is set to engage people in worship for many years to come in their new home.