Chauvet Flexes Lighting Muscles At International Fitness Show
Posted on May 4, 2015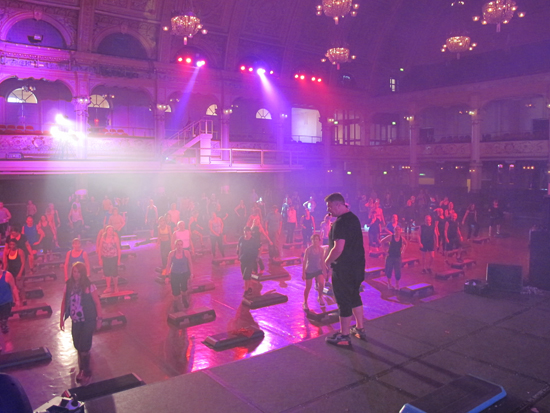 Lancashire, England – As befits an event devoted to physical conditioning, the pace was nonstop high energy at the International Fitness Showcase 2015, which drew 3,500 fitness instructors to Blackpool Winter Gardens for three intense days of Pilates, kettlebells, spinning, pole fitness, Zumba, step aerobics, street dance and other activities. Helping to pump up the action and motivate participants at the annual event was a collection of LED fixtures from Chauvet.
Oliver Wilkinson, lighting designer and engineer at Arranpaul, which supplied lighting, sound and AV for the event utilised a variety of color rendering Chauvet fixtures to add a festive, glitzy air, not to mention a dash of intensity, to Blackpool's Spanish Hall. A spacious Andalusian-style vaulted room, Spanish Hall was the main spot for the event, which was organised by Chrysalis Promotions, in addition to serving as the site for its awards ceremony.
Wilkinson's lighting rig included four Rogue R1 Spot fixtures, four COLORdash Batten-Quad 6 linear fixtures, 16 Q-Wash 560Z-LED moving washes and two Q-Spot 460-LED moving spots from CHAUVET Professional. The Q-Wash 560Z fixtures were flown in the corners of the ballroom for the "Zumba Party" atmosphere, whilst the Q-Spot 460 spots and COLORdash Battens were used to bring a dynamic backdrop to the stage. The Rogue R1 Spots served as stage and audience lighting.
The intense output of the Rogue and Q-Spot 460 fixtures made an indelible impression on Wilkinson.  "For the size of the room, the 460 spots didn't let us down," he said. "As far as Chauvet's Rogue range goes, the R1 Spot has really made its mark. The optics are incredible for a fixture of this size and price range- plus, the high output of the LED still seems to amaze us at every event we use them on. No matter what the challenge is, the Rogue is always up to the job!"
In addition to offering fitness activities and an awards ceremony, the International Fitness Show brought many of the leading suppliers from the industry to its exhibition space. Wilkinson added an attractive visual element to these stands by illuminating them with Freedom Par Tri-6 fixtures from CHAUVET DJ.
"For trade stands, the Freedom Pars were perfect! No messy cabling and no need for hot power, we just charged them up every night and they were ready to go in the morning," he said.  "We also used to the Freedom Pars to uplight the extravagant mirrored staircase for the awards ceremony. They never missed a beat."
Wilkinson also used 14 PiXPar 24 par-style fixtures, four SlimPAR HEX 3 IRC units and 10 SlimPAR Pro Tri fixtures to light smaller rooms at Blackpool and as side lighting for the awards stage. "These fixtures worked really well, giving us rich and vivid colors that showed nicely even when it was sunny outside," he said. "This was an exciting event, and the lighting more than kept pace."