CHAUVET Professional Captures Diverse Moods At Simply Three Concert
Posted on March 22, 2018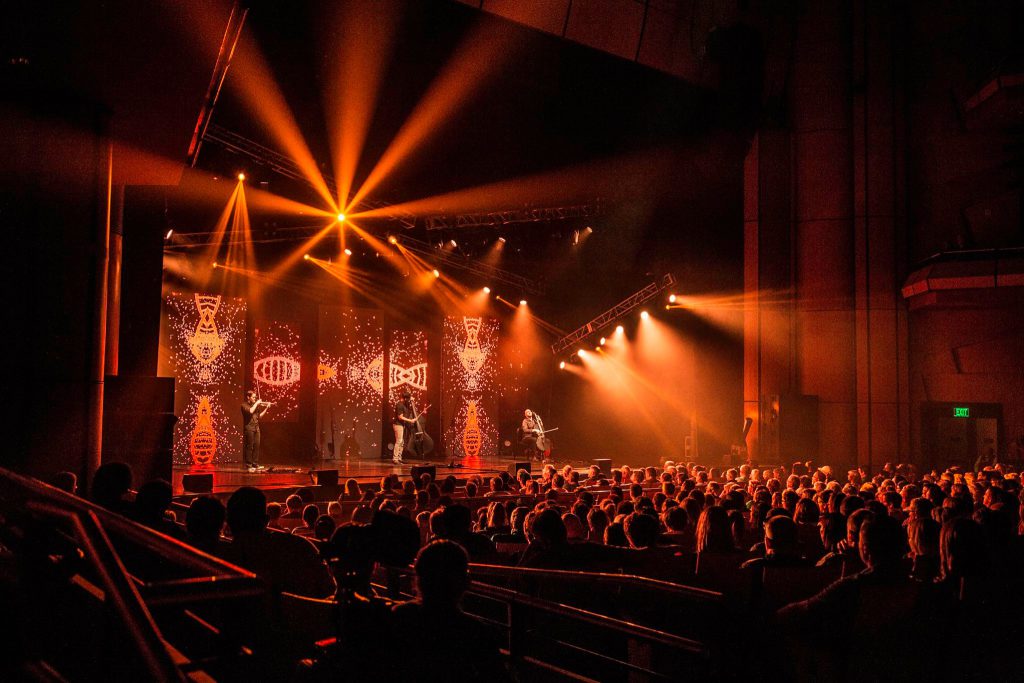 MESA, AZ  – Classical music gets a new twist with Simply Three, a smooth-as-silk trio that has been redefining the stringed sound. As comfortable playing Bach and Vivaldi as they are Adele and Coldplay, the genre-hopping group has been captivating worldwide audiences with its fresh original take on classical and popular music.
In early March, the innovative trio performed at Arizona's Mesa Center, their sprightly and delightfully diverse mix of music supported by an equally nimble and very colorful lightshow designed by Erik Parker of Chris Lisle Design that used 46 CHAUVET Professional fixtures, supplied by Creative Backstage.
Parker's rig was anchored by a total of 12 Maverick MK2 Spot fixtures, 34 Rogue R2 Wash units and eight STRIKE 4 multi formatted lights. These, along with a collection of beam fixtures, were flown on an X-shaped truss configuration over the middle of the stage and a diagonal truss unit on either side. This arrangement allowed light to be focused on each performer individually, as well as on the entire trio.
"I was impressed with the versatile looks Erik was able to get directly on the stage out of the X-shaped configuration," said John Garberson of Creative Backstage, who provided technical assistance for the concert. "He could go from putting a soft wash on an individual performer to making the whole stage glow with color, all pretty seamlessly."
Parker hung three Maverick MK2 Spot units on each section of the overhead X-shaped truss. These fixtures were joined by 16 Rogue R2 Wash fixtures (four on each section) and 12 beam units (three on each section). Working in harmony, these fixtures allowed him to create a flowing variety of looks.
For uplighting, six Rogue R2 Wash fixtures were spaced evenly across the upstage deck. At times during the concerts, these fixtures worked with the overhead units to create a textured architecture of upward and downwardly directed light across the stage. The ground level Rogue units also added depth to the stage by creating a series of crossing patterns.
The remaining fixtures in the rig were flown on the two side truss structures. In addition to providing side washing, the 12 Rogue units in this group were used (along with Mavericks on the X-shaped configuration) for aerial and audience lighting.
Drawing on the rich colors and intense output of the Maverick and Rogue fixtures, Parker was able to create an immersive environment that could change suddenly and dramatically, or softly and subtly, much like the music of this unique and masterful trio.