CHAUVET Professional Creates Sidelight Focus For They Might Be Giants
Posted on June 16, 2015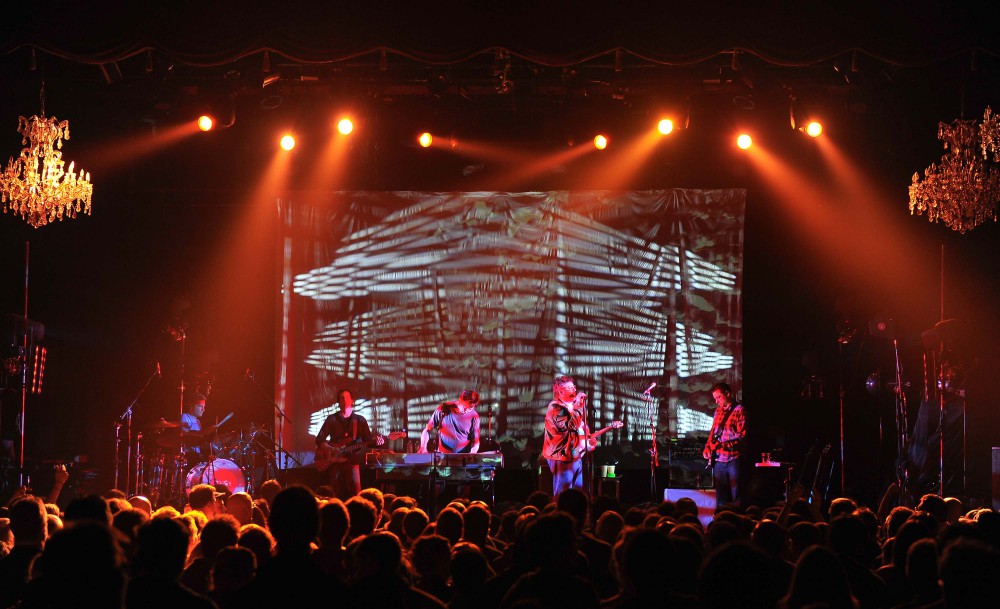 SUNRISE, FL – Lighting designer Victor Zeiser went "outside the box" — almost quite literally — to come up with some unique and captivating looks for the current tour by the double Grammy-winning band They Might Be Giants. The New York-based LD built his multi-faceted show around ever-changing combinations of spot and wash lighting from side-mounted Rogue R1 Spot moving fixtures and COLORdash Batten-Quad 6 linear washes from CHAUVET Professional. Adding extra depth to the entire show was a varied series of textured gobos and some unique video images.
"I was given a great deal of creative freedom to design this show and loved every minute of it," said Zeiser, the owner of Squeak Lights. "They Might Be Giants gave me the direction they would like the design to go in, then more or less left me to my own devices from there."
Zeiser's creative adventure grew out of a conversation he had with John Flansburgh, a They Might Be Giants co-founder. "Last fall John and I had a conversation, and he told me he was kind of over having a traditional rock-and-roll lightshow," said the LD. "He expressed real interest in having something more basic and more unique.
"Plus, since the group is now made up of middle-aged men, there was not a particularly strong desire for me to make sure they were super visible all the time," continued Zeiser. "I also had to keep the band's dislike of having a hazer anywhere on stage in mind. Given all of these factors, I needed to design something that would work well without beams. Pulling from my experience lighting modern dance in college, I decided my design would focus heavily on side light. The side lights are really the core of this design."
There are two systems of light that Zeiser calls upon to create fresh looks during the show. Instead of fully cueing out the show, he has a "setup cue" for each song with color and gobo information. He then runs intensity on handles that he has on his desk. "I have individual handles for each system per side," he said "This allows me to create interesting looks by mixing different combinations of spots and bars from each side, as well as pulling it down to a single side light. All of this is run off my trusty sidekick, the Avo Quartz."
Zeiser's actual rig features a boom with two Rogue R1 Spots and three COLORdash Batten-Quad 6 fixtures on each downstage corner. Upstage he has a tower in each corner with a pair of R1 Spots and a third fixture on a flipped up case.
"The downstage R1 Spots have a great selection of textural gobos that I project on the band," he explained. "Then I fill with the powerful wash I get out of the COLORdash battens. As for my upstage fixtures, they'll be used for traditional backlighting during the first half of the show. During the second half, I introduce the cyc upstage and the video aspect of the show."
Using "four sub-$100 security cameras" that are positioned around the venue and a Blackmagic TV switcher, Zeiser creates intriguing effects by projecting images onto the cyc. "One of my favorite shots is a camera mounted to the top of the projector, which creates a video feedback loop," he said. "I also get an audible reaction when I introduce a camera shot of the audience upside down. These projections are then obscured by gobo projection from our upstage Rogue R1s. The only reason I can pull that off is because of the great prism in the Rogue units. Pairing the prism with gobos and split colors I get a lot of 'how did you make that look' questions from curious house LDs."
Like audiences and house LDs, the members of They Might Be Giants are also impressed by Zeiser's design. After 17 studio albums, 4 million record sales and two Grammys, the band has never become complacent. Somehow, the band always manages to surprise fans by incorporating a diverse mix of musical genres into its unconventional performances. Zeiser's fresh new lighting design is in keeping with this creative spirit. "The band loves that their show looks different from all the other tours that roll through these venues," said the LD. "That makes me very happy too."