CHAUVET Professional Revs Up Lighting At World's Largest Motorcycle Rally
Posted on September 1, 2015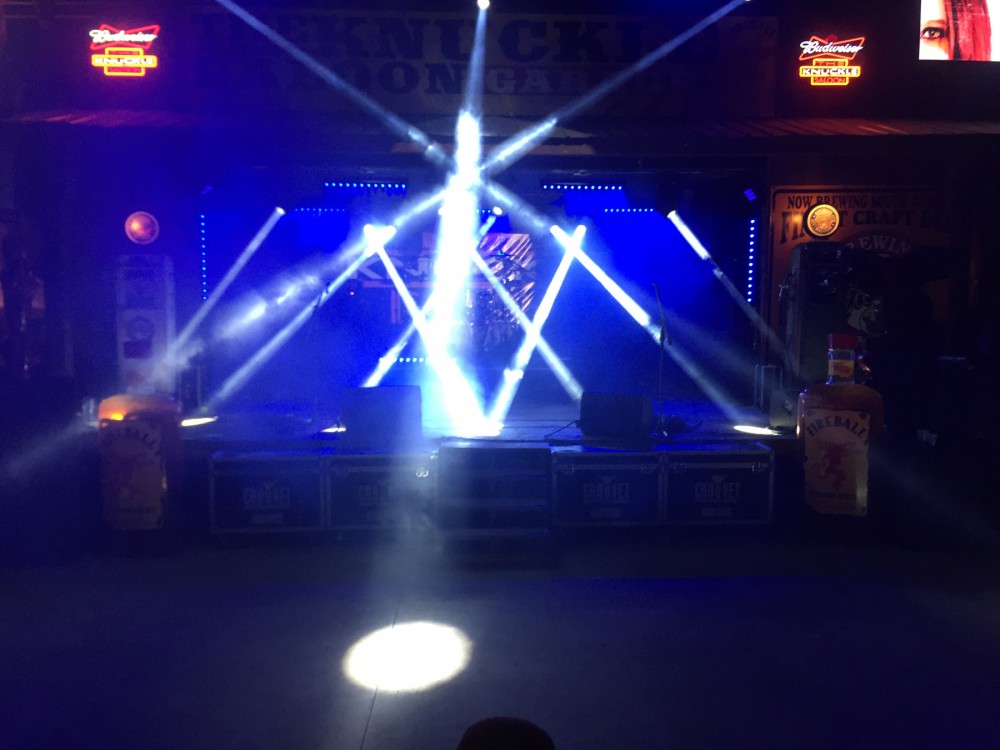 STURGIS, SOUTH DAKOTA – A small spec on the map in the western part of America's 46th most populous state is hardly the type of place where one would expect to encounter a traffic jam. However, anyone who journeys to little Sturgis, South Dakota (population 6,900) during the first week of August will find that every street has been turned into a virtual parking lot, not of cars, but of motorcycles.
From August 3-9 this year, Sturgis was transformed into America's 11th biggest city, ahead of such stalwarts as San Francisco and Boston, as an estimated 1 million bikers and friends descended on the town for the Sturgis Motorcycle Rally. At the center of it all was a Sturgis landmark, The Knuckle Saloon, decked out for the occasion with a lightshow that featured close to 40 fixtures from CHAUVET Professional supplied by Blue Seed Entertainment.
Erich Meitzner, the lighting director for the Casey Donahew Band, worked with Blue Seed's Aaron Gebauer to create a rig that was versatile and durable enough to deliver intense nonstop visual excitement for the dancing, partying and good times that took place at the legendary venue 12 hours a day during the course of a 10-day period.
The Knuckle Saloon is a spacious venue with tables lining its perimeter balcony and half its lower floor for guests who wish to dine on a rustic menu that features dishes like Wild Game Meatloaf and Wings of Fire. At one end of the room is a country-style dance floor fronting a stage. The designers used the CHAUVET Professional fixtures to engage all elements of the room with the ongoing festivities.
"We wanted the design to provide big beam looks while still having the ability to be subtle when necessary," said Meitzner. "We had bands on stage from 1pm to 1am for the entire rally period, which was ten days since we started before the rally officially began. We had to have many looks; I wanted people who came to shows every night to see something that they hadn't seen before. My goal was to keep it fresh for ten days."
The Rogue moving fixtures in Meitzner's rig were essential to achieving this design goal. "We depended on the prism capabilities of the Rogues," he said. "It was important that there were two different prisms, because we could drop them both in and get the spread we wanted, while at the same time being able to switch back to a beam effect fast."
Meitzner had ten Rogue R1 Beams and one Rogue RH1 Hybrid in his rig. He flew eight of the Rogue R1 units over the stage, four on mid-stage truss and four on upstage truss. The two other R1 fixtures were on 10' risers and used for aerial effects to engage the crowd. Rounding out the Rogue arsenal was the RH1 Hybrid, which was positioned to back light the lead singers on stage.
Adding impact to the rig were two Next NXT-1 moving LED panels and two Strike 882 LED strobe panels. "I used the NXT-1 panels for a combination of side light mixed with crowd blinding," said Meitzner. "They have the ability to punch through a rig. The Strikes were our upstage strobes. They backlit the whole band. When we turned those units on, the whole stage dynamic changed; they have incredibly bright output."
To dramatize his power packed rig, Meitzner called on the voluminous haze and fog output of two Vesuvio RGBA foggers that shoot shafts of colored light through fog and two Amhaze II haze machines. "Everything shows up more dramatically through atmospherics, and the Amhaze is truly industrial strength," he said. "I never could justify having them above 65 percent. Plus they have an amazing hang time."
Meitzner relied on two walls made of PVP S5 LED video panels to create breakout panels and deliver commercial messages. "We had two 8-panel walls, one positioned above stage right and the other above stage left," he said. "They provided the resolution we needed to display bar advertisements, band logos and moving graphics and were bright enough to shine through the lights."
When the week long Motorcycle Rally was over, the mass of bikers returned to the states and countries from which they came, life in small town Sturgis returned to normal and Meitzner got ready for a multi-state fall tour with the Casey Donahew Band. Like everyone else, he left with a lot of memories and a clear expectation. "The rally was great," he said. "I'm already looking forward to next year."