CHAUVET Professional Shines on the Catwalk At Music Meets Runway
Posted on March 14, 2016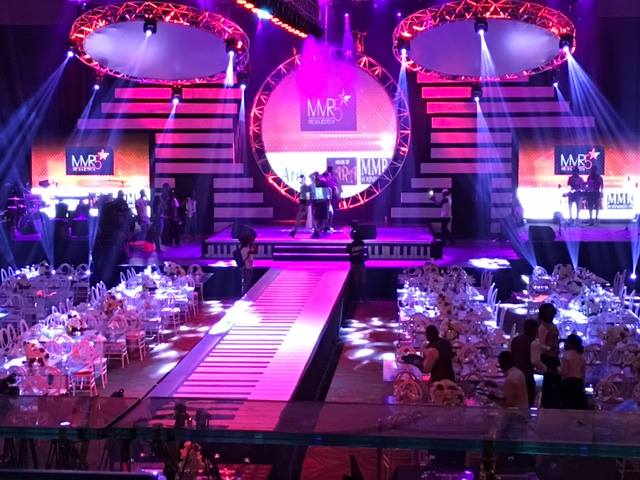 Lagos, Nigeria – Nigeria's Music Meets Runway is an annual fashion and music celebration held to support up-and-coming fashion designers, music artists, models, stylists and makeup artists in Nigeria. This year, the event's organizers pulled out all the stops to draw attention to their cause. They had Nigerian pop star artist Darey host the evening's festivities; invited national celebrities like Wizkid, Seyi Shay, Lil Kesh and Victoria Kimani to attend; and dazzled the invited guests with a glitzy lightshow worthy of Paris, Milan or New York.
Nigerian AV specialists PBLS created the spectacular show using a large and diverse collection of fixtures from CHAUVET Professional.  The lighting rig provided for the event included 24 Rogue R1 Beam fixtures, 10 Rogue R1 Spots, and 10 Q-Wash 560Z-LED RGBWA moving wash fixtures.
Hung partly from circular truss above the catwalk and partly on the floor, the Rogue R1 Beams were key elements in creating atmosphere for the show. Taking advantage of the fixture's two independently controlled prisms (5-facet and 8-facet), the PBLS team was able to create exciting split beam effects and stunning gobo looks.
"As the official CHAUVET distributor in Nigeria, we knew that our own selection of Rogue R1 Beams would be versatile enough to provide looks for both the catwalk and live music accompaniment," commented Martins Ekueme, Production Manager at PBLS. He continued: "Offsetting the beams on the floor with the beams hanging from the truss, we were able to create a kind of criss-cross scissor effect that really accentuated key parts within the show. The narrow beams were ideal for this."
Adding to the criss-cross effect were 10 Rogue R1 Spots, situated strategically amongst the upper levels of truss to provide further visual variety down below. "The R1 Spots have amazing gobo effects," said Ekueme. "We utilised the gobos to their full extent, showering the catwalk and stage with beautiful patterns. The R1 Spots worked perfectly in conjunction with the R1 Beams."
Filling in the gaps and dressing the stage with color and mood were 10 CHAUVET Professional Q-Wash 560Z-LED moving washes, which lined the protruding catwalk from above truss. PBLS selected these fixtures for their vivid color palette.  The lighting design for Music Meets Runway incorporated a lot of soft pastels and vivid hues, creating a stylishly snappy look on the catwalk.
Martins Ekwueme is confident that PBLS has done Music Meets Runway justice. "Thanks to CHAUVET Professional's fixtures, we were able to award the show with the grandeur and style it deserved. We're happy that we have played a part, however small, in giving these young designers a once-in-a-lifetime opportunity to shine."