Daniel Thibault Warms Up Horizon Tour Minnesota Stop With CHAUVET Professional
Posted on January 15, 2018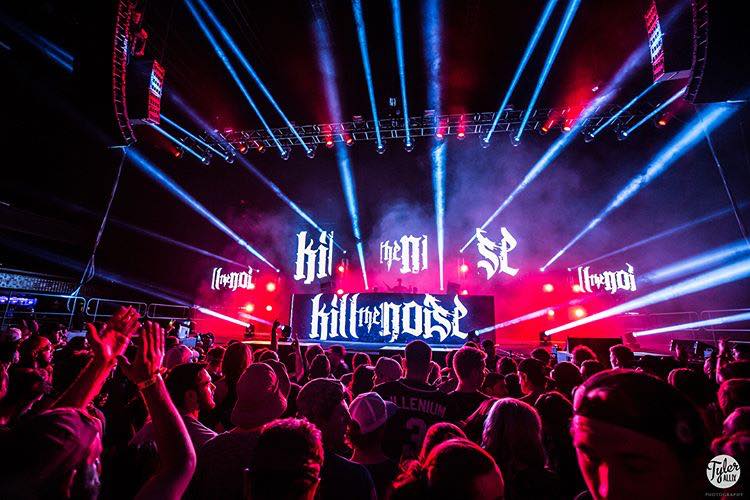 MINNEAPOLIS – The Armory, an impressive fortress-like building in the heart of the Twin Cities, has a rich history. Originally built as a National Guard Armory, it was once the costliest building in Minnesota. The Lakers played basketball there, before they left for greener pastures in LA. Minneapolis native Prince used the massive structure as a backdrop for his famous "1999" video. Now after years of neglect, the building has been reborn and refurbished as an 8,400-capacity concert venue.
On Friday, December 15, the iconic 81-year-old structure celebrated its grand reopening by hosting its inaugural concert: The Horizon Tour featuring Kill The Noise, Tritonal and Seven Lions tour. Serving up some searing visual excitement for this lineup of EDM stars was an impressive collection of CHAUVET Professional Rogue fixtures and PVP S5 video panels supplied by Antic Studio.
The LD for the show, Daniel Thibault of Life Is Art Studios, used 50 Rogue units to cover the stage as well as a good part of the sprawling venue in multi colored light. To pull eyes into the DJ booth, he lined its front with 42 PVP S5 5.2mm pixel pitch SMD LED video tiles.
"Our video programmer Ian Alvarez did an amazing job pulling the stage together," said Thibault, who also served as the lighting designer for the entire tour. "We had very immersive patterns on the large video wall made with Chauvet tiles in front of the DJ booth that were coordinated with the images on the five walls made with other video products along the stage wall. They drew you right into the stage. By running the same images across all the panels, we were able to have a consistent look across the whole stage."
Endowing the stage with a flowing, unified image was especially important in The Armory, given its cavernous dimensions. Also creating an immersive sense of warmth on the stage in the spacious venue were the deeply saturated colors from the 22 Rogue R2 Wash fixtures.
"We flew the R2 Washes everywhere," Thibault said of the RGBW moving fixtures. His goal was to make the stage glow with deeply saturated reds, blues and other colors. This not only allowed him to reflect the mood of the music in light, it also fostered a strong connection between the artists and the audience. "When you had the stage glowing with vivid colors against the dark interior space of the building, it seemed magical," he said.
The Rogue Beam fixtures in Thibault's rig reached out and grabbed the audience by sending aerial effects over the crowd. At points during the show, Thibault had the beams fan out from the center of the stage into the audience to create a captivating funnel-like effect.
"We had 12 Rogue R2 Beams and 16 R1 Beams in the rig," said Thibault. "The R2s were all flown over midstage truss and were used for specials, down lighting and audience lighting. We had the 16 R1s on the stage deck and used them to sweep the audience and for aerial effects."
With their colorizing and gobo capabilities, the Rogue fixtures along with the video walls, helped Thibault support the show with a seemingly endless procession of fresh looks. "There was a group of different artists on this tour, all of them with their own strong and distinct personalities," he said. "We wanted to reflect this in a unique way for each artist. Since this was the first concert at this particular venue, we also wanted to do something very special."