EnHansen Design Enhances Building 429's Image With CHAUVET Professional
Posted on August 19, 2016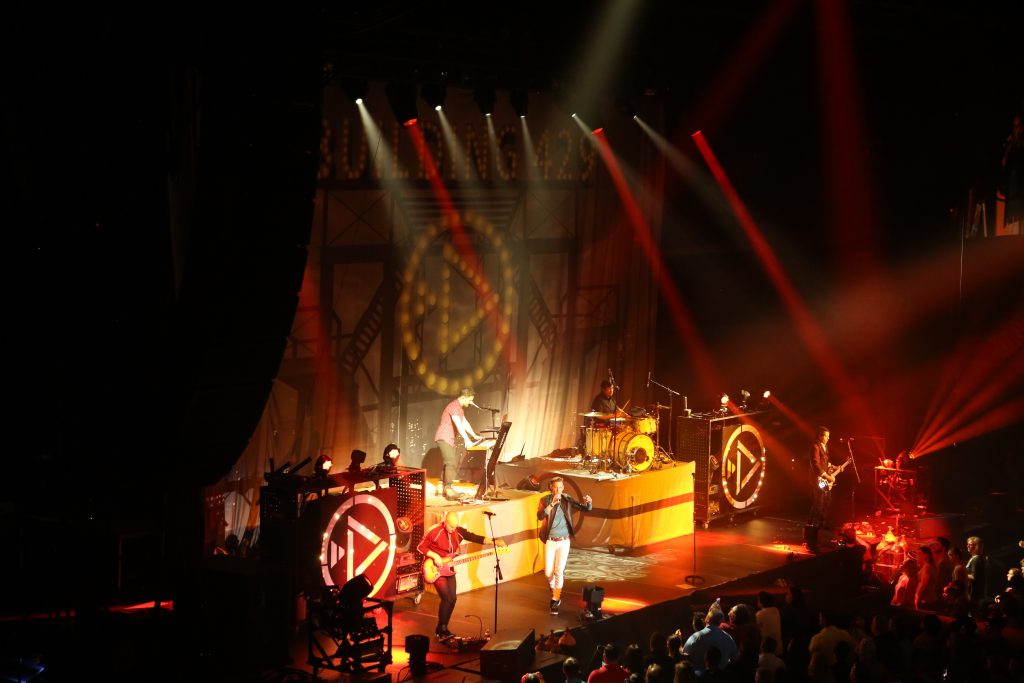 OMAHA, NE – Dove Award-winning and Grammy-nominated Christian band Building 429 has enjoyed unqualified success as recording artists. Their 2013 recording Listen to the Sound holds the record for the longest unbroken run at the top of the Billboard Christian Charts. It is at live concerts, though, where the quartet really shines, as their anthem-like choruses, heartfelt melodies and raw, honest devotion create a powerful connection to fans. On its 2016 tour, the band forged an even stronger fan bond with a new lightshow that includes 18 CHAUVET Professional Nexus Aw 7×7 LED panels supplied by Theatrical Media Services.
Well-known lighting designer John Hansen of EnHansen Design created the new lightshow for the band's 2016 tour after they retained him earlier this year. "This is my first year designing and programming for Building 429. After working on several different projects together in the last year, we finally connected to provide something to support their show for 2016," he said. "Building 429 wanted to build a look that tied the set together with their new backdrop imagery while highlighting their logo. The band has a very loyal following and strong identity, so supporting their branding was key."
Hansen created memorable visuals by taking customized aluminum gobo cutouts of the band's logo and positioning them in front of the Nexus Aw 7×7 fixtures. He also arranged LED strip lights behind the Nexus units.
"Light from the Nexus panels and the strips shines through the logo cutout of the band's symbol," he explained. "I use a frost to soften their output. Shining colored light through the Nexus panels, making cool shadows on the frost, makes the logo stand out and reinforces the band's image with its fans.
"Mixing the Nexus and color strip light as it hits the logo provides multiple looks and gives me versatility on the tour," continued Hansen, who controlled his rig with a grandMA2. "Mostly I ran linear effects on the Nexus panels, but I did have a couple geometric shapes that I used for different looks. I also really like the warm white look of the Nexus Aw 7×7; it creates an inviting and welcoming atmosphere. On our first Building 429 tour there were no tungsten fixtures on the rig, so this look really stood out."
The Nexus panels, along with the logos and strips, are mounted on 3×3 set cards, so they can rolled on and off the stage quickly. This was a critical factor, according to Hansen, given the large number of festivals and one offs on Building 429's touring schedule. "This is a band that tours heavily," he said. "All of their gear has to roll off stage quickly, so the use of set carts is a no brainer.
As a testament to the band's touring prowess, as well as its popularity, Building 429 once appeared before 600,000 fans in 47 dates. That's a lot of touring as well as a lot of fans—and now thanks to John Hansen's design, a lot of chances to make a favorable branding impression with light.