Expect The Unexpected: Lighting Club Tours With Victor Zeiser
Posted on July 15, 2015
Recording contracts and stadium concerts are great, but in this era of YouTube and music streaming, a lot of bands are doing just fine without them. Playing everything from jam to jangle and emo to post hardcore, these grass roots groups are building sizable fan bases by purveying their music online and touring like crazy.
Often playing 100 or more gigs a year in venues that rarely exceed 2000 capacity, a new generation of road warrior bands have created a renaissance of live grass roots music, the likes of which haven't been seen since the coffee house era of the 1960s. In the process, they've also created new opportunities for lighting designers. As children of a highly visual age, they almost always place a premium on having a distinctive look on stage with a lightshow that is uniquely their own.
New York lighting designer Victor Zeiser of Squeek Lights has chalked up plenty of miles working with touring bands, having designed for some of the most successful like Grammy winners They Might Be Giants and Canadian cult favorite Silverstein, to some lesser known groups. Zeiser, who also keeps busy as the LD for the Hammerstein Ballroom in Manhattan, shared his thoughts on designing for the new generation of traveling troubadours.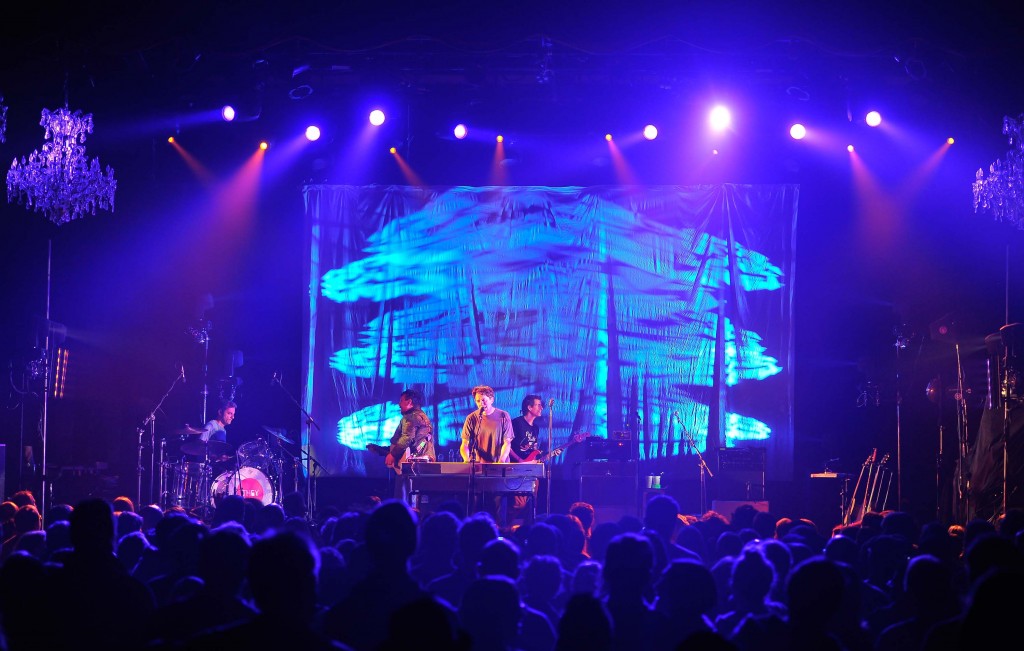 It seems to us like a lot of these club touring groups place a premium on lighting, taking their own fixtures on the road – even if it's only eight moving heads – to give their show a distinctive look. Where does this come from?
"I think a lot of it stems from the whole visual orientation of entertainment today. People are accustomed to seeing as well as listening to music. Lighting doesn't just engage the audience, it also pumps up the musicians on their long tours. Also, if the band itself isn't oriented toward incorporating a lightshow into its performance, its fans will usually push them in that direction. Funny thing with Silverstein – they decided to keep their lightshow after their girlfriends told them it made their show more impactful on stage. So the motivation to light takes many forms!"
Why do you think there are so many more touring bands today?
"The economics have changed. The Internet has been a great leveler, giving more groups a chance to build up a following. Plus touring has become a more important source of income for bands of all sizes. In the past, artists toured to promote an album they released. Today, the release an album so they have a reason to tour."
Once a band is successful club touring, it seems like the gigs just keep on coming — is that correct?
"That's pretty much the case; a band builds up a following and gains momentum. So it can become a fairly grueling pace on the road. For example during one recent stretch, They Might Be Giants did 36 shows in six weeks."
Aside from patience and stamina, what are the most important characteristics that you need as a lighting designer to thrive in a club touring environment?
"Well you have to like the band, because you're going to be with them a lot. Every tour has its own unique flavor and you have to be able to go with the flow. You also have to be practical.
"Club touring is very pragmatic. You have to figure out how you can get the biggest look with the simplest, lightest and most compact rig. You need fixtures that do many things. That's why I selected Rogue Spots over Beams for Silverstein and They Might Be Giants. You can create so many more looks with spots than beams, and that's important when you're loading your light rig in a trailer behind the band's bus. It's critical to minimize the number of cases you use. You also want your fixtures to be lightweight. Not only does this make set up easier, it also means you don't have to carry truss towers because the fixtures are light enough to hang on pipe and base."
Has the advent of LED fixtures made it easier to meet the challenges of club touring?
"Absolutely. LED technology has made it possible to do this kind of lighting. You really couldn't before, because the fixtures were too big, too heavy and too limited in what they could do- plus they generated a lot of excess heat. Another important thing is that LED light uses very little power. You can roll in and just need two 15amp circuits, instead of needing to tie in and a carry feeder, which is obviously quite important to us."
Earlier you mentioned the importance of having a go-with-the-flow personality on club touring. Can you elaborate?
"Club touring is a super hands-on thing. You have to be very flexible and be perfectly willing to change plans on the fly. You aren't going to get the same 60-foot stage every night that you do on an arena tour. You might walk into a club and say, 'Hey they only have 8-feet of trim' – well that's life. What you'll find at different clubs varies and often varies wildly.
"So, you can be wedded to your floor package and hope that the club has what it takes, or you design for the unexpected. For example, with They Might Be Giants, one of the reasons I built the show on side lighting, was because I knew I could always put up my two sidelight booms regardless of the venue. Sometimes it required creative thinking to do this, like when we had to put a boom out in the audience and surround it with bike racks – but that's the way it can go on a tour. The sidelight towers also allowed me to avoid depending on house front light positions, which can be terrible."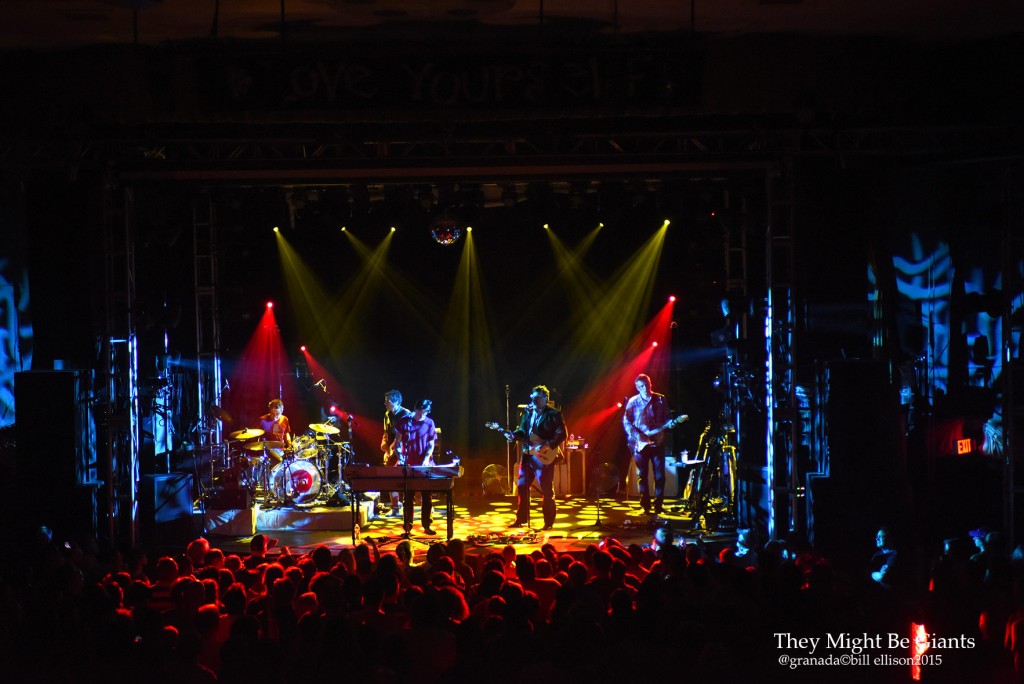 You carry your own console on the road, why is that?
"Yes I tour with my own console. I might run the house lights on the house console, but my rig is run on my console, because it gives me a greater level of flexibility and control. This is important, because you are always at the mercy of what the house has to one degree or the other and I want to minimize that by having my own controller."
How is it dealing with the lighting techs at different venues when you tour?
"It's always important to build good relationships with the house people when you tour. They can make things go a lot more smoothly for you. Plus there's a good chance that you're going to go back to the same place again on the next tour. It's always nice to see a friendly face when you're on the road. "