Experiencias Xcaret Adds Versatility And Efficiency To Theatres With CHAUVET Professional
Posted on February 11, 2019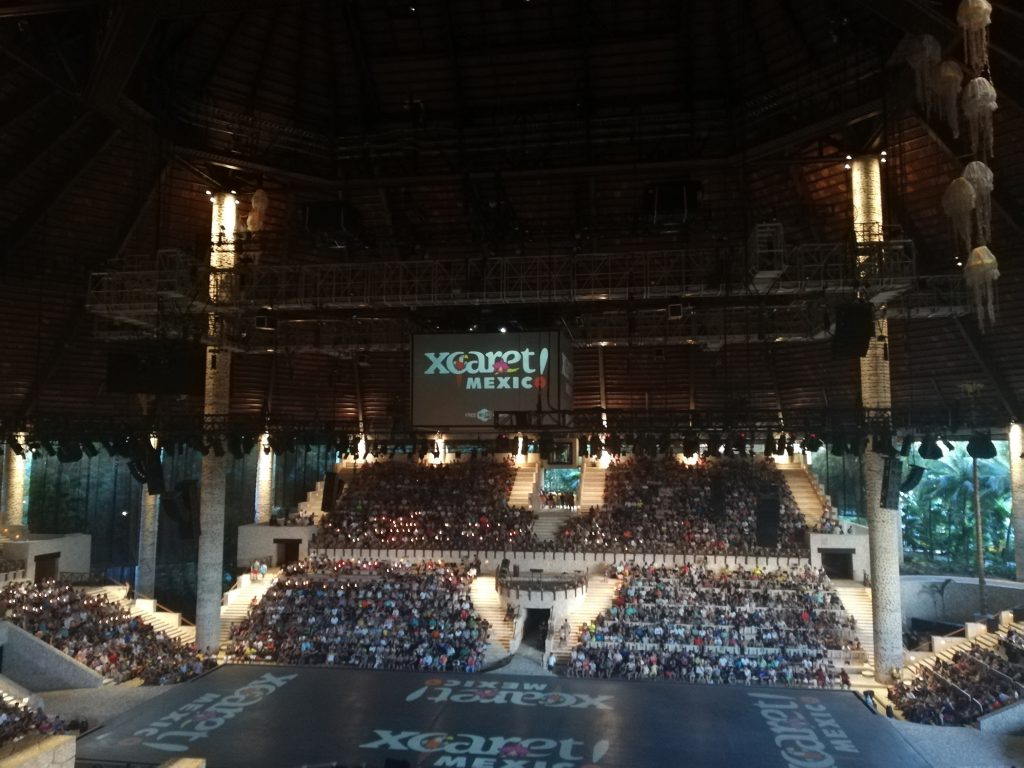 CANCÚN, Mexico – Experiencias Xcaret is aptly named. A collection of majestic parks by the sea, this world-renowned eco-tourist destination is intended for those who want not merely to visit Mexico, but to experience it in all its natural beauty and rich cultural traditions. Within its expansive grounds, visitors can enjoy over 40 attractions that afford them the opportunity to wander through lush jungles, swim in underground rivers, explore caves, contemplate evocative Mayan ruins, and enrich their minds and senses with an array of other activities.
The winner of three consecutive Travvy Awards (the international tourism industry's equivalent of the Oscars), Experiencias Xcaret is constantly seeking ways to enhance its offerings to visitors, while maintaining its earth-friendly environmental footprint. It did both recently when it upgraded the lighting in its theatres with Ovation E-260WW IP LED ellipsoidal fixtures from CHAUVET Professional.
A collection of 60 Ovation E-260WW IP units was installed at the park's main Tlachco Theater, a 6,000-capacity 360° outdoor venue, which hosts spectacular productions like Xcaret México Espectacular, featuring over 300 artists on stage. The high-output fixture serves as the theatre's principal front light. (Another 28 Ovation E-260WW IP fixtures are used in the theatre at the park's Hotel Xcaret.)
Jose Manuel Rodríguez, Technical Area Manager for Art and Culture at Experiencias Xcaret, explained why the famous attraction felt it needed to upgrade its theatrical lighting. "We faced strong electrical problems due to the geographical location of the park (on the Yucatan Peninsula) and the weather conditions," he said. "We wanted to address the issue of having to change lighting equipment, and we wanted a luminaire with theatre characteristics, such as suitable 3200 K. We also wanted a fixture that was water resistant and LED."
The Xcaret team had been looking for lighting fixtures that met their needs for about five years. After several tests with different brands, they concluded that CHAUVET Professional's Ovation fixtures were their best option. "Earlier on, we knew that the brand had professional-level ellipsoidal LED equipment, but at the time they were not yet IP65," said Jose Manuel. "A few years later we got the surprise that the Ovation E-260WW IP now had IP65 classification."
Lighting at Experiencias Xcaret's theatres is used 365 days a year, with two shows daily during the peak season. Typically, the shows are two hours or longer. Additionally, lights are used during tests and rehearsals. Given this level of usage, the long LED life of the Ovation fixtures was a major selling point. Aside from lowering replacement costs, the LED fixtures also contribute to the park's eco-friendliness by consuming less power.
Gabriel Martínez, Head of Lighting for the Art and Culture, Technical Area of ​​Experiencias Xcaret, provided added reasons why the switch to the Ovation LED fixtures made sense. "The Ovation E-260WW IP will help reduce the use of additional equipment such as dimmers," he said. "We will also reduce wiring, since these fixtures are powered by low voltage, which translates into savings in electricity consumption. Another thing I like is that the light from these fixtures looks like it came from a conventional lamp because of its warmth – but very important is that it saves us the use of filters."
Saving on filters, energy, or anything else is in keeping with the eco-friendly culture of Experiencias Xcaret. So too is delivering the best possible experience to the 3.7 million who visit the park every year. With the installation of new LED stage lights, the famed tourist attraction is able to do both a little bit better.