Figure Of Eight Events Creates Stunning Backdrop For Isuzu Awards With CHAUVET Professional
Posted on March 9, 2018
CARDIFF, WALES – A passion for rugby pulsates through the fabric of Welsh life. This is evident from the over 300 rugby clubs within Wales, as well as the country's perennial success in the Rugby World Cup tournament. Figure of Eight Events was recently approached to provide technical production for this year's highly-anticipated Isuzu awards, which took place in the country's 70,000-seat Principality Stadium in Cardiff. As the new sponsor for WRU, Isuzu wanted to create a fitting start to their relationship by showcasing what the stadium has to offer. Figure of Eight didn't disappoint by delighting the guests with a 360° lighting design that featured a collection of Rogue fixtures from CHAUVET Professional.
With the awards ceremony and dinner housed within a clear marquee, positioned 3 meters high over the central pitch area, Figure of Eight came up with the idea of surrounding the structure with high-power light from the Rogue RH1 Hybrid and Rogue R2 Wash fixtures. "We wanted to create a stunning backdrop for the award ceremony by allowing the guests inside to be able to see beyond the stage and out towards the spectacle," commented Rich Rayner, Director of Figure of Eight Events. "We wanted to use the amazing backdrop available to us, but lighting a stadium of this size isn't easy; it took over 150 lighting fixtures to create the desired effect, but with our new investment in Chauvet's units, we were able to create some great lighting looks that really showed off the stadium's size and stature from the comfort and warmth of the marquee."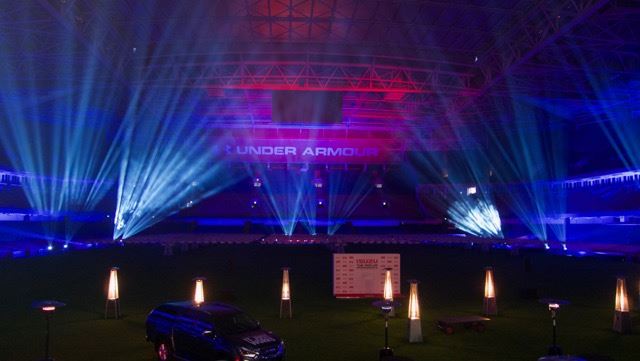 Positioned around the perimeter of the pitch, the Rogue RH1 Hybrid fixture's 330W Osram Sirius lamp provided a high-output capability that exceeded the expectations of both the production team and client. Thanks to the RH1's myriad of beam, spot and wash possibilities and its powerful light source, the stadium and marquee itself were able to be covered in light of various guises. The powerful beam-spot fixtures were also used to illuminate limited edition Isuzu 4×4 vehicles, which were located throughout the stadium grounds.
"The RH1s certainly didn't disappoint, and provided some high-power and impacting effects," commented Rayner. "Chauvet has really established itself as a credible professional lighting manufacturer, and we are really pleased to get this working relationship off to a great start by putting our new fixtures to such good use in this demanding application."
Additional Rogue R2 Wash fixtures inside the marquee catered for general wash effects to create ambience and atmosphere for the evening's events. Thanks to the fixture's parallel beam, wide wash and five zones of pixel mapping control, colourful mood lighting and dynamic effects could be achieved. The saturated colour washes from the R2 Wash units provided a good visual counterpoint to the intense beams of the RH1 units.
Thanks to the incorporation of the Rogue duo within the Principality Stadium, WRU's evening was awarded with visuals comparable to the most exciting of rugby matches! "We were really happy with the results," concluded Rayner. "The lighting definitely helped underpin what we were aiming to achieve for our client. We hope this event forged even stronger links between WRU and their new sponsor as they go into what is set to be another gripping six nations' competition."