Firestone Live Comes Alive with CHAUVET Professional
Posted on November 4, 2014

Things are looking up (quite literally) for the lighting rig at the legendary Firestone Live!, the largest nightclub in Orlando. As part of a remodeling project, the club's stage was lowered three feet to make room to hang additional lighting fixtures. At the same time, a new trussing rig was installed over the dance floor, creating four extra feet of space for overhead lighting. A design team from Complete Production Resources and Impulse Creative Group (both of Orlando) utilized this expanded area to inject a new level of dynamism and energy into the storied club with a beefed-up lighting rig that features an array of our fixtures.
Located in the 86-year-old Firestone Tire and Auto Building, an officially designated historic landmark, Firestone Live! cut its teeth as a nightspot and concert venue during the early EDM boom of the 1990s. Heavyweight DJs, rappers and EDM artists like The Crystal Method, Sasha & Digweed, Paul Van Dyk, Busta Rhymes, Snoop Dogg and Ice-T have performed at the club, as have international recording artists like the Indigo Girls.
Rolling Stone and Billboard ran flattering pieces on Firestone Live!, which was hailed as one of the "freshest nightclubs in the world. " But after time began to take its toll, management stepped up with ambitious plans for a rehab that ultimately enabled the 20,000 square foot venue to maintain its vitality without losing a beat.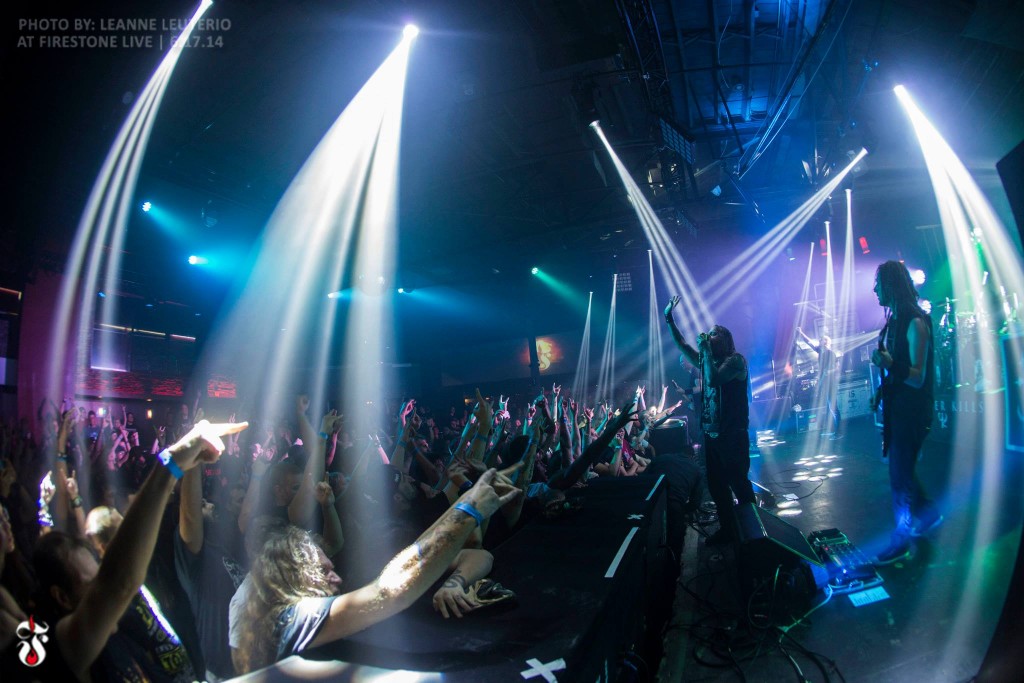 Lighting was a big part of the rehab plan. "The old lighting system was pretty basic by today's standards," said Lucas Peterson of Complete Production Resources, which was responsible for redoing the lighting system at the club. "The owners wanted an updated look that would energize the surroundings. Our mission from the owners was pretty clear: give them a lighting system that was more dynamic and more engaging for their customers."
Armed with this directive, Complete Production Resources partnered with Impulse Creative Group for lighting design services. "We were responsible for putting the rig together," said Peterson, "but we wanted to collaborate with Impulse Creative on the design concepts, because we've really been impressed with the work they've done."
Next came a trip to LDI. Peterson and Scott Abshire of Complete Production Resources went to Las Vegas with Justin Geiger and Nate Selvitio of Impulse Creative Group to look at their lighting options. They met with Dwight Slamp of CHAUVET Professional at the show and put together a new lighting package.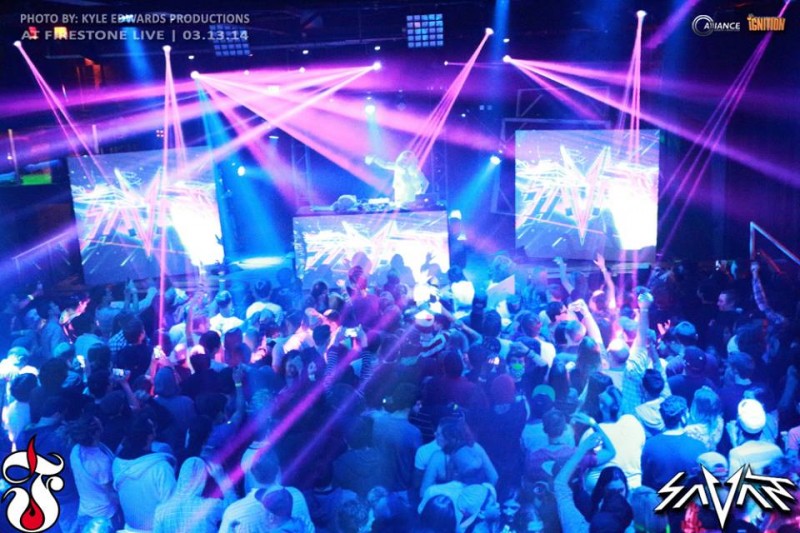 "We went largely with a Chauvet rig, because we were familiar with the company's products and knew we could expect great performance while staying within our budget," said Peterson. "Going to LDI, we agreed that the lighting rig we put together had to have two features. First, it would have to represent the latest technology, because we didn't want Firestone Live! to fall behind the curve again. Second, it would have to be flexible, because this is a multi-functional building, being a concert venue with live bands, a dance club with DJs and a place for corporate events. So the same fixtures would have to do multiple things."
Based on these criteria, Peterson and his team put together a rig that included eight Q-Wash 436Z LED RGBW moving washes, 16 Legend 412 RGBW LED moving washes, eight Legend 330SR Spot moving fixtures, eight COLORado 1-Tri Tour par-style fixtures and one Amhaze II water-based haze machine. This lighting rig is controlled by a grandMA on a PC with a fader wing.
"The adjustments made to the club's overhead design allowed us to do a great deal more with our new rig," said Geiger of Impulse Creative Group. "By dropping the stage three feet, we created a 15-foot trim from the floor to the truss. This gave us better angles for lighting performers on stage. The Legend 330SR Spots are used to getting some dynamic looks on stage when there's a live performer. It's got excellent color rendering capabilities and a wide zoom range (5-24 degrees) so it gives you a lot of good options; plus it's incredibly bright.'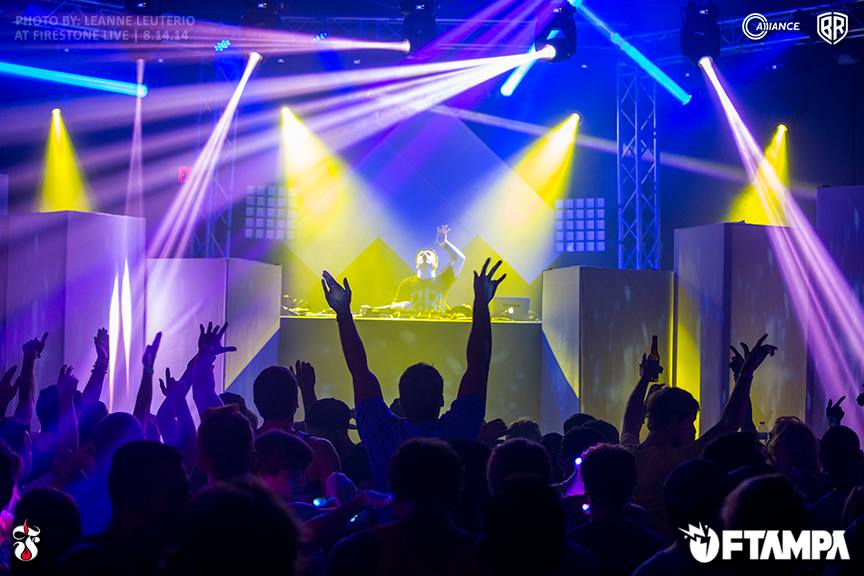 When Firestone Live! becomes a dance club rather than concert venue, the Legend 330SR Spot fixtures on the overhead stage trussing are directed at the crowd on the floor. Packing a powerful punch of 62,200 lux at 5 meters, the Legend spots are well suited to make the transition from stage fixtures to audience/dance floor light.
"We view the intense light output as being essential to engaging customers on the dance floor," said Geiger. "When the building becomes a club, everything in our rig points to the dance floor. The only exceptions are two of our Q-Wash fixtures over the center of the dance floor. We use their color macros and strobing as eye candy along with a few dedicated strobe fixtures. Other than that, though, we like having beams on the perimeter aimed at the dance floor so we draw all eyes to it. When there are corporate events, the same overhead lights are used as soft washes, so the room kind of transitions from a club to a lounge look."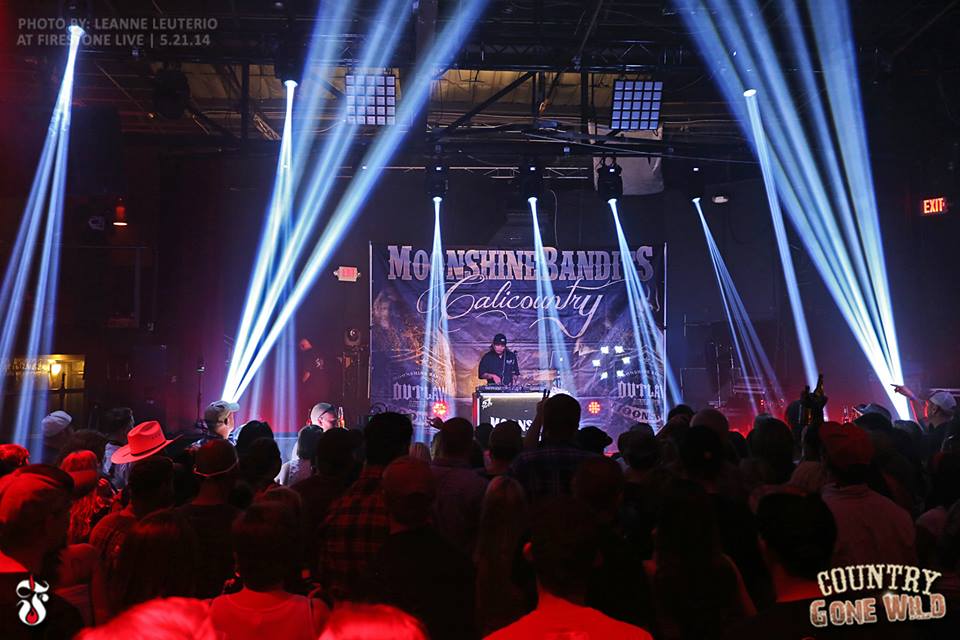 The Complete Production Resources and Impulse Creative Group team built a custom 16-piece overhead truss canopy to create more height over the dance floor and allow room for more fixtures. "We went from having four movers over the dance floor to having 56, so the potential to create excitement and interesting looks is much greater," said Peterson. "We also have a lot of hang points on the truss over the dance floor and the stage, so we can add more fixtures in the future and incorporate things like pixel mapping."
Based on the enthusiastic response to the new lighting rig at Firestone Live!, it's safe to assume that those extra hang points will be filling up soon!