I'm With The Band: Peter Therrien and Flogging Molly
Posted on April 24, 2019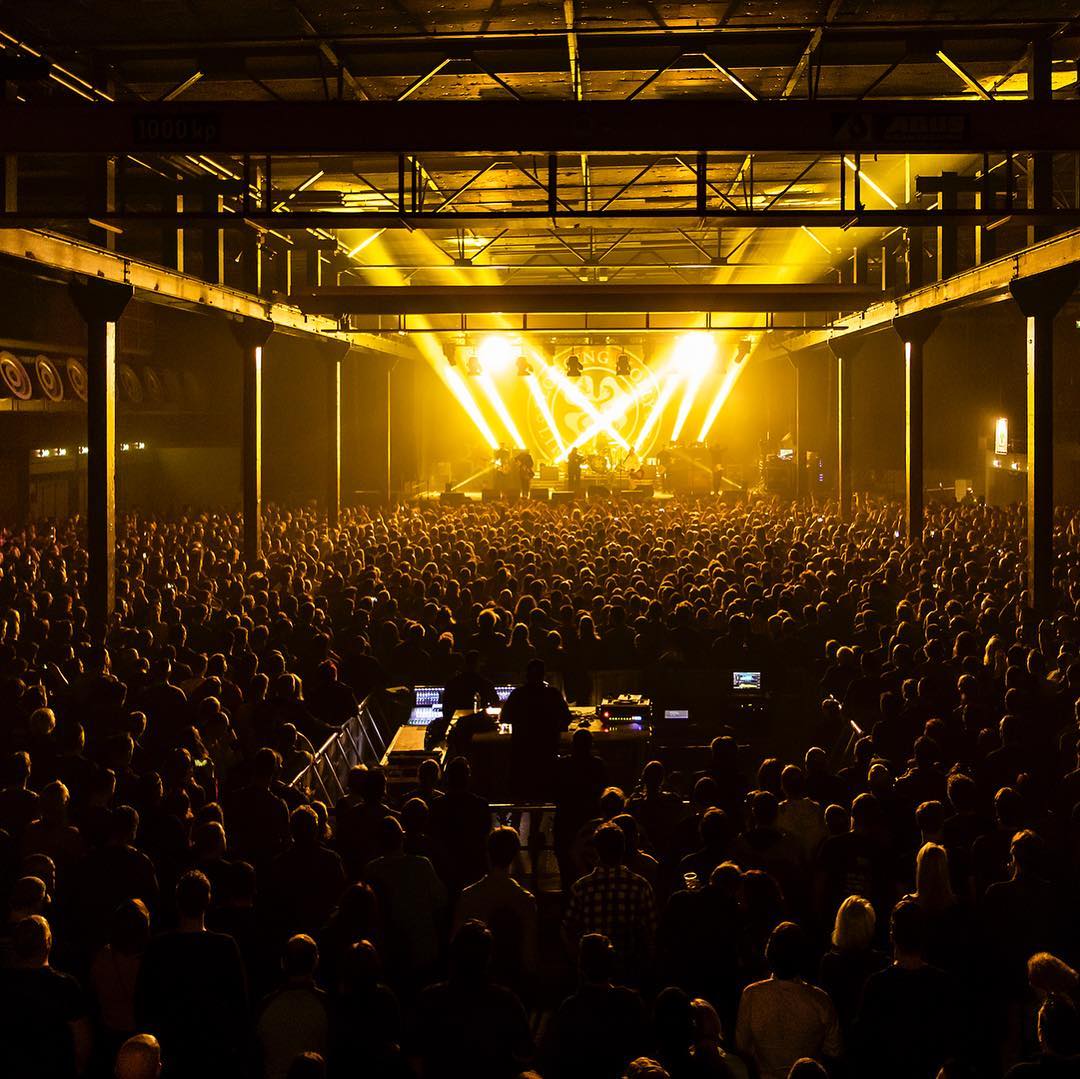 It's a dream shared by many lighting designers. You're a huge fan of a band one day, and then find yourself creating its shows and running its boards the next. Such was the good fortune of Peter Therrien of JDI Productions a couple of years ago, when he was in Dallas working with another band when a friend introduced him to Flogging Molly.
The Irish punk rockers were a favorite of Therrien and his wife Colleen. They took a liking to him too, so one thing led to another, and before he knew it, he became their lighting designer. He hasn't looked back since, traveling the world doing hundreds of shows for this uniquely dynamic band, which routinely packs live music venues.
Therrien has proven to be a perfect fit for the band as it moved more into production looks. Avoiding easy tricks (he minimizes his use of greens for the Irish group), he's managed to give Flogging Molly full scale touring visuals without distracting from the band or taking anything away from the genuine tavern feel that has earned it a global following. He sat down and talked to us about life on the road with these great Gaelic rockers.
Flogging Molly is such a high energy group. How do you match their energy level with your lighting?
"Good question! Flogging Molly's energy is what makes the show. The big challenge and the really fun thing about being involved with this band is to keep up the great energy level. I live by the theory that everyone there is there to see the band; I just have to make sure they can see them in a way that reflects their energy. I go with pretty basic big looks with tons of color — except for when they play their hit 'Drunken Lullabies,' which is all white light. I also want movement, but not to the point where it takes anything away from the band at all."
You mentioned color, being that the band is Irish do you use a lot of green? Does this affect your lighting design?
"Funny, but I really use only limited amounts of green. I have green for only two songs in the set. When I use green, I prefer to have it with dark blue or white or orange. Truth be told I use way more blue than anything else during a show."
How did you hook up with Flogging Molly?
"I was working for Hatebreed and on that crew was Casey Cress and Kenny Nishimura. Casey is TM FOH for Flogging Molly and Kenny is TM assistant. We were in Dallas playing a venue and Flogging Molly was across the street. Casey told me that he had friends across the street and when I asked who he told me Flogging Molly. My wife and I were already fans so I laughed, told him I was a fan, and said something along the lines of how I would love to get the chance to shine lights on them. Three months later I get an email that says pack your bags!! I remember just standing in my living room telling my wife; she was so excited."
Speaking of your wife Colleen, what role does she play in your career?
"First thing that's most important to me either with Flogging Molly or any other tour is that my wife and family support me fully in this crazy business. Also the help I get from everybody at JDI Productions including the owner Derek Iorfida, Fred Thompson, Cody James, Mark, Megan, Grant, Jenna, Jason…really does make my job a lot easier."
You've gotten close to the band; are there any lessons that you've learned from them?
"Flogging Molly really is an amazing group of humans to work for and be around. If there is one thing I can say about them is they've been around for over 20 years all over this planet and they are still just really humble and appreciative. Never too busy for an autograph or a hello or hug or selfie or whatever. I really believe you can be great at what you do and walk around without telling everybody, and that's how they live."
Every band has its own particular tastes about production. What are some of the things Flogging Molly wants from your lighting?
"I think they just want to sound good every night, which they do because we have really great techs up on stage and they want the crowd to feel like they are part of the show. Lots of sing-a-longs, and Dave is such an incredible frontman – he really draws the crowd in with his banter, so I do a lot of lighting up the crowd, as he loves to see them singing and dancing. Dara Guiney was a Flogging Molly's LD many years ago. I love Dara; he has really taught me a lot. He often used festoons in his rig, so last year I incorporated LED festoons into the rig. I would hand them to the local hands and say, 'Here, hang these wherever this is your house.' It made the shows almost like a backyard feel and the band loved it."
We know that Flogging Molly has gotten more into production. Can you tell us how that happened?
"In the two years I've toured with the band, they've played some great shows around the world with other bands and those bands had amazing LDs. I mean when you're in Europe and touring with Volbeat and see what the amazing Niller Bjerregaard is doing or out with Dropkicks and you have super talented guys like Brian Lareau or Jeff Maker, I think it really opened the eyes of a lot of people in the Flogging Molly world that big production does have its place."
How do you balance production with still maintaining the bar/club feel that the band wants?
"This is the hardest part of my job. I really have to find a balance of not alienating the older punk fan base by not making it look like an over produced pop show, but still make it look like an over produced pop show. I think making sure the band can be seen, and I just stay in my lane without trying to steal the show but just adding to the show, I think I've managed to keep most people happy, but being a lighting guy is like being Picasso, some people will love your work and some people wonder why you put the ear over there."
"I think the best thing about lighting these guys is really what used to be the worst thing about the band. I think at first they were a little skeptical about the ideas I would bring them or Casey, but now I feel like they trust what I'm trying to achieve and really just let me do my thing and I appreciate that. Of course they have input and questions and even started with suggestions, and I always appreciate that because I'm really there for them, not the other way around. There isn't a day on tour that I don't take a second right before I black out the lights to appreciate where I am. I've learned in this business to try and learn from everyone I can and not everyone will love what I do."