John Garberson And CHAUVET Professional Go Red, White And Blue For Tempe's 4th Of July Festival
Posted on July 10, 2018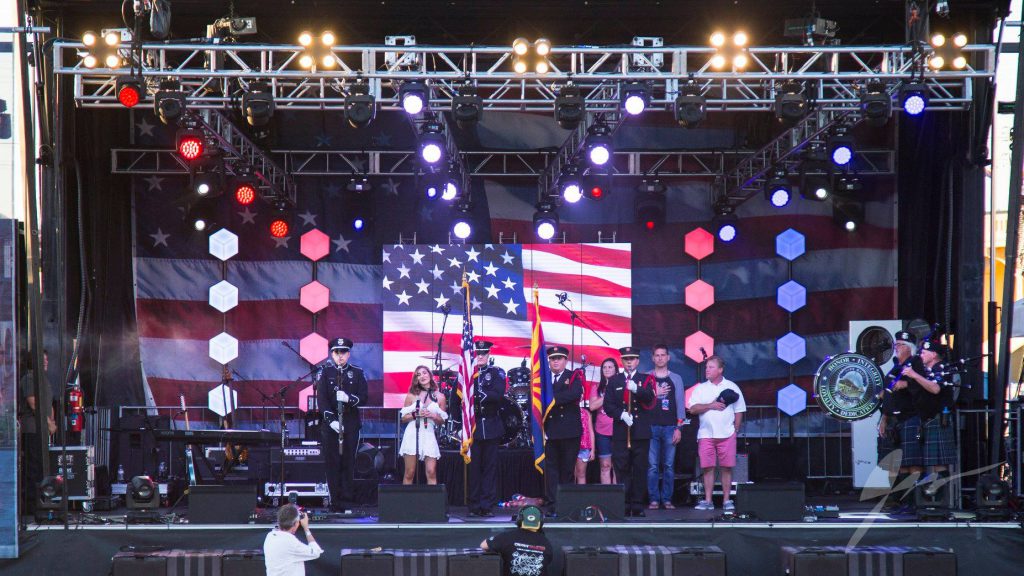 TEMPE, AZ – If Hollywood film makers were looking for an ideal natural backdrop for a 4th of July fireworks display, they would do well to travel about 400 miles east to Tempe Town Lake. The glistening water and the wide-open dome of a desert sky add a compelling and powerful dimension to the pyrotechnics that are launched from the waterway's graceful Mill Avenue Bridges every year. It's a scene that other venues would be hard pressed to match. But the same environment that provides such a dramatic setting also poses special challenges for anyone trying to set up a stage for this Independence Day event.
John Garberson of Creative BackStage, who has been involved in Tempe's 4th of July fireworks festival's stage show for 18 years, knows how to handle the setting's natural elements. (The date has extra-special significance for him, since Creative BackStage was founded 15 years ago on July 4th.) He convinced the festival's organizers to switch from a motorized roof to a Stageline to account for sudden desert storms, and he keeps all gear fanned and shaded to protect against the heat. Keeping cool this year, while serving up some red, white and blue hot looks for the 6-hour festival, was a rig he anchored around CHAUVET Professional fixtures.
Garberson used eight Maverick MK2 Spot and 24 Rogue R2 Wash moving fixtures in his rig, as well as five STRIKE 4 multi-formatted units and a collection of beams, along with LED video panels. Although the event didn't start until 5 pm on account of the heat, there was still plenty of daylight when the opening acts performed. (The fireworks didn't begin until 9:20.) The output from these fixtures was bright enough to make an impact from the moment the first performers took the stage.
"Brightness is essential for us in an event like this," said Garberson. "The STRIKE 4s are invaluable in this kind of setting, because they're bright enough to show up even in daylight. We used them as blinders during the day to engage the crowd, then as nice warm white washes at night to set moods."
Garberson positioned his STRIKE 4 units on downstage truss along with eight of his Rogue R2 Wash fixtures, which he used to wash the stage apron and the audience. He flew four of this Maverick MK2 Spot fixtures on upstage truss and had them create crossing patterns as well as down light performers.
The four remaining Maverick MK2 Spots, along with 16 Rogue R2 Wash units, were positioned on four pieces of truss that ran from downstage to upstage to create a greater sense of depth on stage, Garberson flew his downstage units higher than those that were positioned upstage on these truss structures. The two center structures also converged upstage to add to the sense of depth.
"Given the size of the park, we wanted to create a sense of convergence on stage," he said. "Pulling people into the center of the stage fostered a stronger connection between the performers and the audience."
To account for the heat, setup time was necessarily limited when Creative BackStage put together this rig. Garberson credits his crew for their work in efficiently putting together the stage at Tempe Lake Park.
"Our team of Elie Knight (Lighting Programmer), Maxine Kichler (Rigger/L2), TJ Watson (Video Manager/Center VJ), Jamie Rivera (Video Switcher), Johnny Chilcher (Camera Op) and Wes Webb (Camera Op) did excellent work under sometimes challenging circumstances," said Garberson. "Heat is a very serious concern when it comes to this event each year. We never set or strike in the day. We start about 5 pm. We work through the night — and we strike 100 percent right after the event."
Once the event is set up, heat can also be a factor impacting equipment. "I have seen many gear go down due to the heat in the past 18 years doing this event.," said Garberson. "Fortunately, this year everything went off without a hitch — and, just like the fireworks, our lighting got a lot of rave reviews."