JP Wilson's Immersive Events
Posted on November 6, 2018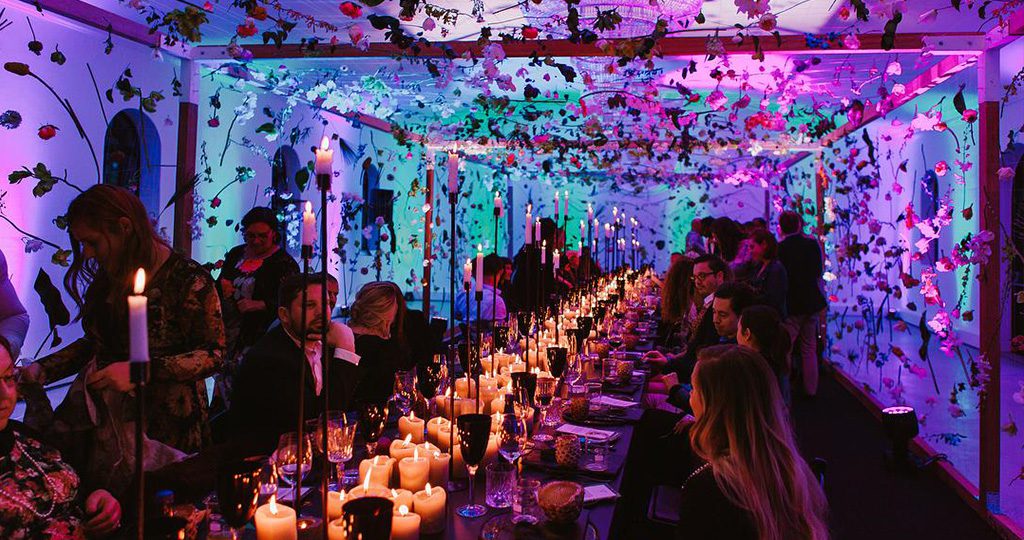 Frank Sinatra was once described as "the best friend a songwriter ever had." It wasn't just Old Blue Eyes' vocal qualities that stood out, it was also his uncanny ability to go beyond singing a song, and actually extract the meaning out of its lyrics as he turned them into music. We don't know if South African designer JP Wilson can carry a tune, but he just may be one of the best friends an event venue ever had.
Like Sinatra with lyrics, Wilson has demonstrated a gift for walking into a room and determining how a unique architectural flourish or an external decorative element can be brought forth with light. It is maybe something subtle like the cross beams on a ceiling that seizes his imagination, or perhaps it's some usually-overlooked art object at a room's entrance. On other occasions, his design may take flight with something more dramatic, like the enclave of flowers where a gala dinner was served at Cape Town's Floral Experience Workshop.
Regardless of where Wilson's inspiration comes from, the end result is the same. His design doesn't simply light an event, it draws all the divergent elements of a room together into a holistic setting that engages the senses to create a more memorable experience. The owner of Unfazed Productions in Cape Town, Wilson spoke to us about immersive event lighting.
We've been impressed by how you create these wonderfully transformative looks with lighting at events, even though lighting isn't always in the forefront of your design, as was the case at the Floral Experience Gala and Argyle Launch. You let flowers and plants be the stars of these events. Does it take creative discipline to stop yourself from 'over lighting' an event?
"Yes, I always try to make the actual fixture/unit as unobtrusive as possible, and let the quality of light enhance the installation or event. It's always an exciting collaboration when you get the chance to enhance an immersive event through colour and texture. This does not have to be from a Gobo's images. Instead you can allow details in architecture, and in the case of the project you mention, the floral elements to shine. It's easy to throw the 'kitchen sink' at installations, but being more restrained, and letting the space also dictate the mood, is important. The adage 'Less is More' definitely applied to this event where the focus was on the floral display."
When lighting does take a supportive role to a scenic element like flowers, how would you describe its role?
"In terms of the Floral Experience, the goal was to have an immersive experience. I came up with the concept of having a strong colour lighting theme to suit each meal course of the amazing food at the gala. Next was to create an overall ambience. I used wash lights to saturate the roof and walls with up-lighting around the room to light the architectural elements. Then we used a second set of wash lights to enhance the structure over the tables so that we could contrast and also use similar colours to play and focus either the room or the structure. Finally, I used LED pinspots to highlight specific flowers within the installation to create depth and interest."
Any advice on lighting something as delicate as flowers?
"Heat, is the number one killer!! The newer LED technology really helps in lighting installations from wash to spot with little or zero heat emission from the source. Also using the newer battery products allows you to place the light in just about any position without 'ugly' cables highlighting the fixture rather than what it is lighting."
Before beginning your design process, do you study an event venue for possible scenic elements? If so what do you look for?
"Yes! I studied Architecture as a student. Thankfully I have a 'good eye' using venues and spaces to enhance or focus lighting on particular areas that we are asked to 'light' and supply technical solutions for. Building reliefs, arches, brick and stone surfaces, all take light differently. By using colour and playing with beams, we can create some magical immersive spaces from subtle whites and pastels to strong and vibrant colours, enhancing architectural elements or creating a colour wash to hide elements by unifying and blending them into a cohesive design."
At outdoor events, we've seen you weave trees into your design. What is your thinking there?
"I like to use features that are both architectural and natural. Firstly, it must suit the event, and by using particular trees to create a wider and/or higher stage, it then adds to the overall ambience of the event. We do a lot of large scale weddings, and guests tend to wander around the venue and surroundings so I think it's important to light external elements to enhance the space — either subtly to enhance the natural elements, or go wild and include them in the overall design with colour and texture. Also by enhancing a particular area it draws attention to, and reveals the majesty of, some trees through highlighting the stem and foliage.
"On other events like festivals, I like to include spatial elements, especially trees, to enhance the space and create a cohesive feel around the stage. It also helps to define the surroundings. We did a specific event on a wine farm where there were several small intimate stages within a forest for a poetry festival. We lit the individual areas in a certain colour palette that was linked to the programme, so at night you had an amazing colourful landscape but knew where all the different stages were."
Your colors always seem to be harmonious with your scenic surroundings. Any advice on choosing colors?
"Firstly, thank you! I do try and enhance the natural elements and like to transition an event from arrival/dinner through to the party. Lighting does not have to be all flash and trash!! I like to create a start to an event using a colour theme, either utilizing the floral or décor theme, or the corporate colours of the event. Subtle pastel / complementary colours through the start of the event, with slow subtle changes through dinner with warm tones so that the guests can see what they're eating!! This means soft ambers and lavenders or warm yellows and pale greens through to warm white tones. I always allow the space to dictate the brightness and saturation of light and the lighting must suit the event."
At the Floral Experience, you relied on color changes to transition from one course of the meal to another. Were these changes gradual or sudden? Can you walk us through how you used color this way?
"Each meal course had a colour theme so we used colour to enhance the food, some sympathetic and some contrasting. We did both gradual and sudden changes to introduce each food course, but then transitioned the lights into a warm CTO look over the tables so that the food could be appreciated. The room, however, kept the colour of the food course, highlighting the immersive feel of the floral elements front and center."
You mention this earlier, but can you elaborate on why you feel it's important to 'hide' your actual fixtures to create an immersive event environment?
"If we can hide fixtures we absolutely will. The fixture should not be seen, only the light output of what it is lighting. The less obtrusive the fixture, the more the space can be appreciated. I feel it is important also to use fixtures to suit the application, keeping things like eye-line important. The last thing you want is a beam in your eyes when you are eating!! It is all about fixture placement. Using small fixtures really helps us to achieve the overall lighting effect where the elements are enhanced and not the fixtures."