Juan Ocampo Creates Rogue Looks For Zion & Lennox At Rosemont
Posted on May 10, 2018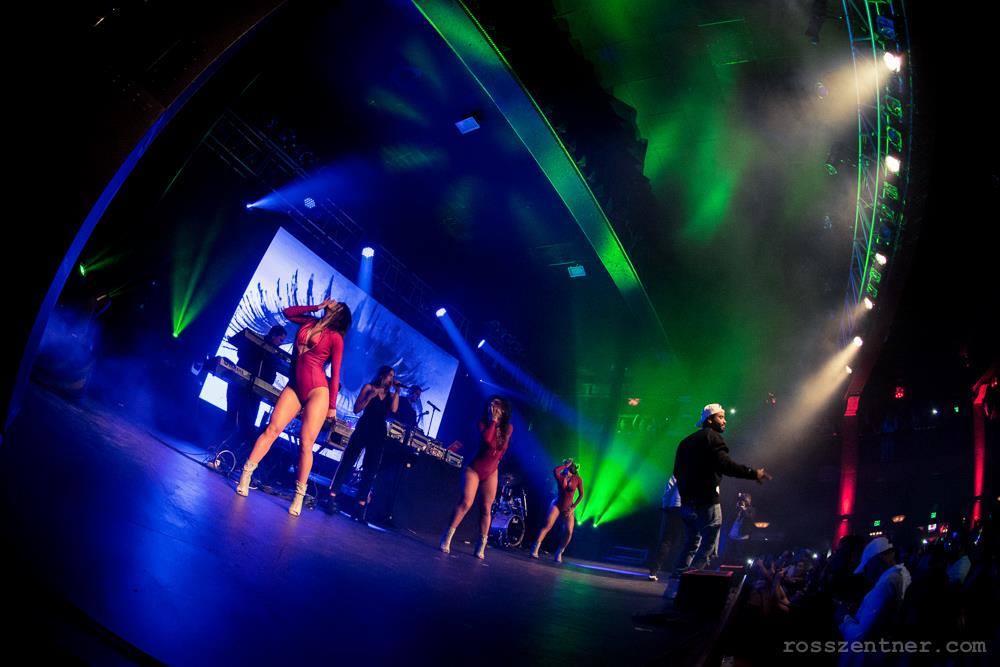 ROSEMONT, IL – Creative passion doesn't fade, it just keeps burning more brightly with every passing mile for Reggaeton legends Zion & Lennox. After 18 years of touring and a fistful of Top Ten hits, the Puerto Rican duo still exhibit the raw hungry power that has made them a defining force in their musical genre. This fervor was on full display in their recent hit music video Mi Tesoro, recorded with Nicky Jam. It was also very much in evidence on a cloudy Sunday night, April 22, when they rocked the sold-out 4,400-seat Rosemont Theatre outside Chicago.
Supporting the duo's high-energy performance was a plethora of aerial effects, stage sweeps, blinders and intense audience lighting created by Juan Ocampo of High Frequency Productions (Gurnee, IL). Using a collection of Rogue and STRIKE fixtures from CHAUVET Professional, Ocampo's rig featured 28 Rogue R2 Wash fixtures, 16 Rogue RH1 Hybrids and four STRIKE 4 multi-formatted blinders, along with 16 CHAUVET DJ Intimidator Hybrid 140SR units, all supplied by High Frequency Productions.
"This project came to us just two weeks before the show date," said Ocampo. "The V5 Group out of Chicago reached out to us about the show and put us in contact with the tour manager, Giovanni Ortiz. He sent us their Touring stage design and told us to replicate it as close as possible. When we mentioned that we would be using CHAUVET Professional fixtures, he immediately approved, no questions asked."
Following this plot and making a few tweaks along the way, Ocampo created a richly textured, multi-layered matrix of light that added a much-needed sense of depth to the 60' wide Rosemont Theatre stage. This dimensionality engendered a sense of intimacy on stage, which reinforced the strong connection that Zion & Lennox have with their fans.
Set against this background, the saturated colors from the Rogues energized the visual panorama on stage. "The Rogues have great vivid colors that stand out," said Ocampo. "With their fast pan/tilt movements, our LD for the show, Glenn Ottenbacher, had no trouble snapping them into position."
Ocampo's design called for 16 Rogue R2 Wash fixtures to be flown on downstage truss for stage wash and crowd specials. A collection of four Rogue R2 Wash units was flown on the upstage batten directly in front of the LED video wall, used primarily for backlighting the performers. Another six Rogue R2 Washes were flown, along with eight Rogue RH1 Hybridd units and four Intimidator Hybrid 140SR units, on mid-stage truss, and were used for downlighting, crossing beam patterns and intense specials.
"There were also eight RH1 Hybrids, eight 140SRs and six more R2 washes on the stage decks as part of the floor package," said Ocampo. "We placed the RH1s on road cases behind the musicians directly under the 43' LED wall. The combination and placement of all these fixtures created the visual effects that the TM was looking for during the show. Zion & Lennox's surreal effects that were displayed on the video wall were heavily complemented by the lighting. We had to ensure that the LED visuals and lighting worked in harmony together to create the total immersive experience."
Completing the rig were the STRIKE 4 fixtures that were flown on downstage truss. The warm white fixtures had no trouble filling the spacious theatre with their glow.
"The crowd came looking to connect to Zion & Lennox, and hopefully our lighting contributed to making that happen," said Ocampo. "The entire team of Glenn Ottenbacher, Garrett Vanderveen, Sabrina Seaman and Nick Manchenn deserves a big shout-out. In the end, our lighting helped give these very gifted artists a platform to showcase their talents."