LD Eric Price Achieves Balance For Bayside With Rogues
Posted on September 1, 2016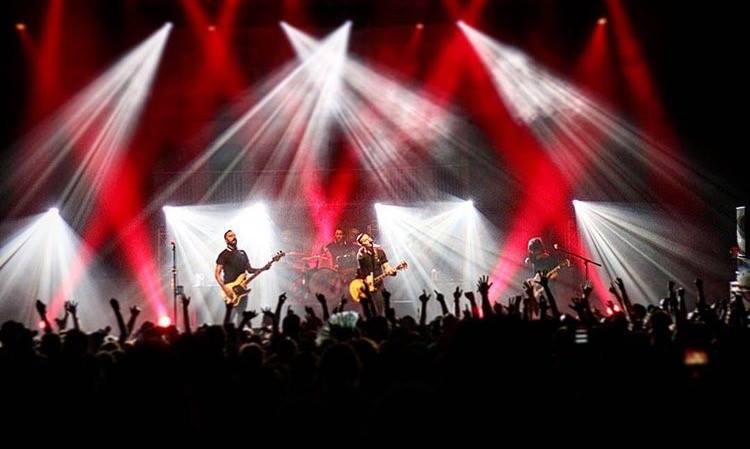 NEW YORK – Success has not spoiled Bayside. After 16 years, seven critically acclaimed albums and a succession of sold-out world tours, this New York-based group remains as raw, hungry and true to its musical roots as ever. The familiar catchy chorus breaks and rambunctious guitar riffs that have run through the band's performances from the beginning are still there, but their sound has continued to mature and change, stirring up new emotions with unexpected drum fills, cutting solos and other nuances.
Designer Eric Price hit a visual sweet spot when lighting Bayside's current tour in support of its new "Vacancy" album. Artfully deploying a collection of CHAUVET Professional Rogue fixtures throughout his rig, he is managing to deliver punchy, immersive looks, while avoiding heavy eye candy that could compete with the band's gut level music.
"Bayside wasn't looking for a show full of big lighting looks; this wouldn't be in keeping with their approach to their fans and music," said Price. "At the same time, though, they wanted something that would reflect their music in an exciting and intense way. The Rogues provided me with a great tool for doing this, because they were very bright and had a bunch of features that let me create some intense looks without being overbearing."
Price worked his magic using six Rogue RH1 Hybrids and an equal number of Rogue R2 Washes, provided by JR Lighting Design of Orland Park, IL. He positions the RH1 Hybrids on 6' truss towers along the upstage edge and arranges the Rogue R2 Spots on the stage deck.
"The Hybrids are back washing the band and lighting the audience," he said. "I use them to zoom gobos that are pointed straight out at the crowd. The versatility of these fixtures is helping me achieve some very impressive looks without 'over-lighting' the band. One of the things that has really impressed by about the RH1 is how the spot and beam modes are holding up with sharp focus and no loss of output."
Price is using the R2 Washes to create some evocative aerial wash effects that change colors and zoom angle to reflect the wide range of emotions that infuse Bayside's music. The impressive range of the R2 Wash (it has a 12⁰-49⁰ zoom range) has been instrumental in Price's design.
"I'm using the R2 Washes on the floor because of their ability to zoom very narrow and extremely wide, creating a mid-air cyc light type of effect," he said. "They're giving us great aerial looks."
In addition to crediting his Rogue fixtures for helping him achieve his well-balanced design, Prices gives a shout out to the people surrounding this project. "Jason, Justin and Kevin from JR Lighting have given me constant support and invaluable knowledge," he said. "Kim Kozak has provided me with invaluable input on my designs – plus she's an amazing person in general."
Price also gives kudos to his clients for giving him "awesome songs to light." Indeed, Bayside has earned widespread praise for evoking powerful emotional responses from their fans. From the looks of their current tour, the band is also good at inspiring lighting designers too.