Lighting Drum Roll
Posted on February 6, 2018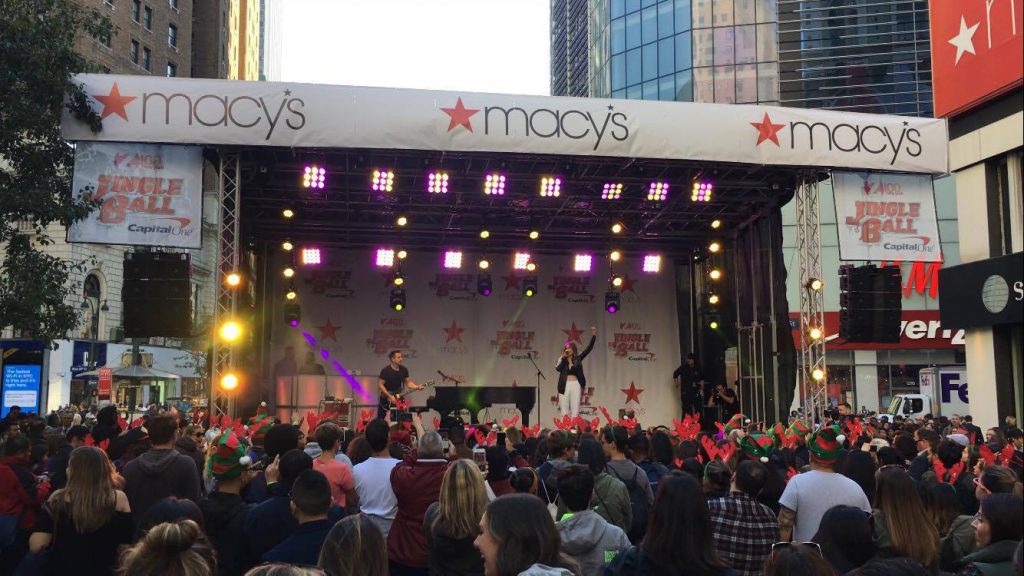 Whether it's the unveiling of Academy Award nominees or the introduction of a sports team's newest star, in our media-driven age even the announcements preceding major events are becoming events in themselves. This trend has created a new opportunity for lighting designers, as event organizers look for ways to make their announcements stand out.
Angel Perez has seized on this opportunity to add a new dimension to his business at Fine Quality Events. The New York LD has lit some of the highest profile pre-event announcements in the city, from the 2018 Team USA Winter Olympic Athlete Introduction at Times Square to the unveiling of the Jingle Ball Concert artist lineup outside Macy's iconic Herald Square location.
Perez shared some insights with us on creating lighting drum rolls at build-up announcements before a big event.
When you light a pre-event announcement, you often have a small stage, but you still manage to create exciting looks. What's the secret?
"I usually pre-address my fixtures the day before the event so the design that ultimately creates those looks is taken care off. Most of the time on the outdoor rigs, power has not been set up yet when we get there, so we need to have the fixtures pre-addressed to save time. In all cases, time is of the essence, so aside from pre-addressing, it's essential to have a staff that shows up on time! This can be a challenge, since set ups usually take place 10 hours before the gig starts. I often show up somewhere around 4am. Many of my New York City gigs require that there be Union labor present, which is great because these workers are there to get in and out."
You mentioned that these events are often outdoors. They also take place during daylight hours, so how do ensure that your lights will be seen?
"When dealing with outdoor stages, you want to first establish if the stage will be covered on its side. If it is, this will allow you to have more control the environment – or shall I say, the atmosphere. In cases when my stage is covered, I like to use haze so my moving heads show up nicely. When haze is not an option, then I would go with more eye candy effects instead of moving heads. I'm talking fixtures with RGB pixels and things of that nature. When the announcement takes place during daylight hours, you wan to make sure your fixtures have the necessary output."
Announcements, even major ones, are often unscripted affairs. Does this influence the way you design?
"It definitely influences your mind set when you go into this type of project. You have to be prepared to get thrown in the fire at any time. I prepare for a lot of different possibilities. I write a ton of lighting cues, and most of them never get used. Many the organizers of an event don't tell me – and may not even know themselves – who the talent will be. At other times, when we do know who the talent, they might do an acoustical rendition to their hit electronic song. When that happens your 120 high energy lighting sequence has to be tossed in the trash, so you better have a plan B ready!"
Since announcements are often videoed by fans and news organizations do you light for the camera when you design for them?
"Absolutely, events are always photographed and videoed. As much as I would love to turn every stage into a EDM lightshow, I have to keep in mind that many photographers, both staff and freelancers, are at these events. They make their money by selling single shot photos to publishers. As a lighting designer you don't want the camera people saying they can't shoot anything cause the lights are blinding the cameras."
What do clients look for when they hire someone to light announcements?
"Someone who could deliver a design that does not look cookie cutter; and someone who can do it at reasonable price. That's what I deliver. I don't recreate the same stage twice. Clients will know when you design something custom tailored for their announcement event, and they appreciate it. They want to know the job is going to look amazing without any technical difficulties. It only takes one time to loss a client"
How about doing events in a media capital like New York?
"If you want to do big things in this city, don't try to copy what everybody else is doing. If you do, you're just joining the race to the bottom. You have to create your own brand, think outside the box. Be the best at what you're doing. When you do, someone will take notice of your artistry and you will find your niche."