Lighting Therapy? At Sonisphere
Posted on August 4, 2014
Sonisphere Festival made a triumphant return to the UK in July, celebrating 40 years of rock music at Knebworth Park. Co-headlining the Bohemia stage, alternative metal band Therapy? played their 1995 classic album Infernal Love, accompanied by a stunning light show featuring a selection of fixtures from CHAUVET Professional.
Lighting Designer Pete Davies prepared an impactful yet compact, tour-friendly package, primed for easy transportation across Europe for a series of festivals.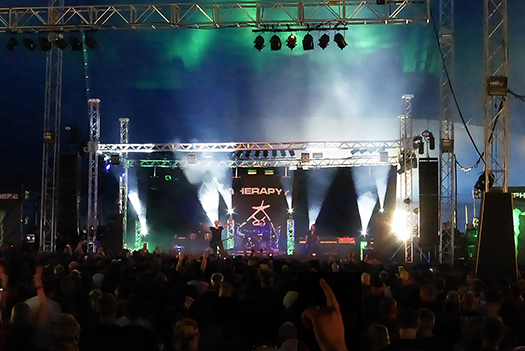 The creative solution incorporated eight Rogue R1 Spot fixtures, set to generate a variety of effects throughout the show, and a series of twelve tour-ready STRIKE 882 units for extra clout.
"It was important for the crowd to interact with the band, to engage with them, and to really feel involved in the performance," said Davies.
"This was the focus for me when putting the design together. The STRIKEs performed brilliantly as audience blinders, which was obviously key to achieving this aim. Not only that, they were great as strobes too, adding an extra dimension to the show.
"I was also really impressed by the capabilities of the R1 Spot; the motorised iris meant beam shaping was easy, and with the three-facet prism we were able to create some amazing visual effects."
Low-energy LED fixtures were the natural choice for both Davies and the band, keen to minimise their carbon footprint, without compromising the quality of the audience experience.
Davies added: "We were cautious after the issues we had four years ago – losing power during the first song – so this time we wanted to go in with plenty of headroom.
"Most off-the-shelf strobes just weren't suitable, but the STRIKEs fitted the bill perfectly: bright, with plenty of punch, without being power hungry."
The set list comprised a variety of song styles, calling for extreme variations in the lighting required. To help achieve this, Davies added some TRUSST truss uprights, each uplit with a CHAUVET DJ SlimPAR QUAD 6 IRC at its base.
Subtle and mysterious effects accompanied the moodier songs, while the eight feature-packed Rogue R1 Spot lights and STRIKE 882s were used for maximum impact during the louder, bolder numbers.
"The band absolutely loved the scheme we created using the Chauvet fixtures and, judging by the audience's reaction in the packed-to-capacity tent, we succeeded in making them feel a part of the show, just as we planned.
"CHAUVET Professional is really becoming the brand to watch. They're listening to the needs of LDs and are bringing to market some very impressive innovations," he concluded.
"They've clearly got their finger on the pulse when it comes to LED technology."