Livestream Studios Turn 1
Posted on March 2, 2021
Almost as soon as the pandemic lockdowns went into effect, some lighting professionals began converting sections of their warehouses into improvised studio space where they could produce livestreams and videos. Initially, this was done primarily to keep busy, but as time passed these spaces were doing paid projects, primarily musical performances at first, but later corporate "virtual events."
Now as these studios close in on their first year, we asked some of these industry members to look back on their streaming efforts. As the responses below indicate, their experiences have been mixed. While some say streaming has become a long-term of their business model, others are less certain. One thing all agreed upon, however — doing something in the face of the lockdown was good for their creative soul. Here are their responses.
Johnny Palmer
Pytch, Bristol UK
"The advantages livestreams offer are too great for corporate clients to ever move away"
Responding to the lockdown and its impact on his robust live events business, this entrepreneurial wizard unleashed a livestream juggernaut. Starting out with a single production site in April, he subsequently expanded his operation to include three fully outfitted livestream studios in the UK, as well as over six green screen spaces overseas, including one in New York City.
Pytch's growth curve shows no signs of slowing down either. In this interview, Palmer shared insights into his success and the future direction of livestreaming.
There was nothing tentative about your entry into livestreaming. Why were you so bullish on it?
"So, when the pandemic and lockdown hit, we knew we had to respond. We asked ourselves 'what does the world need?' Well, people still want to communicate. They can't do that in person, so how can we help?' Simple, by giving them a platform with livestreams! The market then told us we were right, as business quickly went through the roof."
Why was the response so positive to your livestream services?
"Besides filling the genuine need that people had to communicate, we grew because we devoted a great deal of resources into ensuring that we had excellent production quality in terms of cameras, video screens, media servers, sound system gear, and moving lights. As we grew, we continued to pour more into our studio spaces. The quality of our productions led to more and more people seeking our services."
Did this expansion require you to hire more staff?
"Yes. This November as we approached the holidays, we were running three studios a day. So, we had to hire 15 new people. That's since cooled off, but our staff has still been expanded by four."
Has the composition of your livestream customer base changed since April?
"We did more music shows in the beginning, but it's trended toward corporate events since. I think that will be true in the future."
Speaking of the future. Where do you see livestream studios going?
"They are here to stay. In our case, we don't have a high overhead, since we own the buildings and gear so it's clear to see how the studios can pay for themselves. The advantages livestreams offer corporate clients are too great for them to ever move completely away from this format.
"One of our new sites is a hybrid venue that can accommodate an event for 150 people, but also be used for streaming that event. I think this will become something we'll see more of in the future."
Have you learned any new lessons about lighting from your experience with livestreams?
"It's not necessarily a new lesson, but being this involved in livestreaming has given me a new respect for how good our eyes are. Even the best camera can't match them. You have to be much more subtle and artistic when lighting for the camera to compensate for all the things it can't do compared to our own eyes."
Steve Wozniak
Harford Sound, Joppa MD
"This is going to continue to be an industry need longer than anyone anticipated."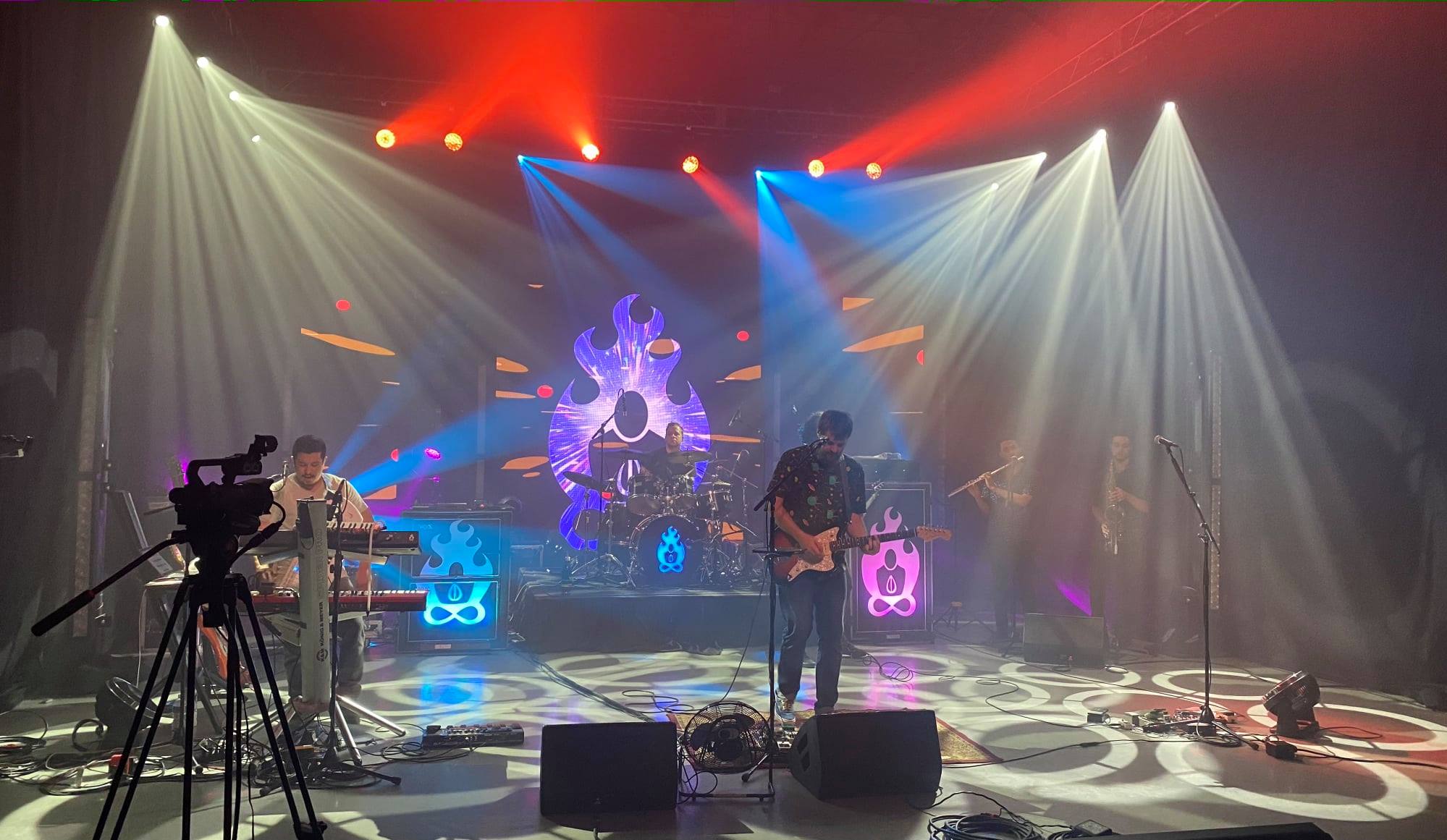 On March 21 2020 Evan Kirkendall, Steve Wozniak and the team at Harford Sound livestreamed a show by local tribute act Here's to the Night designed by the company's LD Kyle Ryman.
They haven't looked back since. With their normal schedule of live shows, festivals, and events, cut off the Harford team turned to livestreaming as a source of income and as a way to keep busy. Going beyond the basics, they outfitted the 750 sq. ft. improvised studio space in their warehouse with roughly 100 fixtures and a 18' x 10' video wall.
Business was brisk at first, but began slowing down as the holidays approached. Nevertheless, as Steve Wozniak explains in this interview, the company is optimistic about the future of livestreaming for Harford Sound and the industry,
How does your livestreaming volume now compare to when you started?
"The first three quarters of 2020 saw us slammed with streams on a weekly basis. Q4 slowed down a little, as many began to think that with restrictions loosening a bit that REAL shows would be back on the table. That remains to be seen, however!
"As far as our studio is concerned, we've gone through several iterations of this build. We've added and subtracted fixtures, split the video wall into three sections, upgraded our cameras, built a dedicated streaming PC, and have even increased the footprint of the area. We also added more drape, black carpeting, etc. It's a serious space, for sure.
"Through it all, we've relied on our staff to help us make this transition. We knew we'd have to pivot so everyone here at Harford Sound threw themselves headfirst into this concept and really became familiar with the gear and logistical considerations that are needed to execute a really high quality broadcast."
Has your livestream clientele changed since the lockdown started?
'Sure! We've been fortunate enough to run all kinds of talent and situations through the studio. Local cover bands, high profile national acts, trade shows, corporate happy hours, music video shoots, and even live galas and benefits! Running such a variety like this, everyone at the shop was able to really sharpen their skills, use problem solving, and enhance our own "personal toolkits". It's been a lot of fun."
So, it's fair to say that your skills and producing livestreams developed over the past year?
"I would say so, yes. Broadcast and concert lighting are two different animals. In broadcast, there is greater importance on lighting the entire area. If our feature communicator is roaming, we can't have them arrive in a dark area. Even coverage is key. Color temperature and keeping all of the shots consistent across the board is a huge consideration as well."
Once the lockdown ends will you still be keeping your livestream studio in operation?
"In a perfect world, we strike this rig, hit the road and get back to the meat and potatoes of Harford Sound, which are live events! However, the knowledge and gear that we've put into practice isn't going to go away. We can certainly envision adding live-streaming to our capabilities, for the long term. This is going to continue to be an industry need longer than anyone anticipated, so we're here for it!"
Justin Casey
HELM Projects Chattanooga
"We look forward to getting back on the road."
Soon after, the lockdown canceled his busy touring schedule, which included a Snoop Dog concert at American Airlines Arena and string of festivals, including Holy Ship Wreck, this designer/rental house owner, turned a section of his warehouse into a livestream studio.
His earliest goal was to provide a space for his staff to learn new skills and keep old ones sharp. However, a respectable volume of work soon followed, first from bands and more recently in the form of corporate clients. His studio continues to attract clients, but as Casey explains in this interview, he is eager for the day when he can return to doing live events.
Are you livestreaming more or less than you were since the lockdown started?
"We are definitely doing more than we did nine months ago. We are doing fewer music streams now and focusing more on corporate meetings. The demand for music streams has really declined in the past few months. On the other hand, our corporate clients are needing help in producing internal company meetings. We're also working with nonprofits producing content to for their fundraisers."
Have you expanded or upgraded your livestream studio since this lockdown started?
"Oh yeah. We have expanded our green screen studio to a 32' x 20' space along with upgrading our cameras and switchers."
How about staff members have you hired new ones as you've expanded?
"We have not hired anyone new unfortunately. We are still focused on using our core team and training them on the changes and the areas that we need help in."
What has the experience lighting livestreams taught you?
"We have definitely learned more about film lighting and what it takes to light a set for cameras and new techniques for lighting green screens."
Will you be keeping your livestream studio in operation once the lockdown ends?
"This is really unknown. As a production gear house, we hope that one day all of our gear will return to the road producing tours and live events. I can see some elements of the studio staying like the green screen area but we are really look forward to getting back on the road more than keeping a livestream studio open."
Will Chandler
Envizion Group, Los Angeles
"I don't think there will be a huge market for live streams once the pandemic is over."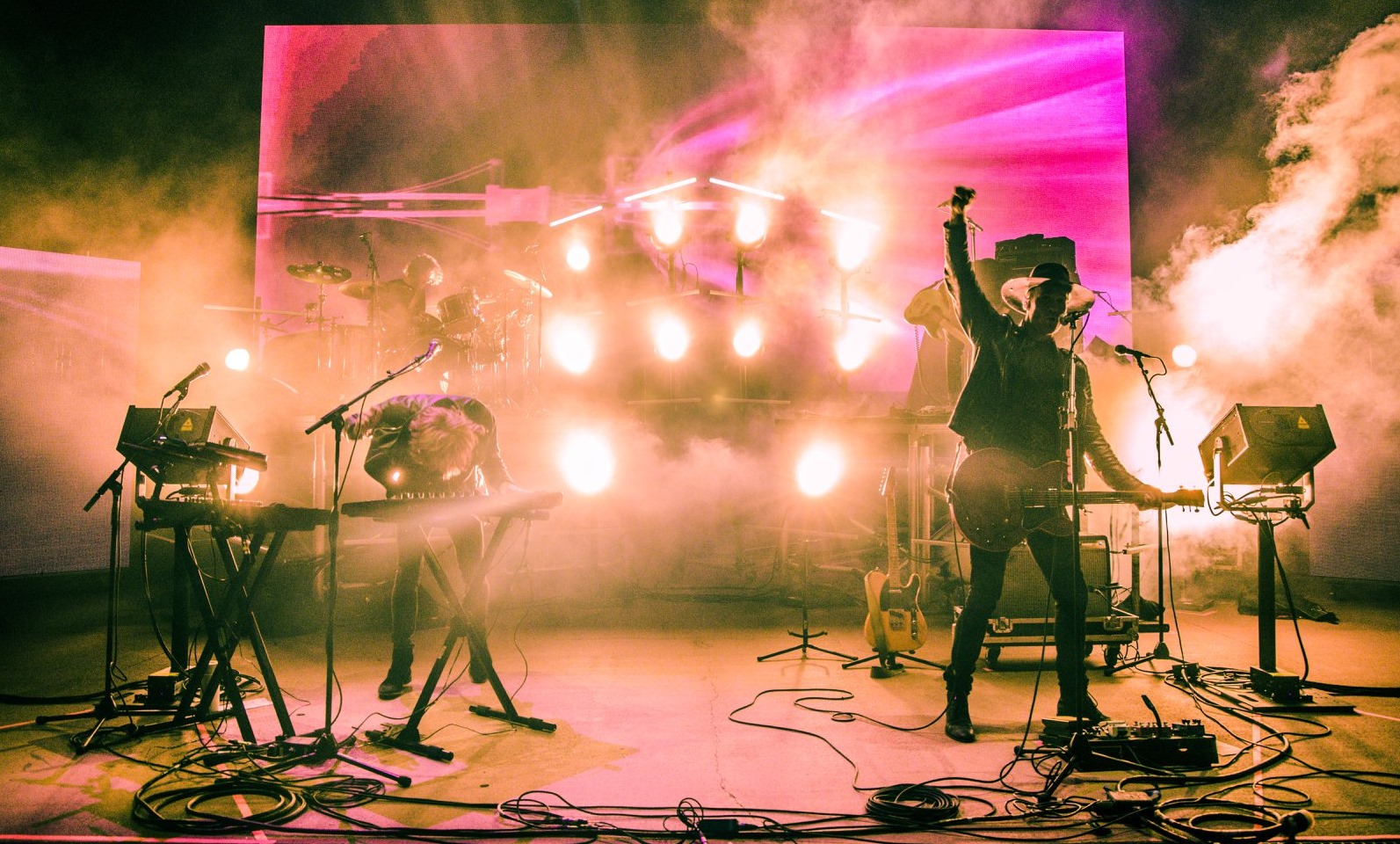 The lighting designer for Bob Moses and other groups began converting a 5,000 sq. ft. section of his facility into studio space for filming and livestreaming. Designing his studio with a rig that arched 180ﹾ around the performance area, to ensure greater versatility, he built up a diverse mix of clients.
Although the volume at his studio began falling off in the fall, particularly for livestreams, the, filming projects continue to remain strong . Chandler plans to keep working on films in after the pandemic passes, but thinks livestreaming will fade away once live events return. Nevertheless, as points out in this interview, he's grateful for the opportunity livestreaming provided to keep the creative juices flowing during a difficult period
Are you livestreaming more or less than you were since the lockdown started? Or has it remained the same?
"We peaked around September with a mixture of live stream concerts, and events/galas that went virtual. Since then, we've had fewer live streaming projects and more music video projects and recorded content."
What changes have you made to livestream studio since April?
"We're constantly upgrading it as we go. Much as it started out as a temporary project we're planning to use the studio for filming on a permanent basis. We've now added permanent rigging points, and additional camera/video lines, as well as more grip and camera lighting gear to our onsite rental inventory.
So, you intend to keep your studio in operation after the lockdown is behind us?
"Yep we'll keep using it for filming. I don't think there will be a huge market for live streams once the pandemic is over. There's just a limited market for streaming and a very small profit margin. Live streaming has been a great way to keep creativity alive, but as soon as live shows and events come back, I think everyone will transition back to those. We plan to resume using the studio as a live show rehearsal space soon, but we'll also be keeping a permanent truss grid and lighting package in there so we can keep using it for filming."
Have you hired any new staff members because you are running a studio?
"No — We're giving work to our shop crew and as many touring LDs, audio engineers etc. as possible. It's been a surprisingly smooth transition for everyone from live show production to on-camera projects."
Has your livestream clientele changed since the lockdown started? Are you doing more non-musical acts?
"Honestly, for a lot of touring musicians live streaming is not financially beneficial or even feasible as the profit margins are so low. Some of our event clients who would be organizing galas and awards shows have been able to move to live streamed events in the studio, but the pandemic has also opened up opportunities to work with a lot of new clients working in film, TV, and music video production. Much as we initially meant for the space to be just for livestreams we're finding more and more people who can use it for recorded content."
Based on your experience since April, what advice do you have about lighting livestreams?
"It's just like lighting for TV. I think it has been a fun challenge for touring LDs who are normally lighting for a room full of people, and now need to focus on just what the cameras see. Color, intensity, and positioning of fixtures can look totally different on a monitor vs in the room. An LDs eyes need to be focused on that monitor."
Chris Brodman
LIT Live!, Phoenix
"Once you learn a new skill, you never pass on those opportunities down the road."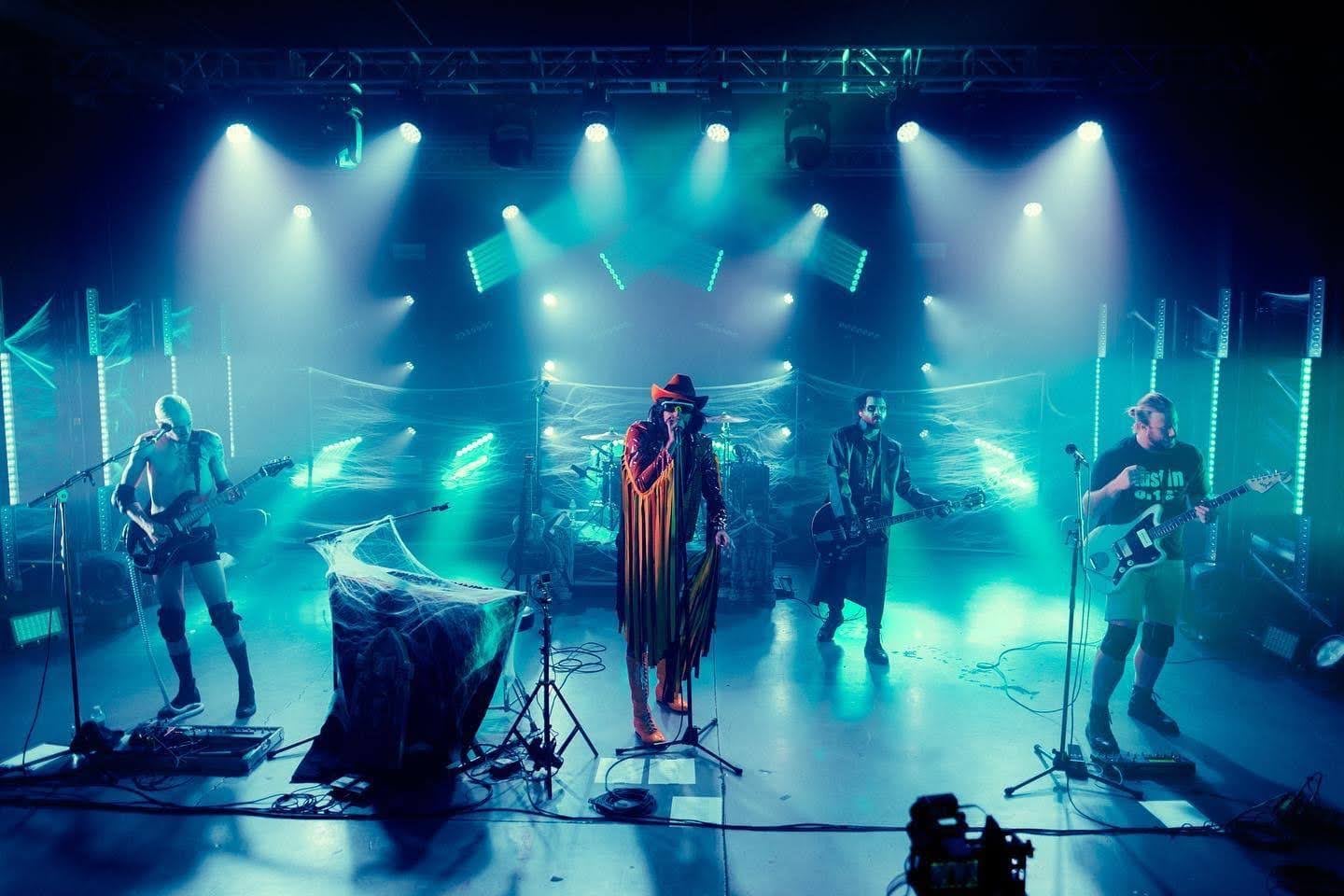 Almost as soon as the lockdown started, this Arizona designer convert a section of his warehouse at LIT Lighting into a production studio. Operating under the name LIT Live!, the new facility quickly began hosting livestreams by bands like Kastro, The Word Alive, and Authority Zero, as well as events like a SPIN magazine release party for Luna Aura.
Although they have branched out into other forms of livestreaming, as well as video shoots, music shows remain the staple of the LIT Live! production schedule. In this interview Brodman shares insights into the experience he's gained after nearly a year of streaming
You set up your livestreaming studio in March, almost a year ago – how is it going?
"It's been hit or miss with all of the things that of happened this past year, between political events, civil unrest and COVID-19 rate fluctuations. I was told by several customers a few different times that it was an 'inappropriate time' to do a gig. But overall, we have managed and are very fortunate to have kept a steady amount of streams and video shoots in the studio per month — typically two to four. We are still waiting to see how this first quarter works out coming right out of the gate after the holidays and the election. I am very confident we are beginning to see our nation heal and overcome all of this and that."
Have you expanded or upgraded your livestream studio since this lockdown started?
"Yes, we have upgraded everything from the total design and layout of the stage and tech stations from the original design back in March. We have upgraded our video equipment from whatever we could acquire early on In 2020, to pro grade 4K and 6K cameras. We also have a Jib and an automated dolly camera on a track now. This has really stepped up at our dynamic shot game!
Who is staffing your studio?
"We have tried our best to retool and educate our existing crew that we had with us pre-COVID-19. Giving them the experience and new skills for our pivot venture. We have brought in some new guys as well. But due to the nature of COVID-19 unexpectedly lasting this long, some people have had no choice and taken on full-time jobs in other industries.
"A lot of the pro film industry folks we had working with us early on in the pandemic are now too busy to take on livestreams. So, finding experienced people to work for the occasional gig, sometimes at a lower show rate than pre COVID-19, is tough right now."
How diverse is your livestream business?
"Working with musical artist is kind of our comfort zone. It's where our experience lies and it's where lots of our referrals and return customers come from. We did do a live stream for a Jewish synagogue's high holiday services a few months ago. That took place at the synagogue. That was fun and a unique experience that went very well.
"We've also taken some equipment to venues and done music video shoots and live streams. We are always looking at different markets though and trying to figure out how our tools and skills can be applied to them."
Have you learned any lessons about lighting livestream projects since starting your studio?
"Yes a whole lot. It's all about good lighting or the cameras can't see anything! I'm waiting for the right time to invest in some good video lighting equipment. I want to do this to supplement our studio, and have those tools for out of warehouse video productions in the future. So, we'll just keep educating ourselves and researching those products and applications until we are ready to purchase those instruments.
Once the lockdown ends will you still be keeping your livestream studio in operation?
"Absolutely, if being in this industry has taught me anything, it's that once you learn a new skill and educate your team along with investing in the equipment you never pass those gig opportunities down the road. This is especially true during a pandemic when new skills prove to be very valuable."
Marco Zaffuto
Fumasoli Audio and Lights Rental, Aosta, Italy
"All of our technicians are working to increase television skills."
After the lockdown brought its thriving live event business to a halt, this Italian rental company caught a break when Italy's highly-rated RAI television network, used the improvised livestream studio inside the Fumasoli warehouse to film Bonne Soirée, a musical series.
Building on this momentum, Fumasoli went on to create a diverse livestream business as the company's Marco Zaffuo outlines in this article.
What kind of role in your studio filling?
"We are broadcasting events that cannot be done live, such as the millenary fair of Saint Ours in Aosta Valley. We're also continuing our collaboration with RAI."
RAI has exacting standards. How have you met them in your improvised studio?
" We modified the studio to make it definitive and separate from the warehouse, and we built an isolated control room."
Did you have to hire additional staff to make the transition to broadcasting?
"No with the live music activity significantly reduced, we made our staff work within the studio."
What do you see as the future of your studio?
"In addition to television and livestreaming, we are trying to use the studio for theatrical and musical rehearsals. Also, our lighting technicians are working to increase television skills, because the studio will be used even after the lockdown period.