Marc Anthony Makes Grand Entrance With CHAUVET Professional Nexus Aw 7×7
Posted on February 19, 2016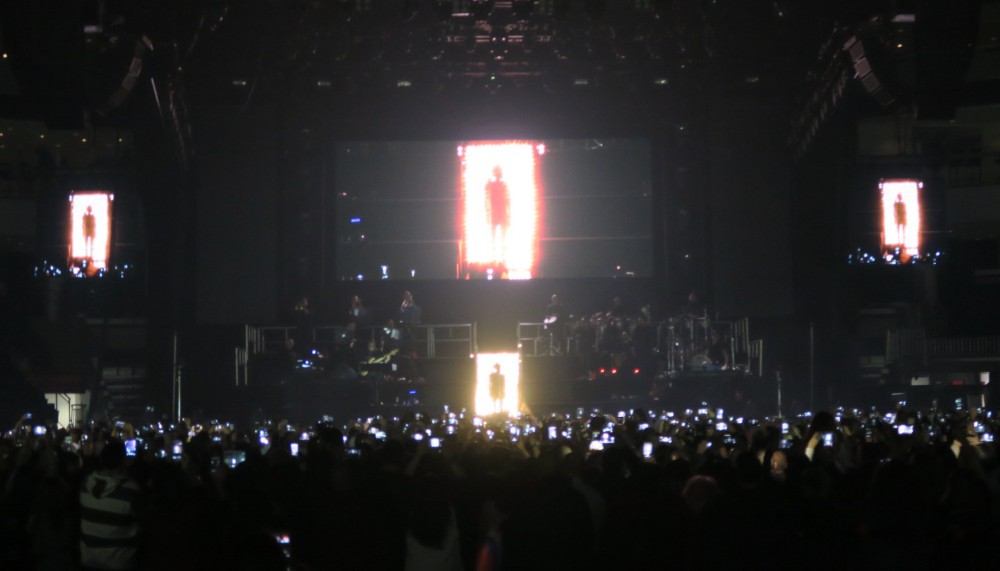 BRIDGEPORT, CT – Before appearing at the Webster Bank Arena for his Valentine's Day concert, Marc Anthony made a stop to receive the keys to Connecticut's largest city. Like many of the honors bestowed on the multi- Grammy winner since he launched his incredible career in 1988, the keys presented by Bridgeport Mayor Joseph Ganim were in recognition not just of Anthony's musical achievements, but also of his well-known humanitarian work.
As Mayor Ganim and the fans who would fill the 10,000-seat arena later that evening appreciated, the artist performing on Valentine's Day in their city was one whose impact extends far beyond the concert stage. This point was vividly and dramatically illustrated at the very start of Anthony's show by an artful lighting display created by the superstar's production manager Roly Garbalosa and designer Alex Soto using Nexus Aw 7×7 panels from CHAUVET Professional.
The duo used the warm white LED panels to create an upstage wall three panels wide and four panels long. This array was positioned between two four-tiered band risers that covered most of the width of the stage. When Anthony made his entrance walking in between the two risers, he stood in front of the Nexus wall and was silhouetted. His silhouette was displayed on three large video panels located above and on either side of the stage.
No other lights were on while the superstar's silhouette appeared, save the candle-like glow of cell phones being used to capture the moment. The entire scene of a solitary silhouetted figure surrounded by warm white light before a sea of thousands of glowing cell phones in an otherwise dark arena created a powerfully engaging environment that enveloped all in attendance. At that moment, it was impossible for anyone in the arena not to feel that they were about to see a special performance by an artist who had passed into the realm of legend.
"As his fans appreciate, one of Marc Anthony's trademarks is to have stairs that he walks up during performances," said Soto. "Roly had the idea of using the Nexus panels for the grand entrance. We played off that on Valentine's Day, dividing the stage in two sections each with stairs (the risers). In the middle we put the Nexus to create a powerful visual impression when Marc entered. It made people take notice instantly.
"The warm white tungsten-style look of the Aw 7×7 panels was exactly what we wanted for Marc Anthony's entrance," continued the LD. "It created a very inviting glow around the silhouette during the entrance and added an impressive touch to the stage. We just did this with the Nexus panels at a couple of shows recently. We're definitely going to look at doing more like this on future tours."
Following Marc Anthony's entrance, Soto continued to use the pixel mappable Nexus Aw 7×7 for chase scenes and as a dimmer effect. "We got some very good looks out of the Nexus," he said. "The light is so bright, we used it for a big blast of warm white at the finish of one song. It's funny, when Mark went back to the 'talk back' area he looked at the Nexus panels and said, 'Wow that's some bright light!' We got a kick out of that."
Looking back, Soto's only regret is that he didn't have more time to work with the Nexus Aw 7×7 panels. "We added them late in the process, so I didn't get to do all the programming I wanted," he said. "Moving forward, I'm sure I'll be doing more. As it is though, they contributed to a great Valentine's Day concert for us, for Mark and for the fans."