Matthew Beauchamp Stylizes Canadian Fundraiser With CHAUVET Professional WELL Fixtures
Posted on January 26, 2018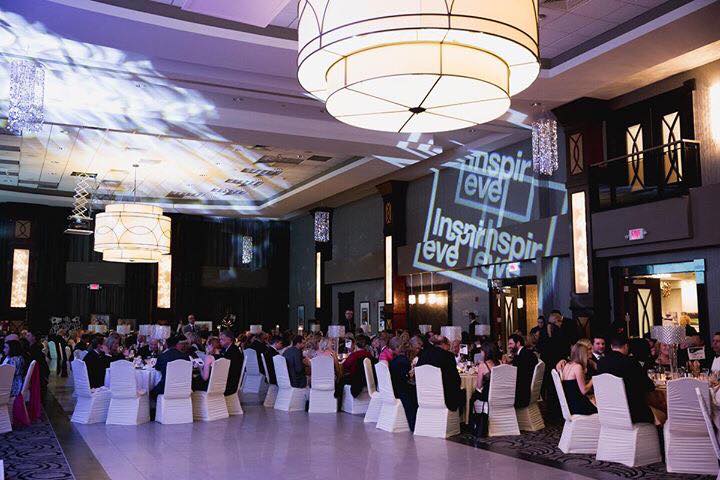 AJAX, ONTARIO – When Matthew Beauchamp and his team at Mobile Productions were brought in to provide the audio, video and lighting for the InspirEve Gala, they were given simple instructions: "Provide guests with a new, more elegant experience." They did this quite convincingly, turning the ballroom of the Ajax Convention Centre into an immersive sea of rich, but subtle colors with help from 35 WELL fixtures from CHAUVET Professional.
"This project was brought to me by a client we've done multiple events with in the past," said Beauchamp. "She wanted to give this gala a more stylized memorable look. The InspirEve is an important fundraiser for Lakeridge Health Foundation, one of the biggest patient care systems in Canada. It's been very successful, but our client felt more could be done to make it stand out."
Under the direction of its new organizer, the event did stand out with an auction, silent auction, improved entertainment, including a dance performance along with dance lessons, and captivating lighting that made the evening feel more special. "We relied on color from our Chauvet fixtures to engage guests and create moods," said Beauchamp. "There were a lot of purples, corporate matching blues, and an assortment of other colors. Our colors went from soft and subtle to vibrant and saturated, depending on the program and music selections.
"We controlled our uplighting via Vibrio, an iPad interface program, with a Chauvet W-DMX Transmitter," continued Beauchamp. "This allowed us full control of the program anywhere in the room. The gala ran from 6pm to 1am, and the WELLs performed reliably the entire time."
The chrome finish of the fixtures also helped set an elegant tone at the gala, according to Beauchamp. "The reflective surface is designed to blend into any décor, which it does very well," he said. "The visual appearance of the fixture provides a professional image when the unit is in plain sight."
Beauchamp arranged the uplighting fixtures throughout the ballroom to highlight every one of its columns. He also used the fixtures to uplight the main truss structures on the stage. "The WELLs on the stage created a main focal point that helped focus the attention of guests on the speakers," he explained.
Also on the stage were four CHAUVET DJ Intimidator Spot 355 IRC fixtures. Hung in a straight line across backstage truss, the 90-watt LED units were used to highlight the podium during presentations and to enliven the dance floor with club-like split beams, rotating prisms and gobo projections. Beauchamp also relied on the Intimidator fixtures to create a sense of anticipation in the ballroom prior to the start of the event itself.
Additional Intimidator Spot 355 IRC units were flown over the main foyer on either end of the red carpet entrance area. "We created spot effects with these fixtures to evoke a Hollywood premiere-style atmosphere when they arrived," said Beauchamp. "Our goal was to make this event look special as well as stylish."