Mike Zielinski: The Feeling of Light
Posted on September 4, 2018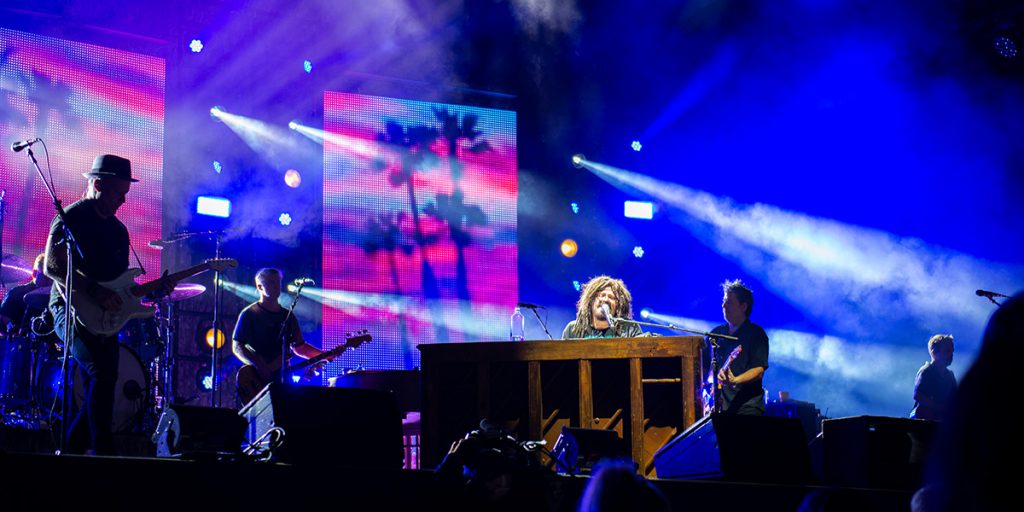 "And when you wake, the morning covers you with light… and it makes you feel alright." So goes one of the more memorable lines from Counting Crows' 2002 hit "Hard Candy." Covering the iconic multi-platinum rock band in light has been a passion for this New Jersey-born designer for 18 years – and like the morning rays in his client's song, Zielinski's light is meant to be felt as well as seen.
Avoiding extravagant exhibitions of "flash," his lightshows (though brimming with intensity) are more likely to be built around richly textured and varied displays of color. It is through their subtle changes of hue, and the interplay of lighting and scenic elements, that his designs strike an emotional chord, not only in the audience, but for his clients on stage. When the lighting is truly right, it should, he believes, serve as a reference point for performers, giving them a level of comfort that allows their talent to flourish.
Beginning in 1999, when he served as a replacement lighting director on a Lenny Kravitz tour, Zielinski has been on the road working for a wide range of artists, including The Grateful Dead (he was on Jerry Garcia's last concert), Metallica, Nine Inch Nails and Tom Waits as well as Counting Crows. This experience has taught him a great deal about the technical and emotional aspects of lighting. He shared some of those insights with us.
On Counting Crows' The Brief History of Everything tour, you used lights to create a backdrop that evoked an image of a suspension bridge. Your lighting was a scenic element as well as a source of illumination. Do you think this is something that we're seeing more of today, where lighting actually becomes part of the scenery on the concert stage?
"Yes, I think with where technology has evolved in the lighting industry, lights are being manufactured in all shapes and sizes, allowing the designer a much wider range as far as where we can safely place fixtures. Having the ability to put an LED source just about anywhere in the design, being low profile and flexible is something we just did not have easy access to even five years ago."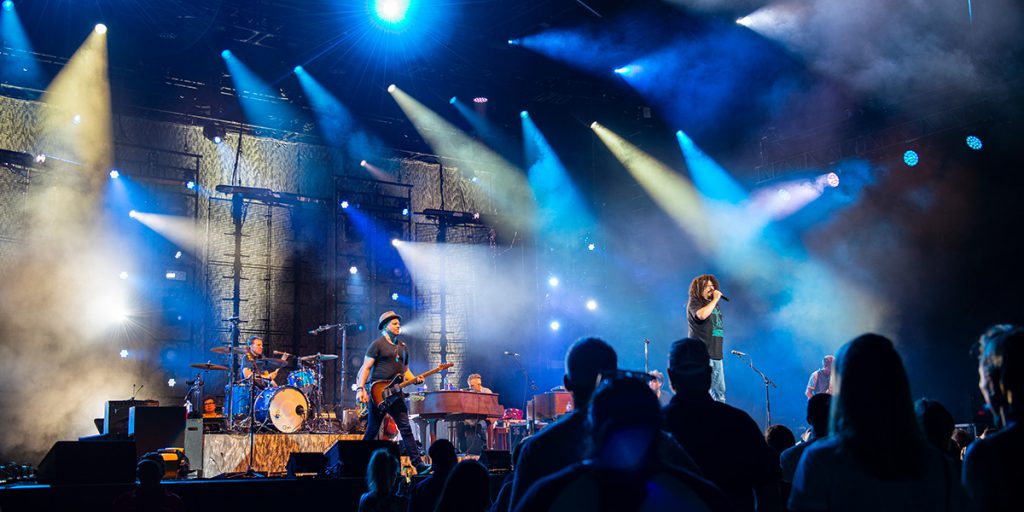 Counting Crows is one of the most tireless touring bands and you've been working with them for some time. Is there an ongoing story that you create with your lightshow from tour to tour? Or do you see each tour as an entirely different lighting narrative?
"I try to see each tour in an entirely different narrative. If a tour is supporting a new record, we will try to reflect some of the album concepts and its artwork in our lighting and set design. This is often a very loose interpretation, though, as the album artwork is usually very abstract and cryptic so to speak.
"In terms of Counting Crows, the band has changed the set lists a great deal from one night to the next for as long as I've been with them. It gets to the point where I often leave rehearsals with at least 50 songs programmed in the console. Having a set list that constantly changes from night to night for so many years definitely plays a big part in the design process. Having the ability to be very flexible and not committed to one concept per design is crucial. "
So, is there an element of storytelling in lighting concerts? Or is it just simply a matter of supporting the music with light?
"I believe you should try to strike a fair balance between the two. Our main focus as designers is to support our artist/client in every way possible. We are first and foremost there to not only make them look good but also feel comfortable on stage. The second point, being comfortable, is often where the storytelling part comes into play; it gives the artist a reference point. It isn't only for us as designers who love to paint a picture with light that enhances the story of the music. When we create this kind of living picture, the artists can also feel the energy of the lights fueling that story, which makes the performance all the more gratifying for them."
How did you hook up with Counting Crows?
"I first started with Counting Crows as a technician in January of 2000. The following year their LD had other commitments and I was asked to step in. I was definitely excited to have the opportunity as I had just finished designing a tour for Smash Mouth and was certainly happy to get back behind the wheel so to speak. I had no idea it would be such a long rewarding run with such a great group of people who I now regard as family!"
Does being with a band for such a long time, and touring with them over so many shows, help you as a designer by giving you a deeper feeling for what the band and its music is all about?
"Absolutely. The more time you spend with anything or anyone, the better prepared you are. Over the years you definitely come to appreciate everything you take for granted on a shorter-term project. Trust comes to mind first. You always have to build that trust with a new client, regardless of your standing in this industry. Even if you have the most pristine reputation, you have to still earn that trust. Having been with the same band for so long, walking in the first day with that trust already in place is comfort. Comfort during the design process is a good thing!"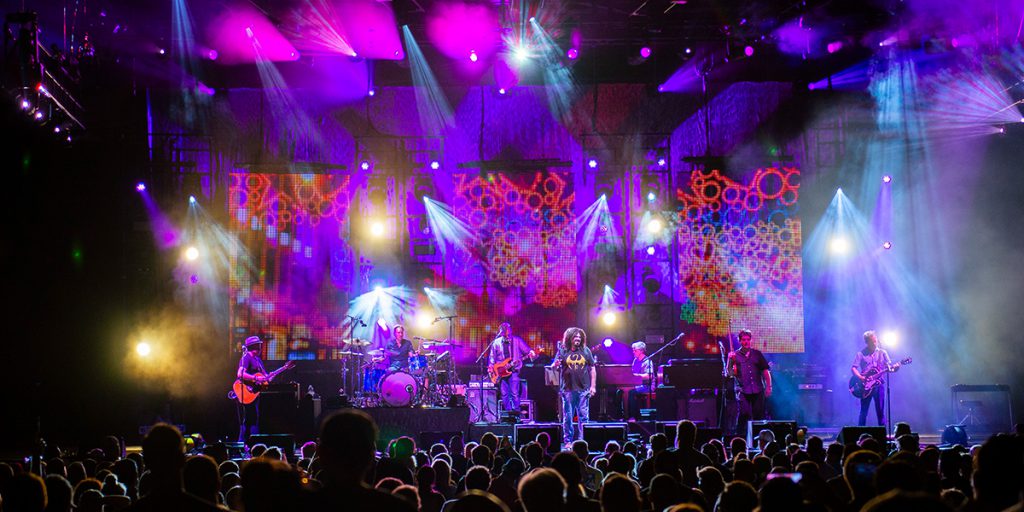 Do you still run your own console on the band's tours?
"Yes, I still program and operate the band's tours. It connects me to the band and their music."
Do you do a lot of busking? If so, do you change things up from night to night?
"I don't do a whole lot of busking. The band has a rotating catalog of about 60-70 songs that they will play on any given night and the set list changes every show. I try to leave rehearsals with at least 50 songs programed and a busk page. Thankfully, with roughly 22 songs in a typical set I have a large cache of extra songs to choose from on a nightly basis."
Do you have a favorite Counting Crows song?
"Unfortunately, my favorite Counting Crows song is one they have never played live. It's called 'Baby I'm A Big Star,' and it is on the soundtrack for the movie Rounders. Truly excellent track."
What do you think you would have done if you didn't become a lighting designer?
"I would have become a chef. I love to cook when I'm at home and it has always been a passion of mine."
Some designers draw a sharp distinction between video and light, but you always seem ready to weave the two together. Why is that?
"Well…I don't make that sharp distinction, because there is none, at least not in my mind. Video is lighting. We could not reproduce video without light, so I think they go hand in hand. Video is a great tool for a designer, but it can certainly be overused in my opinion."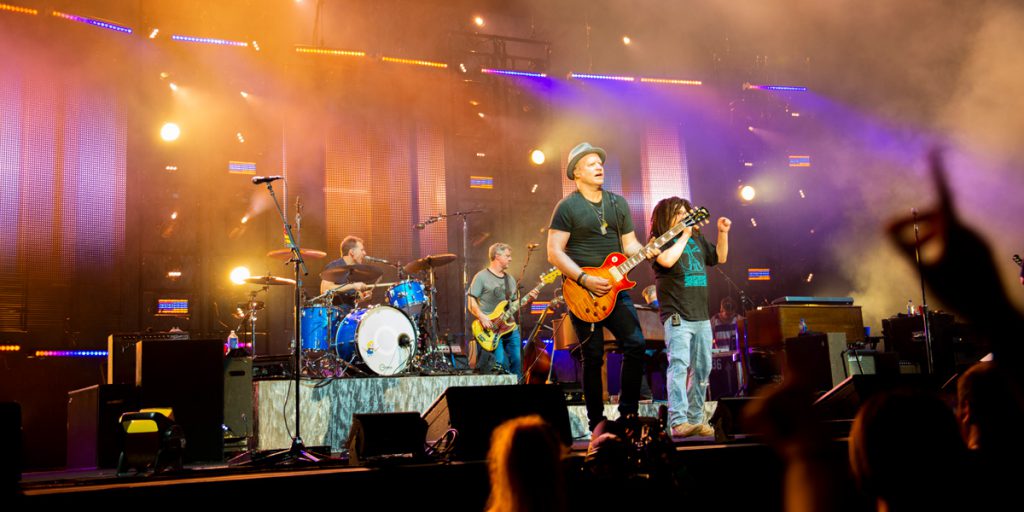 When you start a show is there one thing that you worry most about? The one thing that makes you say to yourself, "Please don't screw this up?"
"My biggest fear is of darkness, not darkness in general, but darkness where it's not meant to be. I could screw up half my cues throughout the show and no one would notice but me and perhaps some members of the crew that are actually paying attention. However, a blackout in the middle of a song is impossible for anyone to ignore!"
What are the best and worst things about being a lighting designer?
"That's a tough one! I would have to say the best part would definitely be the opportunity that it gives you to express your creativity. Having a concept go from a simple thought to detailed drawings and renderings and finally come to life suspended in some beautiful venue ready to hit the road is truly something special. The worst part…Budgets!"
Although you've certainly used moving fixtures to great effect throughout your career, many of your shows seem to emphasize static lights with a lot of dramatic color changes. Can you tell us how you balance movers and static fixtures in your shows?
"I firmly believe that there are very good reasons why there are so many different types of light fixtures. Each and every one of these fixtures is unique in its own way, and if you know how to use that particular fixture, it will give you something that none of your other fixtures can provide. Therefore, I want to have a good variety of different fixtures in my tool kit, so I have more options. I don't want to fall into the trap of over-using movers or any other kind of fixture. Of course, the music of your client is going to have a major influence over your fixture choice. With a poetic band like Counting Crows, for example, you are going to want to have fixtures that give you a lot of color mixing."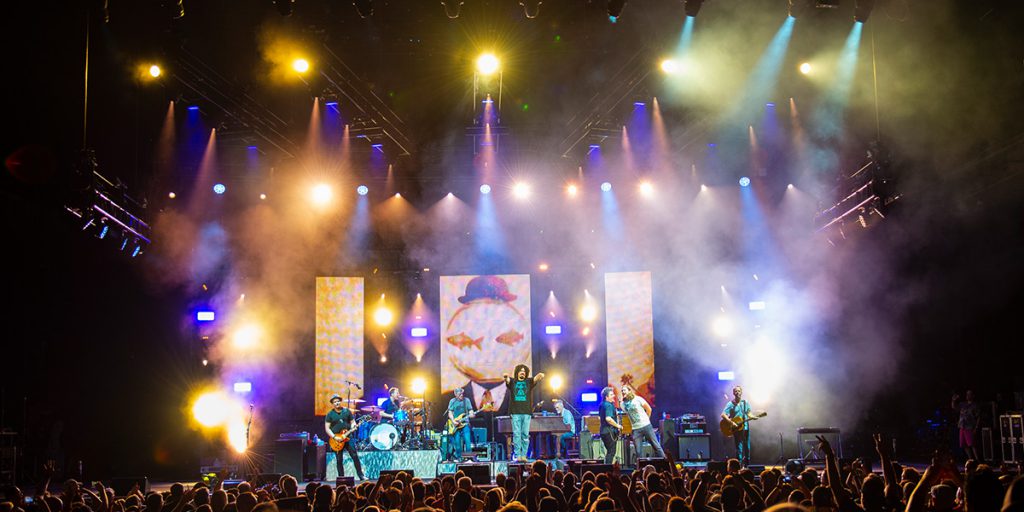 Another thing we've been impressed by is how you use lighting to engage the audience. In your view, what's the secret to good audience lighting?
"I think intensity and color are the secrets to good audience lighting. Intensity is first and foremost the primary ingredient. I know some people call it 'audience abuse,' but I look at it more as audience engagement.
"I think audience lighting is essential in creating the atmosphere at a show. The key is to keep the crowd engaged and interactive with subtle colors and a low glow – and then blast them hard when you want to get their attention. Think about how the crowd sounds every single night when the houselights go down. Audience light when used right can take control of the audience and lead them down a magical journey and they will follow along every step of the way."
Aside from Counting Crows what are some of the other highlights of your career?
"At the very top is definitely Tom Waits. I had the opportunity to design a tour for Tom in 2006; what an amazing experience! Tom is an incredible musician and even better person! Working for Nine Inch Nails is definitely right up there as well, since they are known for such consistently fantastic productions.
"I also have to say that I truly learned a lot about lighting working alongside incredible designers like Paul Normandale, Nook Schoenfeld, Andi Watson and Ethan Weber. There are so many great people in this business, such as Chris 'Napalm' Adamson. He was the production manager for Lenny Kravitz in 1999, when Lenny extended the tour. The LD was already committed elsewhere, so Chris had faith in me to operate the last three weeks of the tour. That was my first real LD gig, and I have been pushing buttons ever since thanks to the break Chris gave me."
You've got such strong rock roots; is there any old-time rock artist who's no longer with us that you wish were alive today so you could light him or her?
"Jimi Hendrix!"
How would you like to be remembered as a lighting designer?
"More than anything else I want to be remembered as a good person.
As a lighting designer… someone who always treated my crew/co-workers with respect and dignity."