Rogues Reign On Red Carpet For Star Wars Premiere In London
Posted on January 8, 2016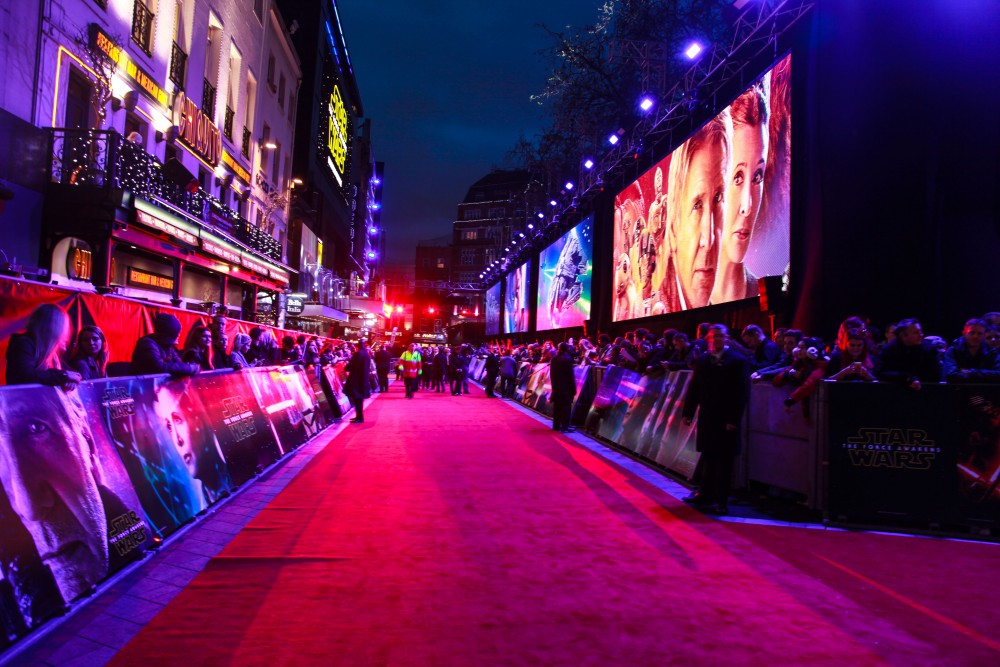 LONDON, UK – RH1 met R2-D2 as well as Darth Vader, Chewbacca, The Jedi Knights and all of the other Star Wars characters recently, as the Rogue RH1 Hybrid from CHAUVET Professional was used for red carpet lighting at the London premiere of The Force Awakens.   Colin Bodenham of Utopium called upon the high-output moving spot/beam to light key areas of the dazzling Star Wars premiere event, which took place in Leicester Square and drew celebrity visitors as well as enthusiastic fans dressed in a colorful array of Star Wars costumes.
Darth Vader began the official proceedings by marching down the red carpet, followed by the Jedi Knights. They were joined in short order by stars from the film, including Harrison Ford, Carrie Fisher, Mark Hamill, Anthony Daniels, Peter Mayhew, John Boyega, Daisy Ridley, Oscar Isaac, Domhnall Gleeson and Adam Driver, who flew to London from Los Angeles on a special R2-D2 themed Dreamliner jet.
Bodenham positioned 24 of the Rogue fixtures at ends of the red carpet, on the cinema canopies and the portable stage that was set up for the event. In addition to accenting the star power of the Star Wars cast and characters, the Rogue RH1 Hybrids helped to define space and add depth for video and photo coverage of the event.
Running the hybrid fixture in beam mode, Bodenham relied on the Chauvet fixture's tight (1°-4.5°) beam angle and impressive output of 170,000 lux at 5 meters to ensure proper coverage of the long red carpet area.