Rogues Rock Ribfest For 7th Heaven
Posted on July 3, 2017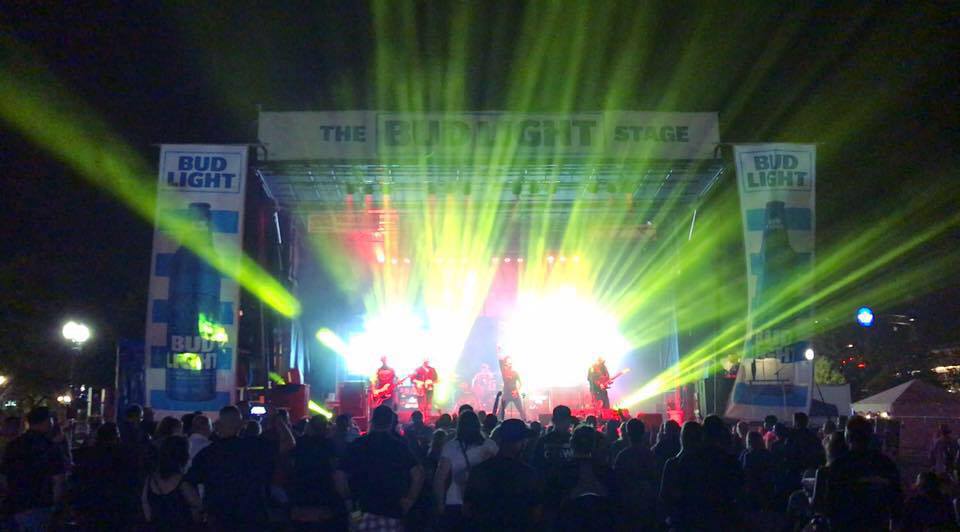 ELGIN, IL – Every Father's Day, thousands of dads in the Chicago area are setting aside their backyard grills and heading out to the city's western most exurb to sink their teeth into a mind boggling variety of real barbequed delights at the Elgin Ribfest. A true hog heaven for rib lovers, the two day event, which is held in downtown Elgin's Festival Park, has become an annual tradition in the Windy City.
Along with the plethora of ribs and other foods (and drinks), a car show, games and home improvement workshops, the event features a full line up of music on its Bud Light Stage. Headlining the Saturday night bill was the venerable and popular Chicago touring band 7th Heaven.  The group's lighting designer Zach Scott added some extra visual punch to its performance by creating a relentless series of intense and colorful aerial effects with eight Rogue R2 Beams from CHAUVET Professional in a lightshow run from his ChamSys MagicQ MQ40 console.
"We perform at a lot of outdoor summer festivals in the upper Midwest, and the surest way to engage the crowd at these events is with intense aerials," said Scott. "I like the output that I get from the Rogues (133,200 lux at 15 meters). Plus, their prism helps me create a lot of different beam looks to keep the show interesting, their colors are realistic and their pan/tilt movement is super fast."
To accentuate the aerial dimension of his show, Scott positioned his Rogues relatively low on his rig. He had a pair of the fixtures on risers to the immediate left and right of center stage. The remaining four Rogues were put on the stage deck, two on the left and two on the right. Aside from affording the best angle for aerial effects, this arrangement also allowed Scott to crisscross the deck with beams from different directions. This lent an added sense of depth to the stage and served to accent key moments in the concert.
Scott credits his ChamSys MagicQ MQ40 with helping him unleash a rapid fire succession of looks during the festival. "I have been using the MQ40 for two years, and to my mind, nothing does morphing and cloning better or faster," he said. "When it comes to fast changeovers and minimal programming time to clone and morph into rigs, I wouldn't choose any other desk. The interface is extremely user friendly and I can get to anything that I need in a matter of seconds usually."
The aerials and crossing patterns were a big part of the look Scott created for the festival. He also relied on eight overhead spot fixtures to provide top and back lighting and 24 CHAUVET Professional COLORado 1-Tri Tours to colorize the stage.
"Once the sun goes down, the stage becomes a focal point throughout the park," said Scott. "We want the stage to reflect the upbeat mood of the event. The Rogue Beams really project vivid colors, and his has to be matched on the stage itself.  People come to an event like this for more than the great food and music, they want a whole experience – and the visuals on stage should be part of it."