Spencer Lavoie Gives Elements Lakewood Big Looks With CHAUVET Professional
Posted on July 27, 2017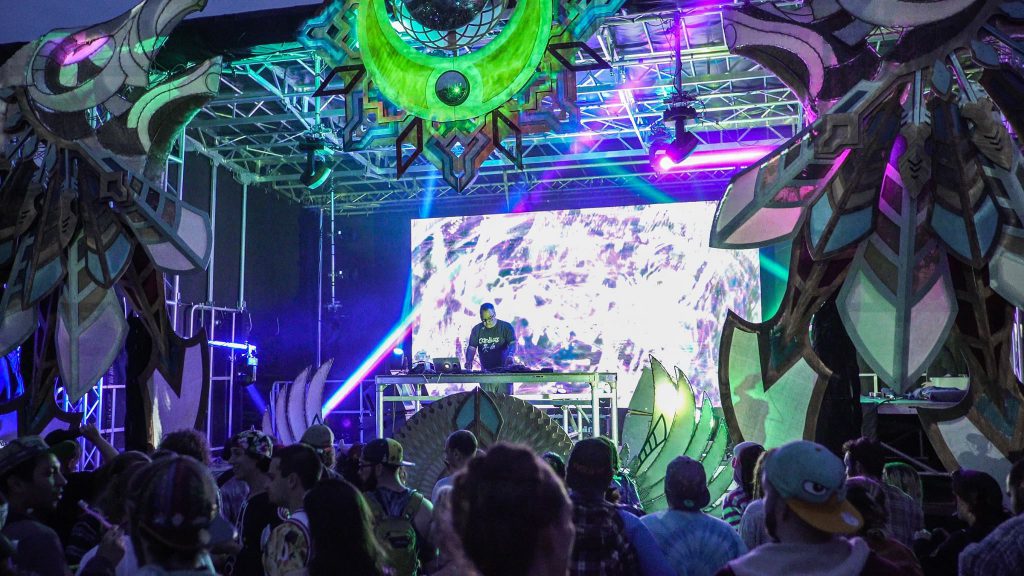 LAKEWOOD, PA – The tranquil heavily wooded mountains of northeast Pennsylvania bear no resemblance to the gritty streets of Brooklyn's Williamsburg neighborhood, where BangON! NYC made its name throwing all-night EDM warehouse parties and festivals. Recently though, the New York event company demonstrated that its good time formula plays just as well in the country as it does in the city, when it hosted the Elements Lakewood Festival.
Representing BangON! NYC's first foray out of its home base, the three day festival on the outskirts of tiny Lakewood featured an international mix of over 100 DJs on its seven stages, including superstars Claude VonStroke, Lee Burridge and Keys N Krates.  Spencer Lavoie of 4 Life Entertainment brought some extra urban intensity to the EDM performances while also highlighting the natural beauty of the festival's surroundings by deploying an impressive collection of over 150 CHAUVET Professional fixtures and LED video panels.
"We used a lot of Rogues, PVP S7 tiles and Vesuvio foggers to create a club environment for the DJs and dancers — and we used COLORdash Par Q12 IPs throughout the festival grounds to put some cool colors on the trees at night," he said. "There were some unique challenges lighting some of the stages. The flexibility of our fixtures gave us a lot of good options for meeting them."
As an example of these challenges, Lavoie notes that he was not able to fly any fixtures over the Gym Stage. He got around this by positioning 12 truss totems ranging from 4' to 8' in height across the upstage deck.  On top of each 4' structure he positioned a Rogue R1 FX-B to create a focal point around the DJ booth.
"The FX-Bs created some big looks on the Gym Stage with their unique effects and infinite pan/tilt movements from their five individually controlled heads," said Lavoie. "They gave the stage a sense of depth that made up for not having overhead lights. Plus, every artist was able to have a unique look on stage when they performed, because these fixtures are so versatile."
Also helping to compensate for the absence of overhead lights and adding multiple visual options to the stage were the Rogue R2 Beams that Lavoie placed on top of his six and eight foot truss structures. The 8-facet rotating prism and gobo capabilities of these beams added to the sense of depth on stage, and provided Lavoie with an endless array of looks, while their intense output served him well when he created aerial effects.
Lavoie added color to the stage with side mounted Rogue R1 Wash fixtures. He also positioned two Next NXT-1 panels on the facing of his taller truss structures. "The NXT-1 panels' mapping flexibility really stood out," he said. "They were a great asset for our visiting lighting designers, helping them create a unique show experience that you don't see in festival's typical beam/spot/wash stage plot."
At the festival's Earth Stage (a truck based structure), Lavoie flew Rogue R1 Washes to highlight the DJs and R2 Beams to accent the 200" x 120" video wall made of CHAUVET Professional PVP S7 LED tiles. "Various visual artists led by the Rhizome and Reliquarium teams blessed the stage all weekend with their work on the video wall," said Lavoie. "The video wall's output and brightness drew people to the stage and made it seem larger than a truck stage."
Adding to the big impression on the Earth Stage were the six Vesuvio LED foggers that accented key moments during the performances with their colorful plumes. "The Vesuvios took the place of our C02 effects, which made a lot of sense," said Lavoie. "Transporting a weekend's worth of C02 is quite pricey. We were able to maximize the geyser effect all weekend at a very affordable price point for the client."
Indeed, given that this was the first BangON! NYC project to take place outside the Big Apple, Lavoie and his team were especially careful to hold down costs. However, thanks to his well- planned rig, nothing was held back when it came to the big looks on the festival's stages.