Syrinx, We Sign For Your Event and CHAUVET Professional Deliver Brilliance for Alcon
Posted on March 30, 2021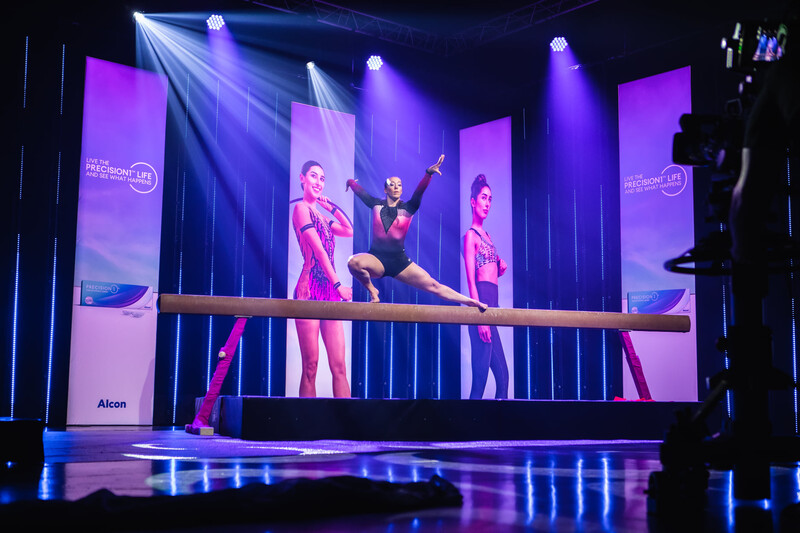 LINT, BELGIUM – When an industry leader that identifies itself with the slogan "See Brilliantly" stages a product introduction, the visual presentation should be nothing short of stunning. This is precisely what Alcon, the world's largest maker of eye care devices, delivered in January for the Benelux debut of its groundbreaking Precision 1 disposable contact lens.
Created by The Event Pilots, the digital event dazzled the eyes with its three lavishly colored sets, stylish displays and captivating activities, such as a gymnast on a balance beam, a dancer and a skater – all while highlighting the client's message.
Playing a key role in creating this powerful impression was a dynamic camera-friendly lighting design by Syrinx. "We have worked with The Event Pilots many times in the past," said the lighting company's Patrick Nelen. "It was exciting to be involved in this project, because we had such a broad canvas to work with for a digital event."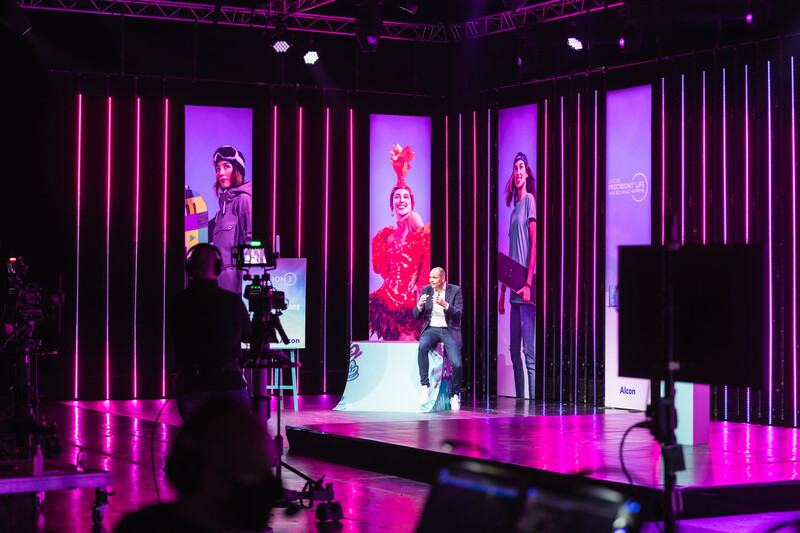 Helping Syrinx fill that canvas with aesthetically balanced and vividly colored visuals was a collection of 192 ÉPIX Strip Tour linear fixtures from CHAUVET Professional. Arranged vertically, the RGB strips were used to create a background setup that measured 22m wide by 4m deep, by 4m high.
"We brought the ÉPIX strips in for this event," said Nelen. "Since our designs are customized, we don't use house rigs. This digital event took place in AED Studios at Studio 14, which is fairly large. The strips gave us a creative way to fill space.
Precisely hung at even intervals between the event's graphic panels, the ÉPIX Strip Tour units lent an elegant air of balance to the production space, while also providing a sense of continuity between its three different sets.
Drawing on the color-rendering capabilities of the LED strips, Nelen and his team called on the high-output units to endow the sets with a glow of engaging hues. "The darkness behind the setup made it possible for us to avoid using black curtains," said Nelen. "We decided to take advantage of this by leaving the setup open. This allowed us to bring more color (dominated by violet) and atmosphere to the production area by having the glowing light of the ÉPIX strips shine into the camera lenses."
In addition to the ÉPIX linear units, Syrinx brought 10 Maverick MK2 Profile fixtures to the Alcon product launch. Hung on an overhead truss grid that ran across the 40m by 20m production space, these 440-watt LED fixtures were used to key light speakers, their wide 13ﹾ to 38ﹾ zoom range and adjustable color temperature providing the design team exact control for this function.
When they weren't lighting speakers, the Maverick MK2 Profiles were contributing to the colorizing of the stage. "We wanted everything to work together to create a powerful look," said Nelen.
In the end, The Event Pilots and Syrinx, accomplished this goal, creating a vista that gave all who "See Brilliantly" something very brilliant to see.