The Great Outdoors: Paul Francis Aranha on Event Lighting
Posted on March 1, 2016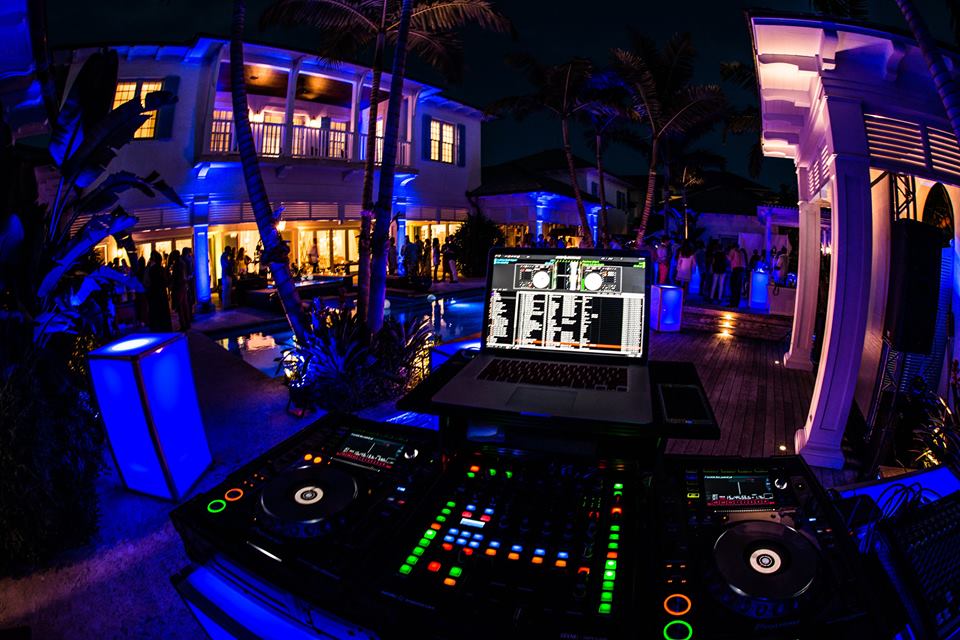 Now that the weather is warming up in most of the world, more designers will be turning their attention to outdoor events. Paul Francis Aranha, owner of Spectrum Light and Sound, knows a thing or two about that subject. Being located in Nassau, New Providence in the Bahamas, Aranha does a steady stream of outdoor event lighting, often at glamorous venues like Albany Resort, a 600-acre island paradise with $6,000 a night poolside condos and slips for 300' yachts.
Given the breathtaking settings he usually works in, it's easy to understand why Aranha takes an organic view of event lighting. Striving to keep his rig as unobtrusive as possible, he often incorporates the surrounding environment into his event design. As fixtures have become more compact, he's also tried to minimize their visual footprint at some events by hanging them from trees or tucking them into the architectural elements of a venue.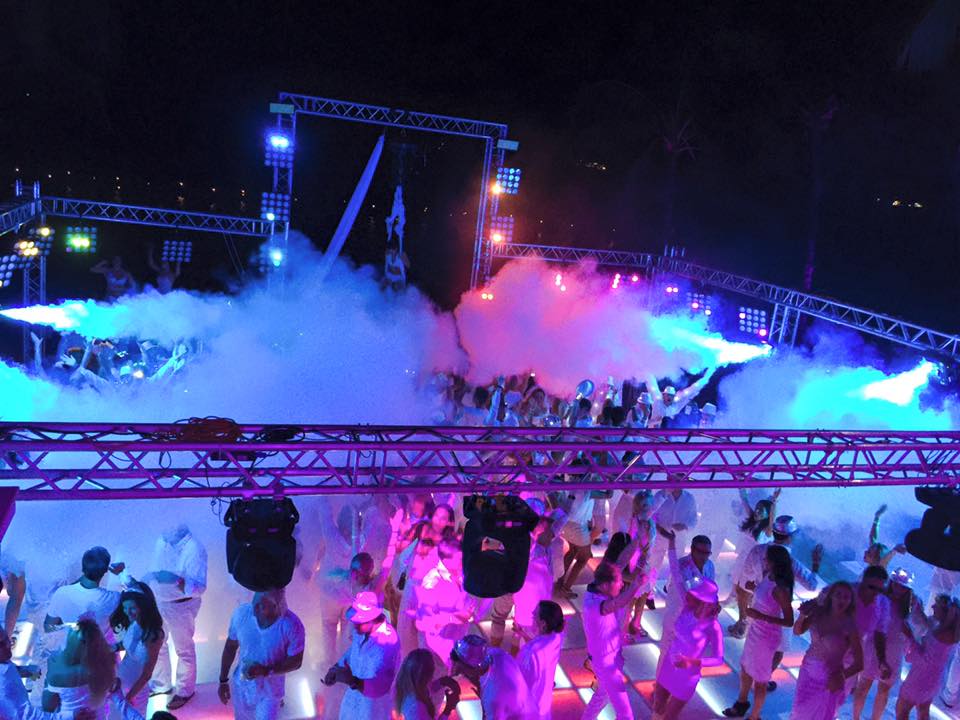 We spoke to Aranha about designing for outdoor events. In our view, his ideas on designing rigs that blend with their surroundings are something that many designers will want to consider, even if their events take place in spots that are far less romantic than the Bahamas.
When you have an outdoor event at a venue like Albany Resort, you have a beautiful setting to work with. Does the appearance of the surroundings influence the way you design lighting for an event? Do you try to play off the outstanding features of a venue when you design?
"The surroundings completely guide the lighting design. The majority of the outdoor events that we do take place in incredibly beautiful settings, so our foremost priority is to minimize any obstructions to the view that our lights may cause. We focus on enhancing the existing space to light the key features, but also to create an ambiance that is welcoming to the guests. The key to successful resort lighting is to light beyond your space; many events take place on a pool deck, patio, or event space that is surrounded by breathtaking views a short distance from them, but the lighting mainly focuses on the immediate area. Placing lights beyond the space gives the event depth and the guests something to look out to."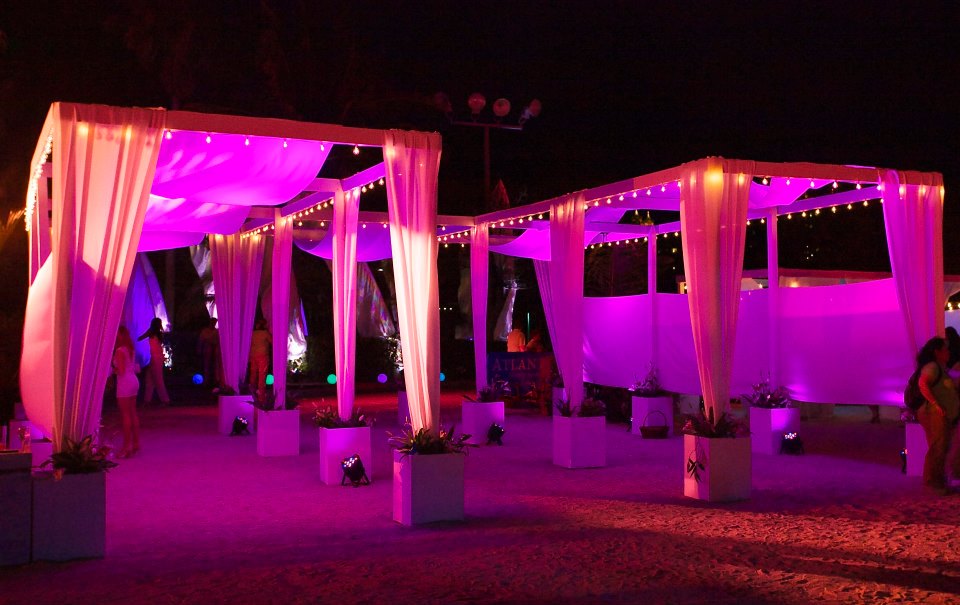 How does the dialogue between you and a client work when you start planning your design for an event? How detailed do clients usually get in describing their vision for an event? Is there a lot of back and forth between you and the client?
"Our clients are extremely varied. Some want to be very hands on and design it themselves; others want the event lighting to be 'done right' and leave it entirely in our hands. The best balance is found when we have the opportunity to talk to the end client and understand their vision, what they are expecting from the event, and the feel they are looking to get from it. Once we have the information we need, we are able to plan our layout and if we have questions or an idea we are able to circle back to them."
When you actually begin designing an event, is there a particular feature that you usually start your design with, or does that vary?
"Our first and foremost priority for the lighting design is the guest experience. We want to make sure that each event leaves the guests wowed. A romantic evening on the beach has very different experiential requirements than a high-energy New Year's Eve celebration. Where the latter requires a focus on the experience the dance floor provides, the former focuses on lighting the area with soft hues and warm flood lighting."
When you're designing an outdoor event, do you try to account for uncertainties in the weather such as wind?
"Outdoor events are always fluid. We watch the weather from a week out and try to get a feel for the overall system and determine if anything is going to be in the area. When we opened, our uplights and par cans were not all IP rated, which made rain a much greater threat. Over time we have switched to IP units, so we're able to eliminate that threat. Wind in the Bahamas is generally light, so depending on the velocity, most structures can be secured with lines or sandbags. If the wind is any stronger, the event and its guests typically move indoors as it impacts the other elements of the event before ours."
When you designed Albany White, the New Year's Eve party at Albany Resort, you used truss to kind of frame club dance floor space outside; do you normally try to create some kind of structure as a reference point when designing for events?
"We try to minimize our structure use as much as possible. Nature provides us with a great canvas with which to work. As lights have gotten lighter, we utilize trees to mount par cans. If there is a building nearby, we attempt to utilize this as much as possible. Our goal for most of the events is to not have our lights noticed, but the area. For high-energy parties where the dance floor and the surrounding area are the focus of the event, the structure draws guests' attention towards it, allowing us to highlight the lights, effects and structure."
Nowadays people are always videoing events on their cell phones. Do you try to take into account how your work is going to look on video when you design an event?
"Yes and no. While social media has become such an integral part in everyone's life, the event will likely be posted or shared somewhere and some angles will be flattering and others won't. Cable control is important and we want to make sure our rigs look clean. Most of the time we are trying to focus on the experience side for the guests and often that handles the outcome."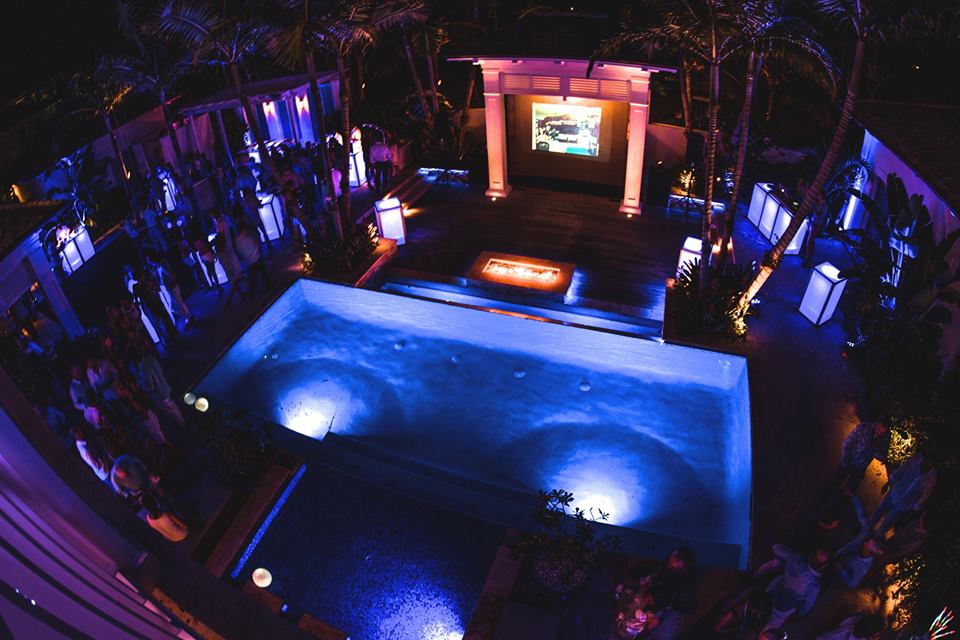 Do you consider the kind of music/entertainment that will be taking place at the event when you design?
"Absolutely, it drives our input from the very first time we speak with the client. We want to make sure the design matches the performance. You would not want to have a slow act with crazy lighting in the background, or something high tempo with a single ellipsoidal shining on it."