Tony Caporale – Validating Light
Posted on April 6, 2021
Like love itself, creativity is one of the most elusive of all human qualities. Difficult to define and impossible to measure, it dwells within the realm of infinite space that resides in each of us. This award-winning Nashville designer never tires of exploring this endless labyrinth, viewing it as a journey of open-ended possibilities and never-repeated steps, rather than a destination defined by fixed borders.
It is by undertaking this journey, he believes, that one validates oneself before the compelling forces that stir the creative soul. Caporale's passion for expanding boundaries has resulted in compelling lighting designs that incorporate a host of distinctive elements, from captivating geometric configurations to novel color schemes.
Beginning his career while in college, he has gone on to put his vision to work for clients such as Billie Eilish, Finneas, and Larkin Poe, as well as in projects like Keith Urban and Vince Gill's "All For The Hall," benefit, and The Tennessee Titans NFL playoff halftime show. Speaking to us from his home office at Infinitus Vox, he discussed his work for some of these clients and shared insights into the validating power of light.
On your website, you quote Georgia O'Keefe about how 'colors and shapes make a more definite statement than words.' We found the 'shapes' part interesting, since we've been impressed by how you create geometric patterns in your designs with linear fixtures, the way we've seen you do for Larkin Poe and Finneas. Why is it important to shape space on stage?
"You caught the Georgia O'Keefe quote! I've always enjoyed her work. Shaping space onstage is extremely important. It not only creates depth, but it's also very fun to look at. We all know one dimensional scenes can be boring. I've been trying over the years to "shape" my thinking into more three dimensional forethought before I start drawing. The trick is to think about what shapes you want to use and how to incorporate them without replicating something that has already been done. That is a big reason why that quote is the first thing you see on my page. I'm a huge fan of her textured landscapes and rich color!"
On the subject of Georgia O'Keefe, how do you think she would have done as a lighting designer?
"Dude, she would've crushed it! I think she would be a lot like Kille Knobel."
How about in your own life, do you have a background in art?
"Far from it, I couldn't draw or paint to save my life. However, I have a deep appreciation for painting dating back to field trips I used to take to art museums as a kid. That eventually led to traveling becoming a hobby of mine, because all I wanted to do is travel and look at landscapes. Maybe one day when I retire I can just roam the earth doing that. I think that's why I was so drawn to O'Keefe's work because it has everything I admire from both a hobby and professional point of view."
While we're discussing creative women, the Billie Eilish "Where Do We Go" livestream concert in November really captured the spirit of her COVID-canceled arena tour of the same name without looking out of place on even small video screens. Your lighting design played a big part in that accomplishment. What was it like collaborating with all the other creatives on that project?
"It was a blast, but a very different approach for me. There were a lot of people from many different factions of our industry on that project uniting like Voltron to make that thing happen. I've collaborated with Moment Factory on a few occasions now and we have a good system down on how we handle all things Billie together.
"The trick was trying to keep that intensity intact without breaking the illusion of XR. We had to collaborate with video quite closely since we had to be mindful of our lighting cues based on camera blocking. So, if there was a specific thing we wanted to push more with the lighting we could do so, as long as a certain camera angle wouldn't expose what we were doing.
"Since video was also doing the heavier lifting we had to be sure the cueing for strobes and other musical hits were synced up together well. Working with Madigan Stehly and Joe Watrach on the lighting end was great and really made the process easy going. Madigan has an amazing eye for TV, and Joe is an excellent programmer. With our combined efforts everything turned out amazing!"
So, what's the secret to that kind of successful collaboration?
"A successful collaboration consists of a combination of good attitudes, a willingness to listen and learn, and the desire to achieve the artist's vision. We all can get to a high level in this industry with our talents. It's our attitudes toward others that can keep us there. I've quickly learned over the years that you can't let toxic attitudes overrun where you work. It reflects poorly on the team and artist. You must also keep in mind that not everybody is the same. You just don't need to be a jerk."
What are the big differences between lighting a livestream like the "Where Do We Go" project we just discussed, and a live show?
"To be fair, since the emergence of livestreams I've always tried to light any livestream I've been a part of the same way as I would a live show. I think it's important for us to give the audience the closest experience we can to a live show via a livestream.
"However, if I must identify some differences I would say gear selection, space, and time for programming. Gear selection can vary only locally for livestreams whereas a vendor for a live show can be considered nationwide in most instances. So, being mindful of which gear you have to work with locally is extremely important.
"When we bid tours, we can search nationwide for a vendor that has the lights we are looking for in our design at the right price. Space for a livestream can be quite limited versus the space for a live show. The rigging in certain places for a livestream can be much more challenging because in most cases the event will not happen at a venue, but rather at a rehearsal space or vendor warehouse. So, you'll need to examine the constraints you will have in some of those places compared to your normal venue logistics for live shows.
"This can also revert back to my thoughts about gear selection. A livestream with a low trim might not be able to pull off a follow spot system, so you will them need to plan for the proper key light coverage to keep the talent lit onstage.
"Time has been the biggest difference though, namely programming time, because that affects a lot of things. For livestreams I have had so many different scenarios. I've had shows that have had a few lead in days for preparation, rehearsals, and eventually the show. Then on the other hand, I can get a call like, 'Hey, we have a show tomorrow and there's only a 30 minute rehearsal before the show.' This kind of timetable won't always allow for the thorough cue to cue programming all of us prefer, whereas a live show has an established time table with rehearsals to lock in detailed cue to cue programming with artist feedback before it goes out on the road."
Another thing about the "Where Do We Go" livestream — we were struck by how well your lighting worked with the massive 360 degree video wall. How did you keep your lights from being overwhelmed?
"The massive video wall was a tricky one. I don't think it was a matter of being overwhelmed, we knew going in that the lighting was to be complimentary and not a driving force for this kind of project. We just had to careful where we decided to punch hard and to make our presence known. One example that comes to mind is the opening song, 'Bury a Friend.' At the end when the loud drill noises go off and you see the shadow monster on the video screen, we knew that was a moment to punch some strobes on her while she was standing in a blocked position for cameras."
You mentioned images – that video wall showed a range of very intense ones such as the natural disasters used to underscore the threat of global warming. Did you turn up your lighting to reflect its potency?
"Ah, yes! You're referring to 'All The Good Girls Go To Hell.' That is all Billie from that spectrum. She dictates all color choices to me and the creatives. So, the typical palettes for that song are dominantly red and we are also allowed to sneak in some deep amber subtly. So, the colors definitely reflect the embers of a fire, namely the hills burning in California as the lyrics refer to in the song."
You've done a lot of live touring with Billie Eilish. Does the mood on a tour differ from that on a livestream concert set?
"That's a great question! There are a lot of different ways to answer it. For me, I believe a mood can apply both artistically and emotionally. Artistically I don't think there's much of a difference because mood to me in that retrospect strictly applies to the artist and their brand. It's our job to absorb that feeling and use our talents to share that with the viewer either at home on the couch or in the seats of an arena. As professionals, I think there is a standard we have to set no matter what the event.
"Now emotionally, a mood can differ between a tour and a livestream because of one obvious catalyst, Covid19. When we are on tour there is a harmonious vibe and bond that can't be broken. When we do a livestream the vibe and bond is still there, but there is this underlying feeling in everybody that has to do with wanting work with a live audience.
"When something such as this horrid pandemic completely derailed us all, it can change our mood and outlook on things. However, I believe it is an important example to set for our peers to show them how to be consistent with our craft and that everything is going to be alright even when we are staring at uncertainty from day to day. Don't ever let that wreck who you are personally and professionally. Your mood can and will affect others around you!"
Everyone has different strengths and weaknesses, so what particular part of being a lighting designer/director do you find most challenging for you personally?
"I want to be able to establish a better line of a communication with programmers when I'm in the designer seat. One thing I think a lot of designers struggle with is translating our thoughts sometimes. We all have to get a few years in with our collaborators before a true rapport can exist. I feel awful sometimes when I'm trying to convey an idea and it gets lost in translation with programmers. However, that is why I strive to have a good understanding of the console, so I myself can walk up and rough it into the console to help start an idea if I need to, then everything can evolve from there.
"Another thing as a designer that I find challenging is to keep up with the technology. Every time I feel like I'm getting caught up with the latest trends there ends up being something better I feel like I'm missing. That can become quite expensive as time goes on where your purchases add up. But, to be in this game you got to pay to play sometimes. So, I'm always trying to improve how I invest in myself to make me more efficient at my job, but always keeping my family first financially.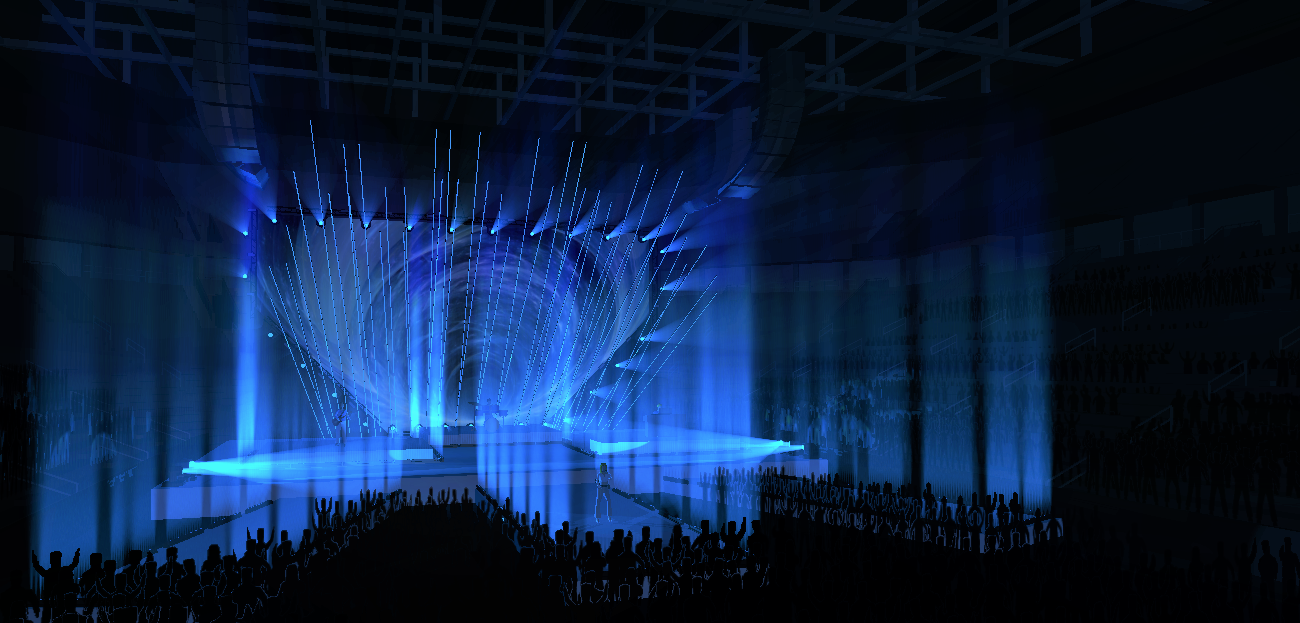 "The last thing that has been challenging is more personal, but I would like to share it. Feeling validated. I am so inspired by so many designs I see out there, it's almost intimidating at times. I get pretty self-conscious about my work, but yet at the same time this insecurity helps drive my competitive side to be better at what I feel I'm lacking. So, I guess while facing this challenge gives me the drive I need to keep moving forward."
Speaking of designers and directors; in January 2020, you won a Parnelli Award as Lighting Director of the Year. You've also built an impressive body of work as a lighting designer. Does your approach to your work differ when you do one or the other?
"I'm always going to give a harmonious, creative vibe no matter what seat I'm in. I created my company, Infinitus Vox, to operate as a resource. I never want to just say, "Hey, I'm a designer now and that's it." I love lighting directing, programming, and designing so why should I solidify myself into just one of those titles when I openly want to do whatever I'm needed for? I'm happy just to be doing what I love and being able to create. You get me, and when you get me for a project you know you're going to have a dedicated person onboard with a passion for being creative and making the artist happy. I still will make the same preparations in either role. I don't think that will ever change. The only difference for me is that as a designer I would be spending more of my time in a computer than on the lighting desk as a director."
How has your work as a lighting director influenced your creative output as a designer? Are there ideas you picked up from working for designers?
"At first when I started to make my way into this industry I thought I had to do it all. To that end I feel it definitely helped me gain a good knowledge base for lighting direction, programming, and design — but I wasn't moving up in the world when it came to clientele.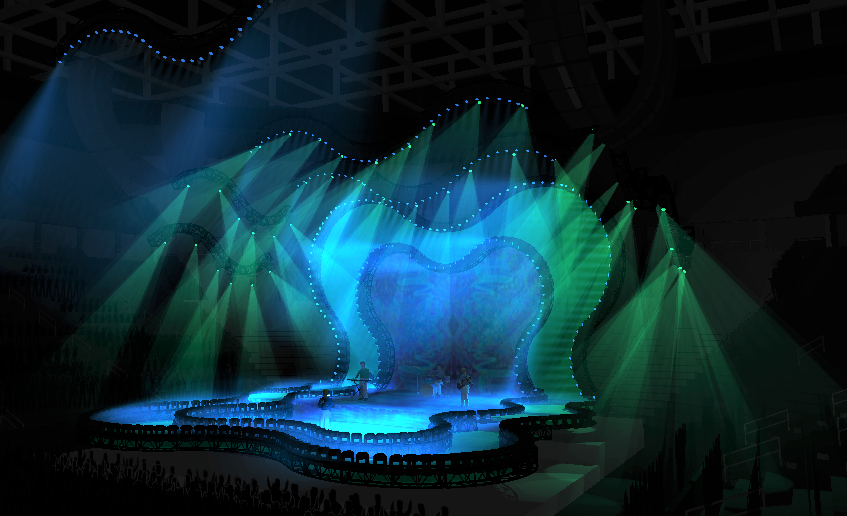 "It was then that I had to shift gears and branch out in more of the lighting director and programmer roles to get in front of the right people. I had to remind myself that now was the time, because with one foot in the past and the other foot in the future, you're pissing on the present. If you ever want to move up, you must get in front of the bigger designers out there.
"But the second piece of that puzzle is getting the recommendation from mutual peers to get to their door step. I really have to thank Nook Schoenfeld and Brian Jenkins for those recommendations. Without them I wouldn't have been able to work with the likes of Paul "Arlo" Guthrie and Leroy Bennett. Those were two huge designers that not only helped stimulate my career but damn, they helped train my artistic eye when it comes to design principals. I'd also like to thank Jesper Luth, he was the one guy when I was a wee squint that always encouraged me to give designing a go. "
The other thing mentioned, besides shape in that Georgia O'Keefe quote on your website is "color." How would you describe the role color plays in your designs?
"That really depends, because sometimes it's up to my interpretation or the artist's interpretation. I used to read the meanings of different colors when I first started. I thought well if the song is romantic it needs red according to what I've read. Then as time went on, I just decided to throw out what I read and use my own interpretations. Plus, I know some artists can get tired of a repetitive color palette for their music so I definitely don't shy away from shaking it up if I am able. I also like to use themed color combinations. For example, when we did a pre-taped performance for a Moon Taxi performance at the Tennessee Titans Stadium I intentionally used team colors to represent the team and the city. Then on the other hand, the artist will have strict color preferences that they are dedicated to because that particular color is an essence of how they are feeling or thinking. So, in these instances I am following their lead. "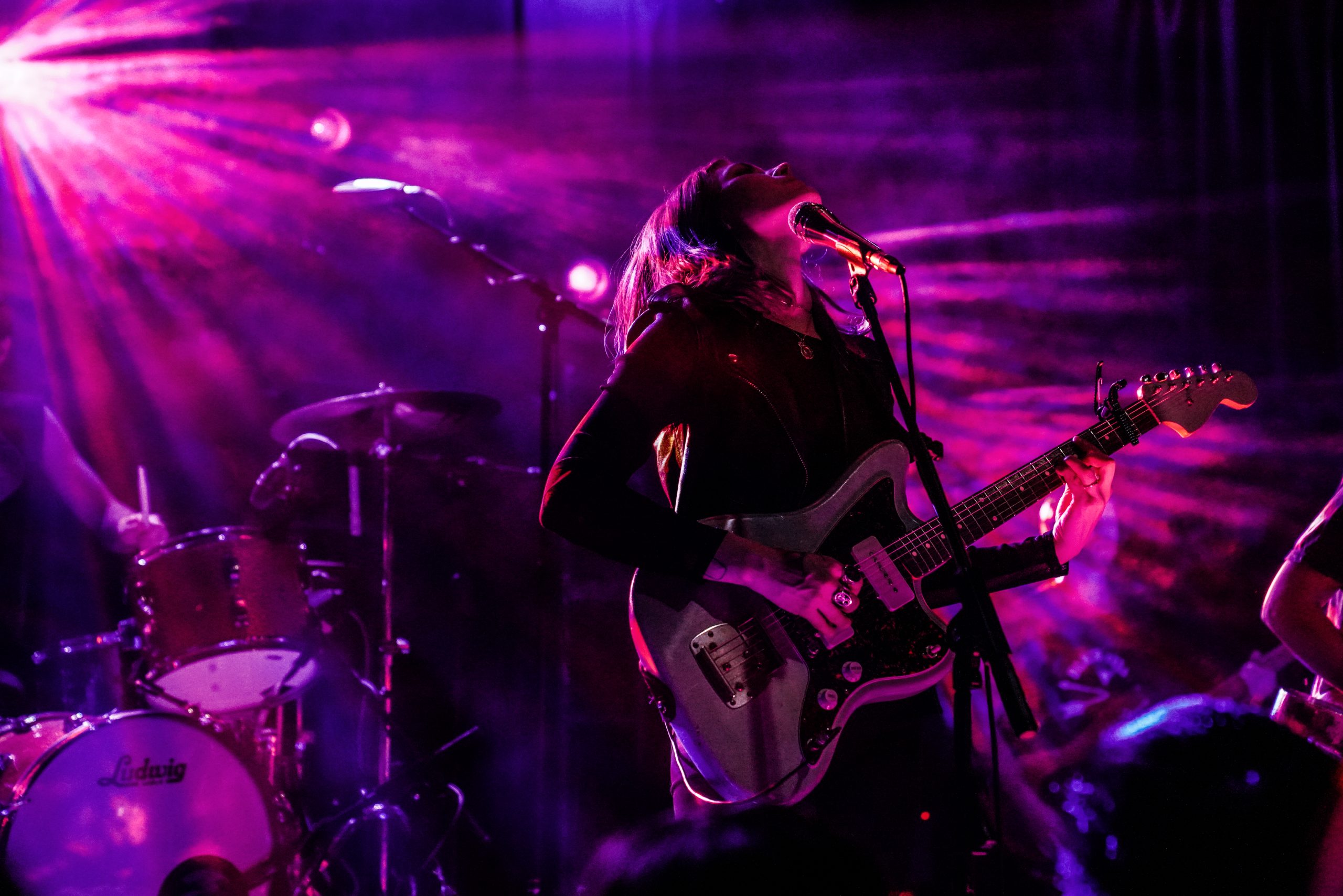 Speaking of color, we noticed that you use monochromatic looks a lot, particularly when you're lighting solo artists. Why is that? Do you have a favorite monochromatic color?
"Billie Eilish really helped me push how much I can do with one color. She is very monochrome when it comes to her color preferences so that poses a fun challenge to get different looks. When you have a very monochrome driven show your lighting fixture selection becomes extremely important. I've found multi instance lighting fixtures can help break up the monotony when you're in a single color song. I would say my favorite monochrome color would be purple. It's already this mysterious dark, moody color, but when Billie has the combo of her green hair, nails, and outfit going onstage, the purple just screams vibe all over it when we focus the lighting on her for the song "Bitches Broken Hearts."
Is there a Tony Caporale look that runs through your designs?
"Ha, ha, not yet. I think I need a few more years to see what trends I keep in my designs. I did tell myself at one point I would try and pair some sort of automation in all my lighting designs. Maybe I'll be known as Tony the Automator one day."
How did you get started in lighting?
"Back in college I was going to see Phish a lot with my friends. I was definitely the guy in the lawn staring at the light show. I was definitely intrigued what it took to do that line of work. While studying Electronic Media and Film with a TV Production focus I had a job at a bar called the Rec Room and they also had a music venue next door called The Recher Theater. I worked as a pool room attendant, bar back, and security at both places. One day the production manager of the theater came up to me and asked if I wanted to run lights for a few local bands that were playing that night. I was like, 'Hell yes!' I got to do something I had been wanting to try and I didn't have to haul beer up and down stairs all night for bartenders.
"It was a win, win situation. I ended up becoming the house LD and helped take care of different bands that would come through the venue. I eventually ran into a band called EastonAshe. They were touring locally and they wanted to add a lighting guy to their crew. Only thing was I had to graduate first before I decided to run away with the circus. So, after graduation we gigged around the area for a while until they had decided to move out to Arizona, where a few out the members grew up, after they split from their manager.
"From there, I worked at Clearwing Lighting for bit in Phoenix because I needed to learn about how the big shows went together and I had zero experience with advanced lighting consoles. Then eventually I was prepared enough to start working with more national touring acts, and almost 16 years later here we sit."
What are the three personality traits that have helped you most in your career?
"Kindness, Dedication, Adaptability."
How would you like to be remembered as a designer and director?
"My family has had an Italian Bakery in our name since 1906 and it still going strong to this very day. I recall my great Uncle Armand talking about baking with my parents once and I'll never forget what he said, "I never wanted to be remembered as the best, I wanted to be remembered as an artist and that I made something unique." That quote speaks volumes about who I am and how I would like to be remembered in this industry."