"Visualizing" Possibilities With Cory FitzGerald
Posted on June 2, 2014

This universally admired LD from Seven Design Works has been on quite a roll lately, lending his inimitable touch to some of the highest profile projects of the year, including Beyoncé's sizzling performance at the Grammy Awards. His spectacularly elaborate designs notwithstanding, FitzGerald's creative process starts with something decidedly simple–listening.
A partner in LA-based Seven Design Works with LeRoy (Roy) Bennett and Tobias G. Rylander, FitzGerald earned well-deserved acclaim recently for his work on Beyoncé's Drunk in Love performance at the Grammy Award ceremonies, which featured Nexus 4 x 4 panels, as well as the Bruno Mars Moonshine Jungle Tour. FitzGerald took time from his busy schedule to share some of his thoughts – and visions – with us.
We know you've learned from Roy Bennett. There's a lot of rich history in his career; can you highlight the key lessons you've absorbed from working with him?
"The thing that stands out immediately is Roy's impressive ability to hear new music and then create visual concepts which exactly match that music. This gets to the very heart of creating a successful and meaningful design.  Cueing is the most intensive part of each show — really capturing the sounds visually."
On the subject of visualizing, your designs have always stood out for their richness and complexity; so how do you visualize projects at their onset? What vision takes place in your head before you get to the design software and modeling?
"I usually spend a lot of time listening to the music, talking to the artist and pulling references for things I think work. Once this happens, I put together a concept and work in Cinema 4D to build a 3D version of what I'm visualizing of in my head. This is where all the changes and revisions start to happen once a dialogue is opened with the artist."
Few LDs have the kind of dialogue that you enjoy with Bruno Mars. You programmed Moonshine Jungle with Bruno himself. How does that work collaborating with actual artist? Does it require a long-term relationship like you have with Bruno to be successful?
"Working with a hands-on artist like Bruno is great and rewarding on many different levels. We can really look at each song and layer in all of the details.  A lot of artists know the feeling and vibe of what they are looking for but may not know how to describe their vision or actually achieve it; so it's great to be able to work together and get the artist everything he or she wants."
Do you think that this represents a trend where artists and designers are going to become more collaborative?
"I think a lot of younger artists are very aware of the technology available to them and are very interested in pushing the limits of what has been done before. They see shows or YouTube clips of performances and have a very extensive visual vocabulary."
It seems like tours are using more structural elements like chevrons, eye brow truss, ceilings to hide the lighting fixtures, do you agree? If so how does this affect the way you spec fixtures for tours?
"Yes – size and weight absolutely matters these days. There is a greater emphasis on compactness in fixtures because of the use of structural elements. The smaller the fixture can be with the same brightness and feature set, the more places it can go and more we can use it in the rig."
At the other end of the spectrum, it also seems like there's more use of blinders like the Nexus panels you used for Lady Gaga at SXSW. What role do you see blinder type of effects playing in your designs?
"The Nexus used at SXSW was more of a set piece element than a blinder.  I like the use of the Nexus as a set piece, as it has a really nice look to it on camera and has flexibility as far as pixel control. "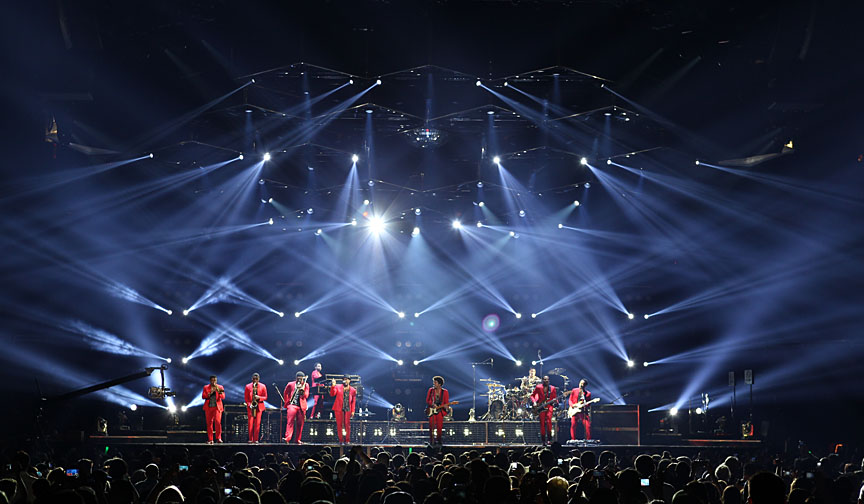 It seems like lighting designers have to be involved in much more than lighting when creating their work. It's like an LD is now also to one extent or another a stage, set and video designer too. How does this affect the way you approach your work? Are collaborative skills more important today?
"Each project can be very different as far as which roles a designer needs to step into.  Lighting today is more about the overall visuals of a live show, which can include set, video screens or elements, as well as lighting.  Depending on the artist, you have to be prepared to wear a lot of hats as a lighting designer, but I think that can help the end result."
Video has obviously had a big impact on lighting design. Do you see video being used more or differently in the coming years?
"I see the integration between lighting, video and overall control getting more connected and all the data between departments becoming more and more interconnected. But it's always about balance, especially with brightness. "
You do an eclectic mix of projects. Do you like to vary your work going from small stages like the Lady Gaga SXSW performance to more elaborate designs? Along those lines, how does festival lighting differ from concert tour lighting for you?
"I love tackling a variety of projects. It keeps things interesting as well as finding new solutions for similar problems in different settings. Festivals can be very challenging as far as getting the looks you need out of a totally foreign design or setup, but that can be fun as well if there is time to really work out any issues.  On tour you can control everything you need, whereas in a festival you have to work with what is there, and often with other acts and limitations of that environment."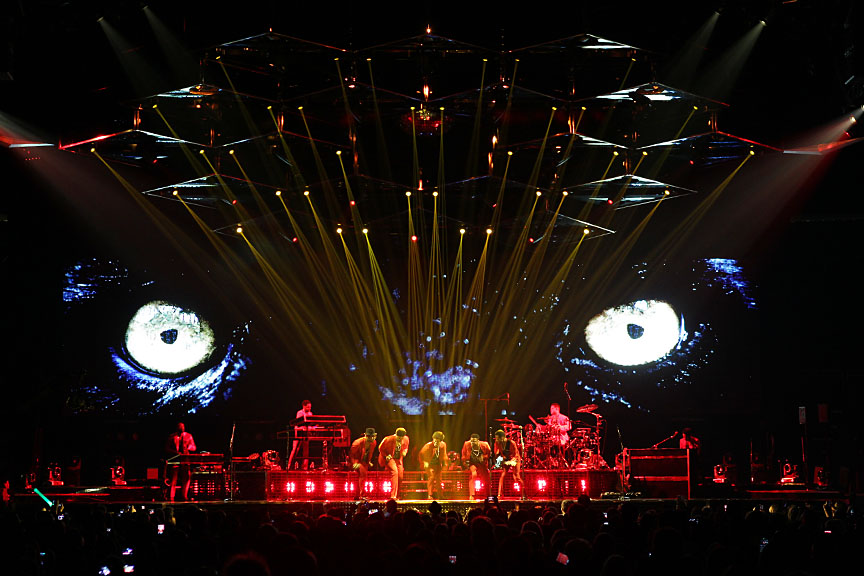 What were your favorites of all the projects you've been involved in? Most challenging? Ones you learned the most from?
"That's a tough question. I can't really pick a favorite, and every project teaches us something new, both good and bad, things not to do or things to do better next time."
Aside from Roy Bennett, who (and what) have been the other big influences on your career and vision?
"Everyone I've ever worked with or for has brought something new to my life.  I can't thank them enough for allowing me to be part of their projects and seeing the world through their eyes for a moment."
Cory Fitzgerald photo gallery:

Some reel footage of Cory Fitzgerald in action —  Beyonce, Drunk in Love, 2014 Grammy Awards:
Bruno Mars on the 2012 Brit Awards:
Bruno Mars on the 2013 Billboard Awards:
Rita Ora, X-Factor, 2012: