CHAUVET Professional Creates Clean Looks For Mitt Romney's Babson College Appearance
Posted on March 1, 2016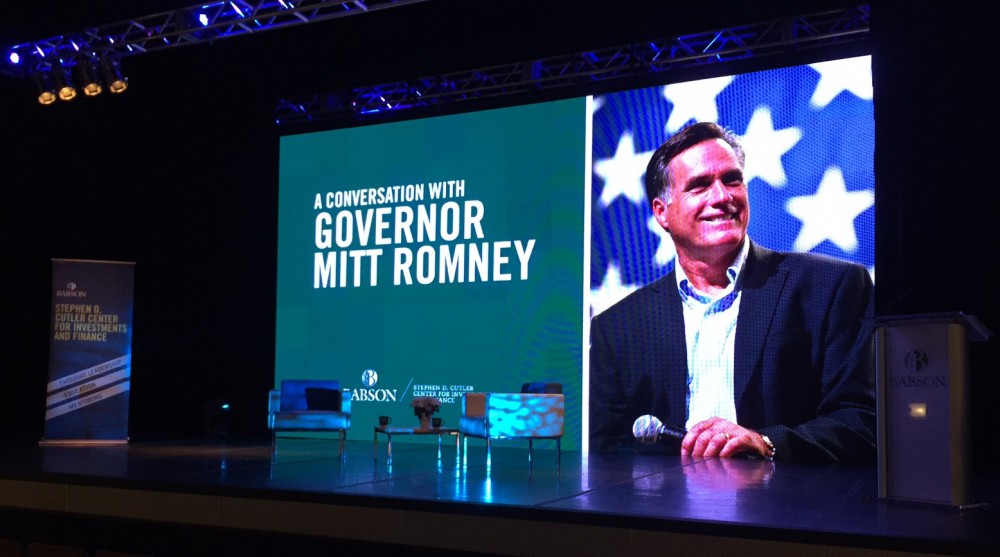 WELLESLEY, MA – Ranked by US News & World Report as America's best institution of higher learning for entrepreneurship, Babson College has long been an incubator of future business leaders. Arthur Blank, founder of The Home Depot, went to school here; so too did legendary former PepsiCo Chair Roger Erico, as well as members of the Ford and Toyoda automobile families. In keeping with this tradition, the school often sponsors talks by prominent business leaders, the most recent of which was "A Conversation With Governor Mitt Romney." In addition to be treated to a vigorous exchange of ideas, the sold-out crowd at this session saw a clean, crisp stage presentation created by Image Production Services using a collection of fixtures from CHAUVET Professional.
The session at the college's 440-seat Stephen D. Cutler Center, which featured the former US Presidential candidate and founder of Bain Capital talking to school president Kerry Healy, lasted for two hours. Creating a soothing look on stage during this entire period, while still introducing a level of visual variety, was essential to avoiding "eye fatigue," according to Darren Lusier, president of Image Production Services.
"Our goal was to introduce some variety to the background to keep the stage looking fresh, but at the same time we didn't want to be distractive," said Lusier. "The idea was to create a clean, professional look that reflected the status of the two people on stage."
Lusier and the Image Production Services team achieved the look they were after by using MVP Ta8 LED video panels, Rogue RH1 Hybrid moving fixtures and COLORdash Par-Quad 18 par-style fixtures. "This combination gave us the right balance," he said. "By changing backgrounds on the video panels, we got the variety we wanted. The Rogues added excitement with spotlighting at key points, and the COLORdash fixtures gave us a nice relaxing color base."
A total of 91 Chauvet MVP Ta8 video panels were used to create an impressive wall behind the seated speakers on stage. The wall displayed a changing variety of images reflecting the topics discussed as well as various highlights of Mitt Romney's career, including his time as president of the US Olympic Committee, co-founder of Staples and US presidential candidate.
"The panels worked out very well to display clear, crisp images that held the interest of the audience," said Lusier. "We drove the panels with a hi DEF video switcher Roland V 800. Content was provided by the school and it included a high DEF video and PowerPoint."
In addition to the video panels, the Romney rig included six of the Rogue RH1 Hybrids and 12 COLORdash fixtures. "The tight beam angles and wide zoom range of the Rogues really gave us a lot of flexibility to create good looks and vary them," said Lusier. "We positioned the Rogues at various areas on the stage deck, including one on each corner, so we could create some interesting crossing patterns and audience lighting before the session started."
At a school that is nicknamed "America's Entrepreneur College," Image Production Services taught the future business leaders in attendance an important lesson about marketing. Even the most informative presentation conducted by a highly respected person is more captivating when it's made against a varied and attractive background.