CHAUVET Professional Rogues Add Extra Dimension To Untouchable Tour
Posted on September 28, 2015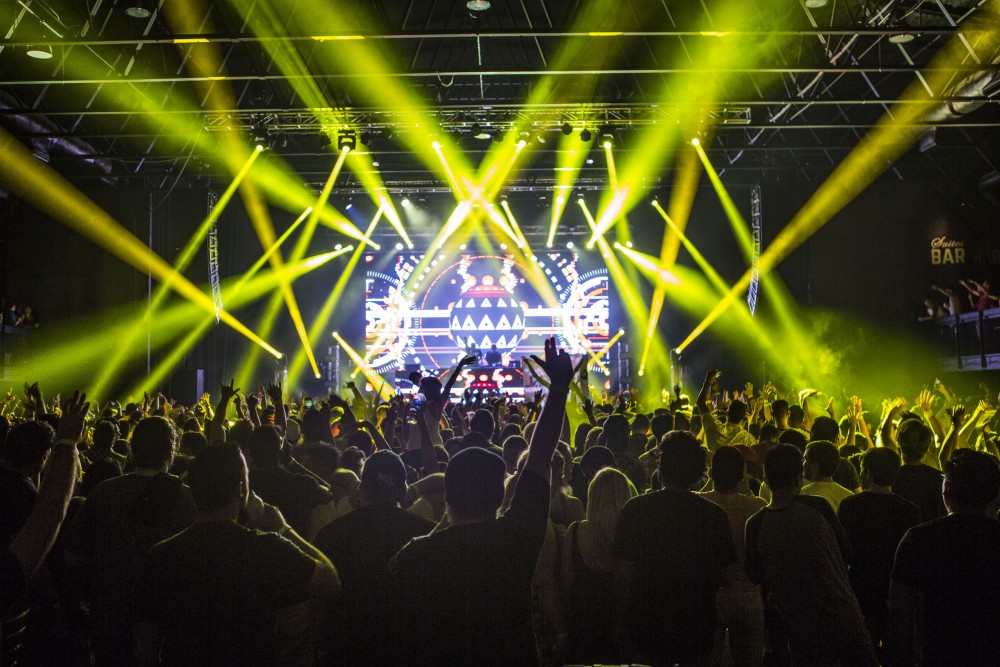 SUNRISE, FL – The intensity and movement on stage is pretty much nonstop for Cash Cash and Tritonal on their national Untouchable Tour in support of their collaborative hit of the same name. One would expect nothing less from artists that Billboard has dubbed two of EDM's rising stars. Taking the stage at large theatre-style venues like Club Nokia in Los Angeles and Terminal 5 in New York, the two high-energy groups draw their fans into a swirl of movement and music accented by a hard-driving lightshow from lighting designer Aaron Kovelman (aka Ronny Redrocks) that features a collection of Rogue RH1 Hybrid fixtures from CHAUVET Professional.
Kovelman's rig has all of the speed and intensity needed to keep up with this EDM freight train. In fact, the touring designer/director says his Rogue fixtures are so fast, he can double the BPM rate with their beams. "The speed and intensity of the beams send a current through the whole performance,"he said. "Then we sweep beams across the stage in rapid succession it really elevates the excitement level."
However, it's when there are subtle breaks and the music slows down a bit that Kovelman gets to add another welcome dimension to his lightshow. "About 80%-90% of the show is crushing everything with massive looks, hesays."But as soon as there's a nice cut in the music, I open the Rogues' layered prisms and flood the room with gobo images. The impact of the gobos is pretty amazing. Compared to the beams, they just kind of set over the audience and engage them in this imagery."
Of course, once the music intensity level flares up again (and it always does!) the beams, along with a collection of moving washes and strobes, are ready to "fill the room with punchy looks," said Kovelman. At the center of it all are two prominent video walls: an upstage wall measuring 10' x 16', and a downstage wall that measures roughly 4' x 10'.
"The groups have their own video content, which is very important to their identity and the spirit of the show," said the LD. "The fixtures in our rig had to be able to work with the video wall, needing the brightness to keep up with them and the tight beams not to distract from them."
Kovelman has eight Rogue RH1 Hybrids in his rig. Most of these fixtures are positioned on four truss towers. There are two 5' downstage truss towers, each with Rogue fixtures that are used for audience and aerial lighting, and two 8' upstage towers that are used for aerial lighting as well as to light the stage. Other Rogue RH1 Hybrids are hung on bars by the upstage truss.
"The Rogues are really positioned to work in harmony with the video wall," said Kovelman. "We use them to extend the look of the video wall by doing things like wiping the stage with beams that are the same color as the dominant color on the wall at any one time. Going beyond the hardcore EDM lighting, we wanted to create a show that tied everything on stage together and engaged the audience."
Kovelman of Hauss Collective was retained by Visual Infinity to run the Untouchable tour. During the course of the tour, he has come to appreciate the compactness of the Rogue RH1 Hybrid as well as its performance features. "We travel on a touring bus with a 14' trailer that holds all of our gear," he said. This trailer holds everything, so we really value the compactness of these fixtures. Everything in this rig works well together, on the stage and in the trailer."