Image Production Services Adds Glamour To Miss New York Pageant With CHAUVET Professional
Posted on January 22, 2016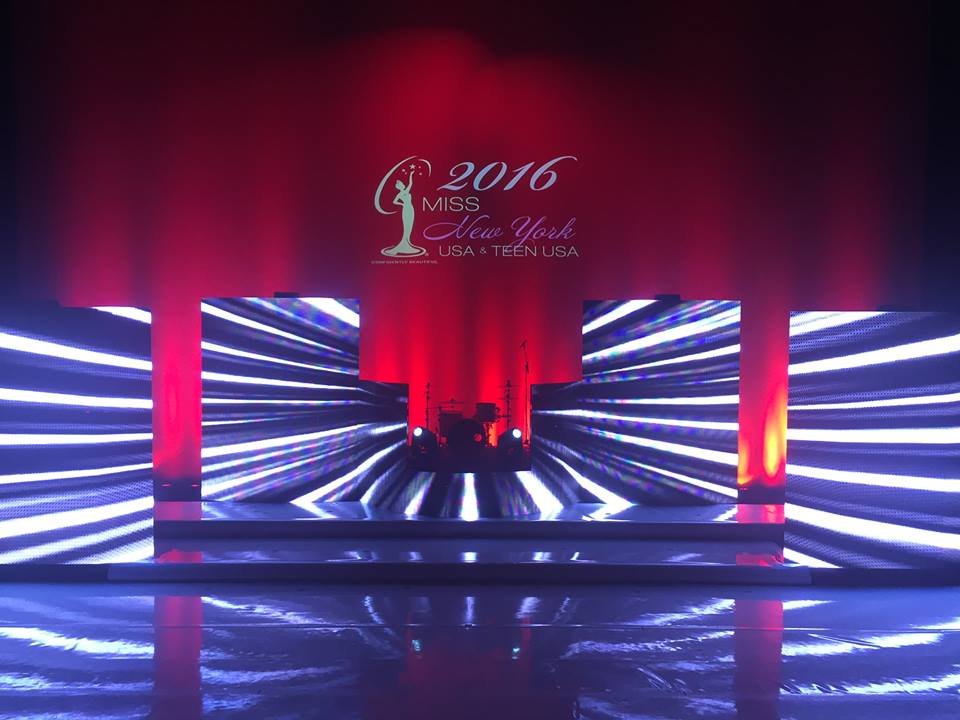 PURCHASE, NY – As the site where much of the 2010 Academy Award-winning ballet-inspired drama Black Swan was filmed, the Performing Arts Center at Purchase College outside New York City is no stranger to sleek displays of stylish sophistication. Such elegance was readily apparent during the weekend of January 16-17 at the multi-stage complex as it hosted the Miss New York USA and Miss New York Teen pageants. The glitter extended beyond the lovely contestants who competed in the pageant; also captivating the sold out audience was a sweeping lighting and video wall display created by Image Production Services using a collection of CHAUVET Professional fixtures and panels.
Project manager and technical director Tyler Lussier and lighting director Willy McDonald transformed the Purchase Center stage into a glamourous province of light and breakout patterns with help from 12 Rogue RH1 Hybrid moving fixtures and an equal number of Q-Wash 560Z-LED moving washes, along with 32 RGBW COLORado 1-Quad Zoom Tours and 100 MVP Ta8 Curve LED video panels.
Most of the Chauvet moving fixtures were flown on truss and house pipe over mid-stage and downstage. From this position, they were used to wash the stage and create big production-style crossing beams of light on the stage's lush red back curtain. A collection of six Q-Washes was positioned on the runway leading from the stage to provide uplighting. Rogue RH1 fixtures arranged on upstage deck risers provided aerial effects.
"We built a lot of flexibility into the rig to reflect all of the different looks needed to support the different segments of the pageant," said Lussier. "Getting rich colors out of the fixtures was also very important to setting the right visual tone for the audience."
Dominating the center stage was a large three-sectioned video wall made of 100 MVP Ta8 tiles. The tiles were used to display video images showing different scenes from around New York State as well as abstract patterns. "We had the same video image displayed on all three panels and broken up by the space between them," said Lussier. "This added a nice sense of depth to the stage."
Images displayed on the trisection video wall were changed quite often to capture the attention of the audience. Lussier and his team found it easy to run the video panels, thanks to their responsiveness and the effectiveness of their control tools.
"We drove the MVP Ta8 panels with a V-800HD multi-format video switcher using ArKaos MediaMaster for content and 300' of HD SDI run," said Lussier. "Lighting fixtures were driven by an Avolites Tiger Touch II console, which was also used to run ArKaos media."
The 2016 Miss New York pageant marked the third year of doing the event for Image Production Services. Every year the company strives to outdo its previous effort. "We're always looking to up our game the way we did this year with our moving fixtures to go along with the video wall," said Lussier. "We also got a great job from our audio engineer Bill Nelson. It was a team effort that resulted in a perfect show."