Jvan Morandi Narrative Light
Posted on January 7, 2020

Early in his career, this Italian-born designer was looking for a way to reflect the melodic sound of his client Faithless for their 2001 tour when he came upon the idea of combining video and light. In pursuit of this vision, he experimented with different alternatives, including an attempt to trigger CD Roms with a RS 232 controller. The plan didn't work. However, his quest did ultimately lead him to use one of the earliest media servers ever in his design for the electronic band.
In this instance, as in so many others through the years, failure held no fear for Jvan Morandi, whose relentless search for new ideas has earned him the widespread respect of his peers. In the world of Morandi, the mission of lighting design is to tell a story. If the tools to do so do not exist, it becomes his quest to find new ones.
Sometimes, the results of this search are stunning, as when he repurposed large numbers of old transparent LED screens to create a 3D effect for French electronic music pioneer Jean Michel Jarre in 2016. At other times, they are less stellar. No matter though, it is advancing the narrative of light that really matters
Morandi, who now works out of the Scottish Highlands, has followed this fearless design philosophy through a Renaissance spectrum of genres, from lighting tours by rockers like Bryan Ferry, Robyn, and Placebo; to designing plays and operas at the West End, Royal Opera House, and other prestigious venues; to working with Roy Bennet on Paul McCartney's legendary concert at the Coliseum in Rome.
Regardless of genre or venue, Morandi's designs generate a powerful, primordial magnetism on stage. Viewing his work, one has the uneasy, but compelling sense of stepping into a film, or a deep dream. It is an aura he describes as a "third world," inhabited only by the performers and actors he lights. Speaking from his Placing Shadows studios, the intrepid designer invited us to take a look inside that world.
Your studio's name, "Placing Shadows," is intriguing. How did you decide on it?
"The name came to me in my college years, but I didn't apply it to an official company until 2006. During a lighting workshop at the Central School of Speech and Drama in London, one of the Tutors emphasized that theatre is all about where to position the shadows, more than where to position the lights. That remark stuck with me, and then it became the name of my studio."
We've always been impressed with how, in many of your tour designs, you change backgrounds, as if you're unfolding a narrative through them, the way you did with projections for Faithless. Why do backgrounds play such an important role in your designs?
"When I started my career in concert touring as a LD with bands like Roni Size Reprazent, and Faithless, the video element was at the very beginning of it's use as a tool for medium size bands. Lighting was often the only tool. When I started to use video, it was always meant to be a world or a story that the band would like to live within, so the creation of a powerful visual background and mid-ground in the stage image has always been important to me. I would say that I need the performer to inhabit a third world with a story to make sense of what I do."
On the recent Manuel Carrasco show at Madrid's Wanda Metropolitano stadium, you had 350 square meters of LED video wall that you moved throughout the performance. Why did you opt to move them instead of keeping them stationary?
"The use of horizontally moving screens for Carrasco show came as a result of my conversation with the artist himself, when we where discussing how much we liked Japanese houses, and how their sliding doors create different framings of space."
On the subject of projection vs. LED wall. When do you decide to use one rather than the other. Do you have a preference?
"I much prefer projections personally, but they are so difficult to work successfully, especially because in recent years, the use of camera-phone by the audience makes projections a very dangerous tool in concerts. I have had situations where an entire section of the intro was whitewashed by a sea of phone lights. Projection based visuals also are a lot more laborious to make and unforgiving in execution. As far as LED screens are concerned, I think they are beautiful and bright, albeit a bit too overwhelming. I tend to prefer low to mid res solutions — 30 to 18 mm pitch. The higher res are too hyper-real. This is not a very fashionable choice…. I know."
The Manuel Carrasco show we just discussed was part of a tour that stopped at venues of widely different sizes. You had to scale your design concept down considerably in some of the smaller venues. How do you do this without losing the meaning of your bigger designs?
"It is a process of trial and error, really. Sometimes random events help you, but generally I tend to start designing for the average smaller shows first, then create modularity within it to upscale it when needed. It is always easier to add in touring than to take out — and much more cost effective."
Many of your tour designs have a cinematic quality. Has your creative process been influenced by films? Do you have a favorite film or director?
"Absolutely yes. I would say that for example, my collaboration with Placebo, which has gone for the past 12 years, is totally based on the interest that Brian, the lead singer, and I share in surreal film making. My favorite director is probably Stanley Kubrick but my favorite film is Blade Runner."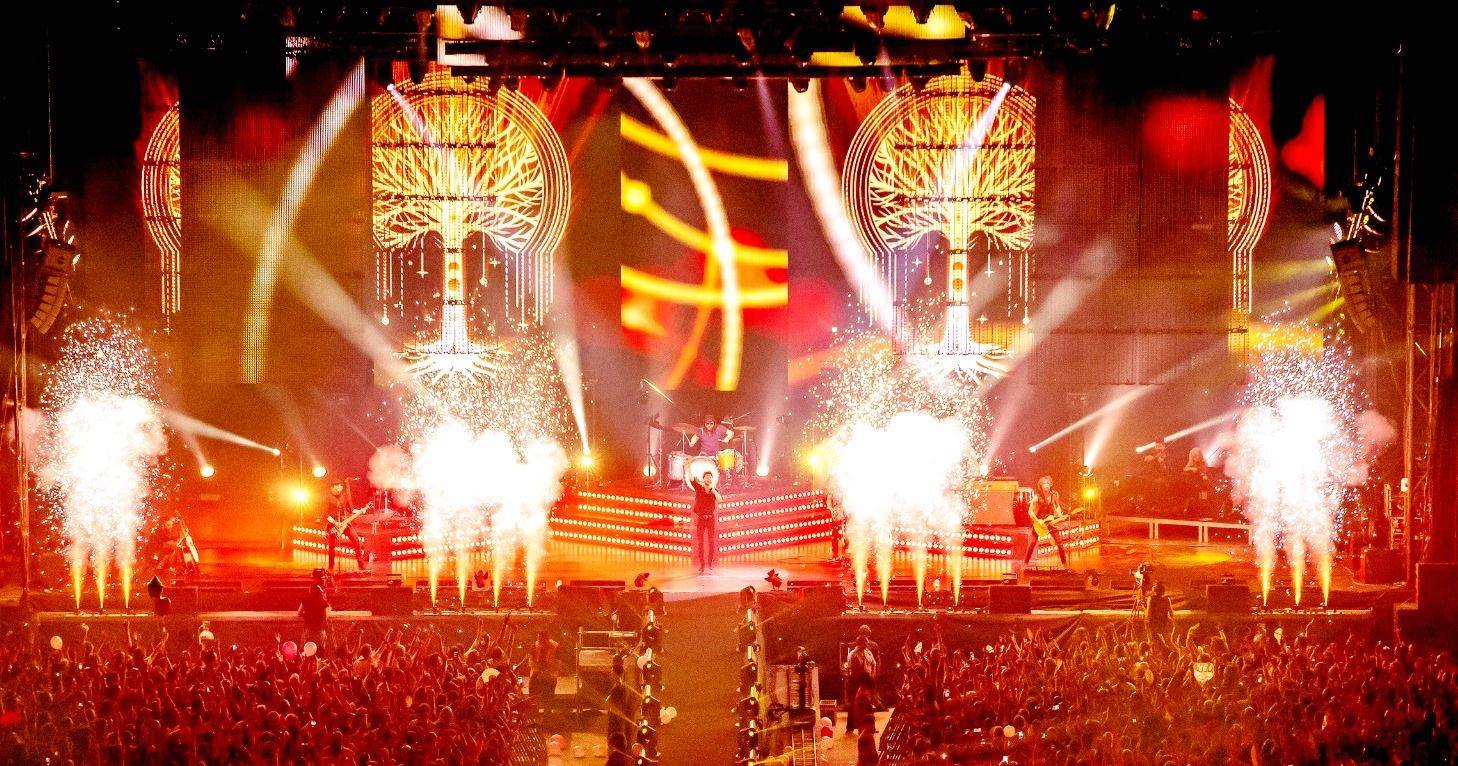 Is there a film director from the past who you think would have been a great lighting designer had he or she entered this field?
"I would say that if someone like Alfred Hitchcock would have taken my line of work, he would have changed our industry, and probably taken all the jobs!"
What do you think you would have done if you didn't become a lighting designer?
"I would have loved to run a small beach bar cum board game hang out in Mexico."
We were impressed by the fragmented look you created for The Kooks on tour when you used a large number of small video panels and interspliced them with bright light and dark space. Can you tell us how that design came about?
"When I got the commission from the Kooks, we had a set of initial meetings with the band and Luke Pritchard mentioned jokingly that he missed Radio Rentals with their big display of tellies in the window shop. After that, I started looking at Rubik cube ideas, as well as mosaics in byzantine churches."
What is the most challenging thing about lighting design for you?
"I still find it hard to manage the moment when it's time to show the client what I have done. It's a very delicate moment, but people do not always understand this and they tread about a little heavily on that moment. But maybe that's just me being too sensitive about what I do."
Do you have to like a client's music to do a good job lighting their show?
"Absolutely yes, but with experience you can do good work even on something that is not to your taste. There are techniques that will make sure of that, if followed religiously."
In addition to touring, you've designed for opera and theatre at some of the world's most famous venues. Does the diversity of your experience enhance your creative process? Do you ever take ideas from one genre and apply them to another?
"I love theatre and opera and certainly it has helped me in my concert work. Crossbreeding makes for stronger DNA, remember."
How does designing for opera compare to designing for theatre?
"Opera is quite complicated per se as an art form, even more so in the modern opera world where the rehearsal schedules are really punishing. Opera houses are fast paced on turn around between rehearsals for new shows and shows already in repertoire.
"Often when you finish a stage and orchestra/piano rehearsal within 10 minutes the entire set is struck , a new set in brought in with a new lighting system, and they go on the evening performance. So, you have to learn to program and edit while things are going on stage, because when performers are done, the entire production is carted off stage to give space to something else.
"When I did my first opera at Covent Garden in London I was totally shocked by the speed required. I also was clearly underprepared for it, but thanks to the uber professional lighting managers, I got out alive! So, you can't waste time –and you will only have one shot to light sections of often very long performances.
"Theatre is still very complex, but generally has a slightly more relaxed pace. However at large theatres like The Royal National, you face similar schedules to the opera houses."
What was it like working with Roy Bennett to light Paul McCartney at the Coliseum in Rome?
"Roy is one of the historical great designers in concert touring, and has an unusual eye for creating very large canvases of light. He was inspiring to work for. I was so young, really, that I must admit, I was a bit star struck. Looking at how he managed that production in such difficult location was a priceless experience. I guess years later that experience helped me a lot to deal with site specific projects with Jean Michel Jarre, an artist famous for doing big and complex shows in difficult locations."
You've received a great deal of praise in the industry for your bold approach to design, and your willingness to experiment with radically new ideas. How do you know if a new idea is worth trying?
"I have taken many risks in my career, not always successfully, but generally I need to find a tool that helps me to tell the story I want to create. Sometimes this tool don't exist yet — or it's in its infancy."
How do you get inspired at the start of a project?
"Conversations with friends and colleagues, going to research for inspiration in art galleries and libraries, or I just have a snooze on the sofa!"
You were born in Italy and now reside in the UK. Have your Italian roots influenced your design philosophy?
"After 25 years I have finally moved out out London. I now live and work in the Scottish Highlands. Italians do like symmetry and perspective; and maybe this has influenced me. In the Italian tradition only via unbalancing symmetry can we create asymmetry. Look at the work of painters like Giorgio de Chirico or architects like Renzo Piano, and you can appreciate this point."
So, how did you get started in lighting design?
"I was 19 years old and Working as a stage hand for a little local light and audio company in my home town of Aosta in the Alps. One day the big boss told me, 'you should be good for doing lights.' I tried and stuck to that the rest of my life. Several years after that conversation, I arrived in the UK and decided to get serious about lighting. It was then that I enrolled in the Central School of Speech and Drama to study show design.
How would you like to be remembered as a lighting designer?
"As a pleasant and capable professional, I hope, and as good company at a tour bus party."