LD Drew Gnagey Uses Rogue RH1 Hybrid On Rascal Flatts RIOT! Tour
Posted on July 9, 2015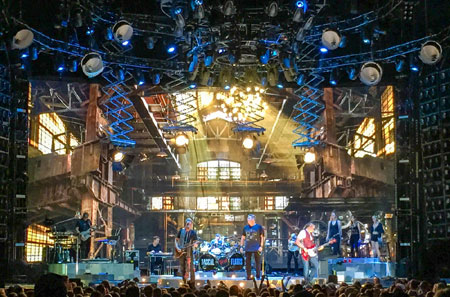 NASHVILLE – LD Drew Gnagey of Magneto Live Design called on the Rogue RH1 Hybrid from CHAUVET Professional to fill a variety of roles in the Rascal Flatts RIOT! Tour. Gnagey is using the moving fixtures in a variety of situations, counting on them to perform as a beam type effect that can punch through its surroundings; as a wash for softer moments; and as a dynamite hybrid when bright and sharp morphing looks are needed.
A key part of Gnagey's production design is to wrap the lighting rig around the band. This forms a closer connection between the music and the lightshow. However, it also makes it critical to have a lighting fixtures that can change looks quickly and cover a range of moods.
Gnagey is using 32 Rogue RH1 Hybrids supplied by Bandit Lites on the Rascal Flatts RIOT! Tour rig. He positions 12 of the fixtures on a circle truss directly above the downstage performance area and divides the other 20 units evenly among four vertical truss towers.
The tower Rogues have also played a key role in helping Gnagey adapt his lighting to the widely varied venues on the RIOT! Tour, which will notch stops at everything from a cruise ship and the Indianapolis Motor Speedway to State Fairs and giant amphitheaters before its conclusion. "Having to deal with a number of types of venues on this tour, we've had to make the rig very flexible," he said. "By using the Rogues on towers, we're able to scale the rig based on the trim height of the day."