Paul Guthrie Covers Many Moods Of Macklemore & Ryan Lewis Tour With
STRIKE 4
Posted on March 22, 2016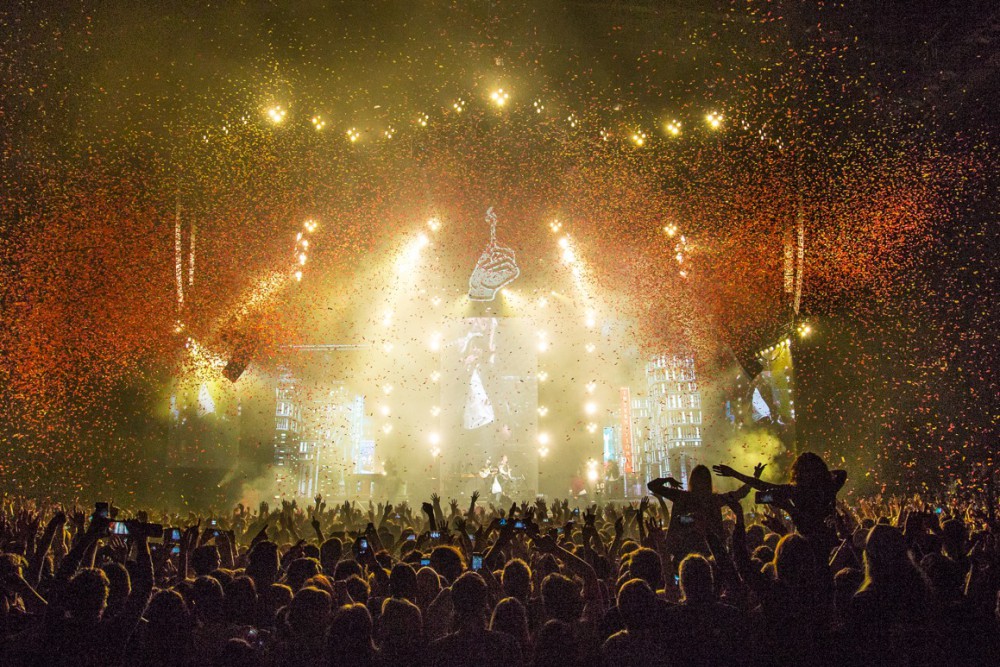 SUNRISE, FL – Macklemore & Ryan Lewis's current Intimate Tour is aptly named. The multi-Grammy winning hip-hop duo is taking great pains to connect to their audience on a personal level during their worldwide tour, revealing sides of themselves that range from gently pensive to intensely passionate, all wrapped up in what they call a "diversity of sounds and textures and concepts." Lighting designer Paul "Arlo" Guthrie covers the array of emotions laid out on stage in the sold-out tour with a massive lightshow that includes evocative warm white tungsten looks created with STRIKE 4 LED fixtures from CHAUVET Professional.
Guthrie positioned 47 of the 100W COB LED fixtures throughout his rig, giving him more flexibility to cover a stage that includes a small brass band, three singers and three hip-hop dancers, in addition to Macklemore and Ryan Lewis themselves. "I put the STRIKE 4s everywhere," he said. "On the US leg of the tour, we have them on downstage truss and on four towers – they are all over. I hung a lot of them in a diamond configuration to create a different look."
A trademark of Macklemore & Ryan Lewis has been their ability to switch the emotional tenor of their shows as quickly as flipping a light switch. This rapid change quality is very much in evidence on the Intimate Tour, which ricochets from the slow, almost ballad-like "Ten Thousand Hours," to the blow-away get-on-your-feet "Thrift Shop" in a seeming heartbeat.
The versatility of the STRIKE 4 helps Guthrie keep pace with his lightshow. "We used the fixtures as a blinder, warm white wash and strobe, depending on the situation," he said. "They worked perfectly as a blinder during intense moments. We also strobe them in a few spots, and then we use them as a low level glow wash at a couple of points in the show. I didn't end up driving them with a media server, but we do some cell chases and patterns with them for some cool looks.
"Of course, we run the STRIKEs at full intensity for most of the show," continued Guthrie. "The show goes through a lot of messages and moods, but the intensity level is high throughout. There were some more mellow songs, though, where we ran the fixtures on a glow for a super soft wrap."
The ability of the soft tungsten-like glow of the STRIKE 4 to set an evocative mood on stage wasn't lost on the artists. "Macklemore & Ryan Lewis really like the tungsten look," said Guthrie. "The quality of this light works perfectly for so many things."
Also coming in for praise from the LD were the performance features of the STRIKE 4.  "I liked the color and the dimming curve of these fixtures, as well as the ability to use each individual cell and have them react like a dimmer or an LED," said Guthrie. "Not having to carry big dimmer racks was also a plus."
As Macklemore & Ryan Lewis wind down the European leg of their Intimate Tour, the duo has enjoyed very favorable reviews of their show, which is being praised for the sweeping range of emotions it covers.  The same can be said of the STRIKE 4 fixtures in Guthrie's impressive rig.