Peter Morse: Supporting Light
Posted on October 21, 2016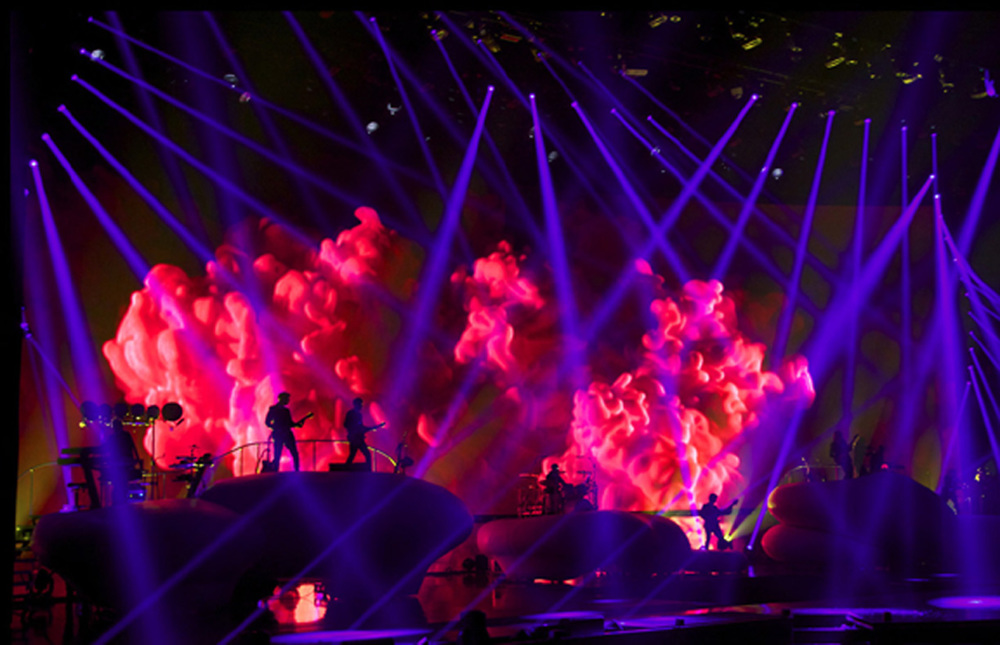 Listening, truly listening, as opposed to simply hearing, has been described as a "rare gift." If that's the case, then this universally acclaimed lighting designer is uniquely gifted. Over the past 35 years, Morse has combined his formidable design talents with an uncanny ability to accept and synthesize input from others to reach the pinnacle of his profession.
The Chicago-born LD's close collaboration with Madonna and her set designer Bruce Rogers on the Drowned World tour in 2001 resulted in a seminal lighting design that set a new standard for many of his peers. About a decade earlier, his openness to new ideas resulted in one of the first productions to feature moving fixtures: Michael Jackson's Dangerous tour.
Morse, who won a Prime Time Emmy Award for his work on Bette Midler's "Diva Las Vegas" HBO special, has spanned generations and genres in his work as a lighting designer. Barbara Streisand, Prince, Usher, Christina Aguilera, Carrie Underwood, Jennifer Lopez, Dolly Parton, Mariah Carey and Andrea Bocelli have been among his clients. He has also worked on films like The Bodyguard and, for added good measure, cut his teeth as a teenage folk singer in Greenwich Village where, as a member of the New Christy Minstrels, he performed with Kenny Rogers. Around the same period, he cut a song for an unknown troubadour named Bob Dylan.
Taking the time to discuss his extensive body of work with us, Morse emphasized that his designs are about "supporting an event, not creating one." This perspective reflects his talent as a true listener – and it is from this "gift" that his supportive designs have taken flight.
Quite a few lighting designers started out with musical ambitions, but very few, if any, achieved the level of success you did as a singer — and at a very young age — performing with groups like the New Christy Minstrels. Has your own musicality influenced the way you design?
"I can't really say that my relationship with music has directly influenced the initial design of a rig. However, it does definitely come into play during visualization of cues, the timing, and programming. Of course, when designing for an artist — whether a performer who is musically focused, or choreographically intense — my musical background does seem to assist with understanding timing and actual breakdown of the moods of the piece I'm lighting."
Do you think it's possible to be a good concert lighting designer without having a good sense of music?
"I believe most successful concert designers have a good 'sense' of music. I don't believe they necessarily have to have an intimate understanding of the music they're working with. More importantly, they should definitely have a good understanding of the artist they are lighting, and, perhaps, a good idea of the lyric content or the overall message the artist is trying to deliver."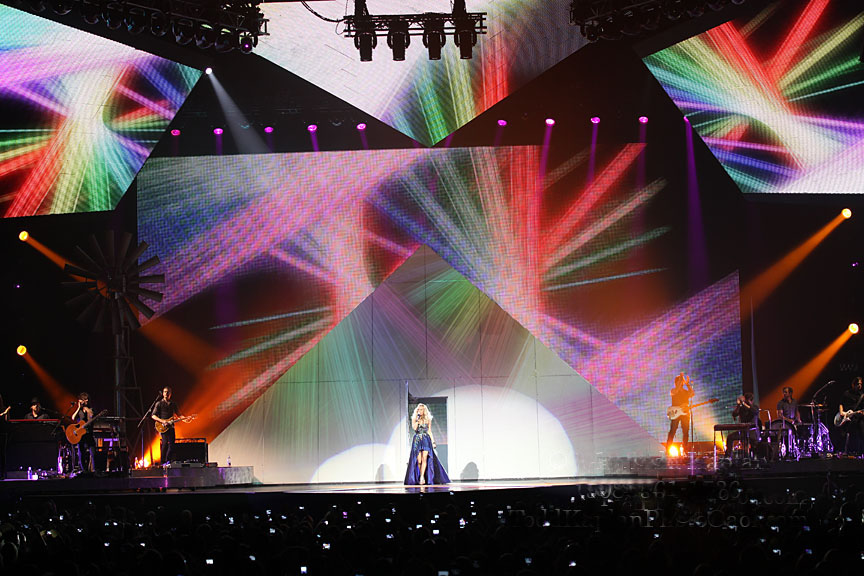 As a designer, do you have to like a client's music personally to do justice to it?
"Hmmm…That's a tough one… First of all, I would definitely prefer to work with music that I like (including the artist!!)…However, I'm sure I share similar experiences with other designers when I say that I have worked with music I did not particularly care for. What's important in that case is that you immerse yourself in the music, lyric, and —yes, the artist's intent— to do justice to the music. Otherwise, you should definitely move on to another gig. On one particular occasion, after creating the initial design, I relied heavily on input from my programmer, who better appreciated the music we were lighting, and who had a more thorough understanding of it."
Technology is obviously very different today than it was when you started. Not only has it given rise to a lot of new creative possibilities, it's also made collaboration more important. Aside from your impressive talent as a designer, you're also known as someone who is very easy to work with. What advice do you have on successfully collaborating with others on design projects?
"I don't know about 'easy to get along with!' However, all I can say to this: you have to continue to keep your eyes and ears wide open. Be open to and accepting of new ideas and information. There's always a new idea or 'twist' on programming or cueing methods, or actual concepts of a 'look' that may have passed you by."
"The label 'lighting designer' is not the end-all. I rely heavily on input from those around me. As technology has continued to grow exponentially since I began with Lekos, pars, and Fresnels as the extent of my working palette (no, I won't mention the 'era' in which I got started, but you can fairly well guess!), the necessity for the knowledge needed to control the programming environment has led me to rely more heavily upon the programmers who are able to keep up with the continual changes – and who usually have new 'tricks' up their sleeves. Sometimes the simplest idea or side comment made by a lighting tech or set designer can trigger a flow of new ideas. Be open and accepting to all of those who are working with you on a project."
Your concert work is often very theatrical in nature with stunning scenic elements. Can you tell us how the design process begins for you on these projects? What do you think of first? Do you envision a scene and then fill it in with lights and media? Or do you say "I want this type of effect" and then create a scene to support it?
"Basically I first try to take into account the entire concept of the show – both scenically and musically. I attempt to get as much input as possible from the director in order to develop an idea of fixture choices, and — depending upon scenic layout— where, exactly, to hang them so that I can get the most effective use. Yes, it's fairly easy to just hang an automated fixture with the intent to decide later in what applications it can be used. However, I try to envision their real purpose. If later, while programming, we find additional uses for that fixture, that's just a plus.
Bottom line, I feel strongly that lighting is there to illuminate a scene or a performer, as opposed to being the featured element."
How do you get inspired at the start of a project? Long walks? Listen to music?
"As I explained, I try to immerse myself in the artist and music I'm about to work with. Long walks – especially those with my dog – usually help!"
Does your vision for a design tend to come quickly, or does it tend to be a long process with a lot of false starts and revisions along the way?
"Lots of false starts, revisions, and an overall tendency towards procrastination usually come into play. This usually includes varying levels of self-doubt, and occasional whining to fellow designers. I find it difficult to simply jump into a design. I definitely look for any input I can digest prior to initiating a new design."
Many of your fellow designers, many of them we spoke to, regard your design for Madonna's Drowned World tour as one of the best ever. Can you tell us how that design came about?
"The design for that show was initially based on two major 'ingredients': Bruce Rogers' fabulous set design, and Madonna's intensely detailed notes that carefully depicted every moment of the performance."
"Madonna's notes always detailed much of the choreography and anticipated timing of scenic moves. So, I naturally had a good start with conceptualizing the lighting design. And, of course, the design was also based heavily on musical numbers in the show."
"Generally speaking, this design came about much the same as any other tour. However, unlike most other tours, I had the incredible flow of information – not only via the detailed renderings from Bruce and his team, but also from the artist herself."
Regarding Madonna, your relationship with her got off to an inauspicious start with her firing you before you went on to design four very successful shows for her. Can you tell us about that?
"In 1985, as Madonna was in the early stages of planning her very first tour (the Virgin tour), Howard Rose (Madonna's agent) and Freddie DeMann (her manager) saw my work on Kim Carnes' Mistaken Identity tour and brought me in to meet Madonna. After a short meeting, I was hired. I gave her some scenic ideas I thought she might like. She asked me to bring some drawings in to view. I had them assembled and took them to her recording session."
"Remember — this was 1985…rendering wasn't like it is today. Not being a very good artist myself, I had a rendering artist create the drawings for me to show to Madonna. These illustrated the scenic ideas I had described to her at the meeting. I then went to the recording studio where Madonna was working, and I showed her the drawings. She asked: 'Okay…but where am I in this scene?' I responded by pointing to several areas on the drawing. She replied: 'Yes, but I NEED to see ME in this drawing!' I reminded her that I'm not the artist. However, she pressed on. So, I took out a pencil and drew a rather basic stick figure that would roughly represent her position and scale in relation to the drawing."
"Of course, she wasn't at all happy with that and sent me to her manager's office. Upon arrival at the office, I was informed that I had been fired! So, I had become the first person ever hired for a Madonna tour and shortly thereafter, the first person ever FIRED from a Madonna tour!!! Fortunately I was hired back a year later for her second tour (Who's That Girl) and continued to work with her on the Blond Ambition, Girlie Show, and Drowned World tours."
You've had what can be described almost as a Forrest Gump-like experience, crossing paths with so many famous people. We're thinking not just of your superstar clients, but your encounters with the likes of Bob Dylan before he became famous. Is there anyone famous who you've never met, who you would like to meet?
"I've been in a position to work with many great performers and artists. I consider that a part of what I do. I have the highest respect for each and every one of them. And, yes, there are many people I've never met that I would consider a privilege to meet. What interests me the most in any particular celebrity is their passion for their art or craft, and – most importantly – their dedication to sharing it with others and working with the technicians who assist them in presenting their performances."
"The first person who comes to mind in this regard, however, is not at all related to the music business. But his brilliance and communication skills blow me away. I would be thrilled to meet Neil deGrasse Tyson!"
"Looking closer to the 'arena' in which I work, I have always been curious about some of the great actors who, unfortunately, are no longer with us, but who have left an indelible mark on the history of film and society itself: Humphrey Bogart; Lauren Bacall; Spencer Tracy; Katharine Hepburn; Audrey Hepburn. I actually got to meet and briefly visit with Lauren Bacall when she came backstage to one of Bette's shows at Radio City…thrilling!"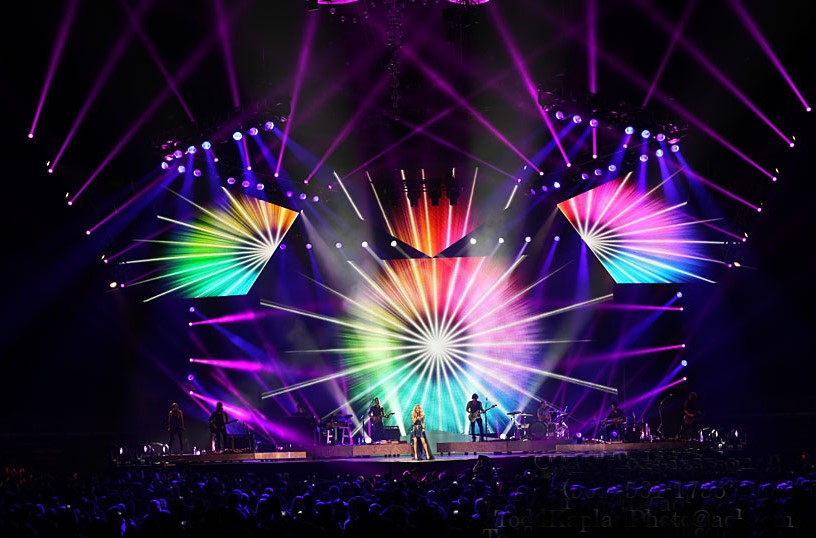 Aside from designing concerts, you've also worked on some well-known films like The Bodyguard and Showgirls. How do the demands of concert and film work differ?
"The demands of concert and film are vastly different. Just as the technology differs, so does the production and design process. Besides the difference in fixtures and their application, there is major difference in the presentation/rehearsal process.
Most of these differences are fairly apparent to the casual observer. To begin with, there is quite a difference between lighting the artist for the 'live' eye versus for the camera. However, an even larger gap in the lighting approach comes into play when lighting for film. That's where the DP comes into the picture. The feature film work I've done (aside from Truth Or Dare, where live concert footage was utilized in the body of the film) has mainly called for an accurate use and depiction of theatrical or concert lighting. In Showgirls I lit all of the 'Vegas'-style production and strip club segments, and in The Bodyguard I designed the lighting for the nightclub and Academy Award scenes.
While I was comfortable in my relative lighting 'territory,' I had to simultaneously address camera angles, coloring, etc. In most cases, the Director of Photography was of great assistance. They were collectively a great shoulder to lean on! In particular, my highest respect goes out to Jost Vacano. Jost has a rich history of film credits as cinematographer and DP. To his credit, when confronted with the task of realistically lighting the performance scenes, he chose to defer to a designer who specializes in that area. On site, he was incredibly helpful every step along the way. I'll never forget that. And I hope to be able to pass on that professional generosity whenever possible. (Whenever I'm asked by a theater student about what direction to take, I advise them to study film. That's a technical knowledge that would serve all lighting designers well)."
You were among the first designers to use moving fixtures in a big way, particularly in some of your work for Michael Jackson. Has the role of movers in concert design changed since the Dangerous tour? Do you see the way these fixtures are used changing in the future?
"The Dangerous tour was actually, more-or-less, a 'testing ground' (at least for me and several of the programmers) for using moving fixtures. About 85% of the lighting rig was actually conventional lighting! I think it's blatantly obvious to anyone involved in lighting—whether concert, theater, television, or film— how much the role of automated lighting has changed over the last 20 years. In fact, I'm not really sure I can put into words exactly how much the automated light has affected the performance environment as a whole."
"You ask if I see the way these fixtures are used changing in the future—-of course! I can only imagine, as would anyone. Certainly the growth in automated technology has changed exponentially ever since the early days. Just as traditional theater lighting has influenced concert lighting and performance, the automated lights that were originally developed for the concert stage have become a standard in the theater environment. As someone who has gladly relinquished the actual programming challenges to the brilliant and dedicated programmers, I find myself continually amazed at their ability to utilize this technology to mirror even the most extremely bizarre movements/colors/patterns I can only dream of. As for the future—video and lighting will certainly continue to merge in ways we haven't begun to imagine."
How about the interplay between video and lighting in concerts? Any advice on balancing the two?
"The more critical 'balancing act' comes into play when lighting alongside video projection. It becomes more of a 'surgical' application for the lighting. Last year's Bette Midler Blind Intervention tour was a good example, wherein we had the genius of Olivier Goulet and his team at Geodezik creating stunning images for the show that were being projected on multiple surfaces—much of which were in very close proximity to lighting sources or focus areas… We were constantly adjusting lighting levels and focuses to accommodate and balance with the video imagery. AR Rahman's Jai Ho tour, several years ago, afforded us more freedom to work with projection. We had a much larger space in which to work, thus allowing placement of fixtures that didn't conflict with the projected imagery."
"As far as overall 'interplay between video and lighting,' I would say it is becoming more and more integrated—not just with mapping of fixtures and projectors, but with the codependence of each department upon the other. More often than ever, I am finding myself and the video director or content creator coordinating color and overall cueing between our departments. Of course, the continuing 'battle' comes into play when competing with the LED walls that tend to drive at ever-increasing intensities! Oh well…that's my cue to whine!"
This may be impossible to answer, because you've accomplished so much — but we'll ask it anyway – what do you regard as the highlights of your career?
"I find it difficult to focus on highlights, since I'm blessed to have had some wonderful career experiences. What is a bit more personal for me are the many small 'moments' that stick in my memory, such as:
The many all-night ramblings with Eddie Rabbitt on the overnight bus rides. The same with Loretta Lynn, as we were developing a Vegas show for her while accompanying her on one of her tours. (Loretta also has a hobby of reading palms. She is astoundingly accurate!)"
"Dolly mentioning me to the audience as the lighting designer, but commenting instead on my singing. (I recently saw her in LA, having not seen her in several years, and she asked: 'So, are you singing at all, or are you still doing the lighting "thang"?'). Dolly singing a sad ballad 'Me and Little Andy' about a little girl and her dog, and the pyro cue that was intended for 'Great Balls Of Fire' accidentally going off prematurely during the ballad! Dolly screamed and yelled: 'Oh No! They shot my dog!'…later laughing about it!!"
"Flying with John Denver over Mt. St. Helens, as he piloted his Lear jet at low altitude soon after the eruption; or when making several late-night approaches low over New York City when returning after some of his East Coast shows…Overhearing (during shooting for The Bodyguard) Kevin Costner discussing with Whitney Houston the possibility of singing 'I Will Always Love You' for the film, and wanting so much to step in and mention that I'd already been lighting that song with Dolly for several years."
"Lighting the BeeGees' final TV special ('One Night Only') and then what was sadly to be their final world tour…Hearing Barbra Streisand say 'I trust you'" after several weeks of rehearsals (and ensuing 'discussion' regarding color, etc.) for her return to touring in 1994…Bette Midler's offering of a gift, after getting upset with me for using too much Magenta…It was an art book filled with photos of many wonderful and historic works of art…Her comment upon giving it to me: 'Do you see a common thread here?…NO F-ING PINK!!!' (Followed by lots of laughter!)"
"Then there were the early concerts with Usher: small stage; small band; just a few dancers –MAJOR talent in the making…..we all sensed it. And Madonna's Blond Ambition tour: FOH Sound Engineer Trip Khalaf and I were given free reign to get ourselves from city to city on our own (some great trains, rental cars, etc…). I guess the tour manager was tired of dealing with us and our special 'White Glove Cre'" needs!"
"Michael Jackson's wall of light on the Dangerous tour: He checked in daily during programming to see if the wall of light (actually 350 + ACLs) was installed yet…Once it was in place, he came in to see it; sat on the apron edge with me; felt the intense heat (it actually fully illuminated Munich Stadium); then said: 'Can we have it on the sides too?' Working with Tina Turner (late '70s thru early '80s) to develop and tour her act; so much fun looking for great tunes to cover in her own unique way… Julio Iglesias continually stopping the show to proclaim how good he looked in the large overhead Telescan mirrors."
"Looking back, there was watching my friends and cohorts from the Christy Minstrels emerge as the First Edition: Kenny Rogers, Mike Settle, Terry Williams, and Thelma Camacho/Mary Arnold-Miller."
"Most memorable among the highlights for me, however, are the countless backstage and touring 'co-defendants' with whom I had the honor of sharing the road, the friendships, and the stories that will never cease being special for all of us who shared the experience. It's a 'society' I'm proud to have been a part of. That, quite honestly, is the highlight for me. Among the great techs, there are some amazing programmers who have saved my ass on countless occasions! Many of these folks have gone on to become designers in their own right, or are continuing to create magic for other designers: Butch Allen; Eric Marchwinski; Michael Keller; Nook Schoenfeld; Eric Wade; David Arch; Arnold Serame; Benny Kirkham; Troy Eckerman; Kille Knoble; Warren Flynn; Keith Hoagland; Jesse Blevins; Bud Horowitz; Greg Maltby; Seth Robinson; Greg Hamm;…Oh, the stories we can tell about the 'Hammer-Down Lounge' days!"
Does any project stand out as the most challenging one you ever did?
"It's difficult to single out any one project as being more challenging than the others…Each project has had its own particular challenges—ranging from the actual performer to the complexity of staging or the very stage design itself, not to mention ever-diminishing schedules for programming and rehearsals."
"What does come to mind, however, is a project a few years ago that was challenging due to its mere physical size and surrounding terrain, along with the limited time allowed for setup and prep. This was the live concert and shoot for Andrea Bocelli's Under The Desert Sky. It was staged at Lake Las Vegas, a 32- acre lake that is surrounded by 3600 acres of land and buildings. The 40-piece orchestra and stage was floating off-shore, along with a portion of the audience. The task was to light the performer, the orchestra, the floating audience, the remaining audience on the hill leading down to the shoreline, and all of the buildings and bridge surrounding the immediate area and the opposite shoreline of the lake.
"At the same time, since we only had one night to actually program, I spent most of the week of load in writing cues for the event in the blind, imagining the looks and writing in long hand color and position for the many automated lights and the various fixtures covering the buildings and landscape. These notes were then handed to each of the programmers to give them a jump on the short schedule. (No, we did not have PreVis available to us, let alone the ability to model such a huge area!
"My gaffer was Zack Guthimiller. I mentioned that I wished I could have my usual ground row positions stage right, stage left, and upstage of the main stage. But, of course, there was nothing but water! To my amazement, I walked onto the location on the 4th day of load in, and saw that he had managed to duplicate all three positions by floating trusses on boxes, which were then anchored into position. I had my cherished ground rows!! Unbelievable!!"
Do you ever miss being a singer?
"Yes, I do miss singing. Some regrets; many good memories, but happy to be involved with the music from another perspective."
How would you like to be remembered as a lighting designer?
"I really don't anticipate being remembered as a lighting designer, let alone being remembered at all!! However, if I were to wish for such a thing, I guess it would be as a designer who cared more about illuminating the event than creating one."