Richard Kay Goes Rogue For Alphaville At Whisky A Go Go
Posted on June 27, 2018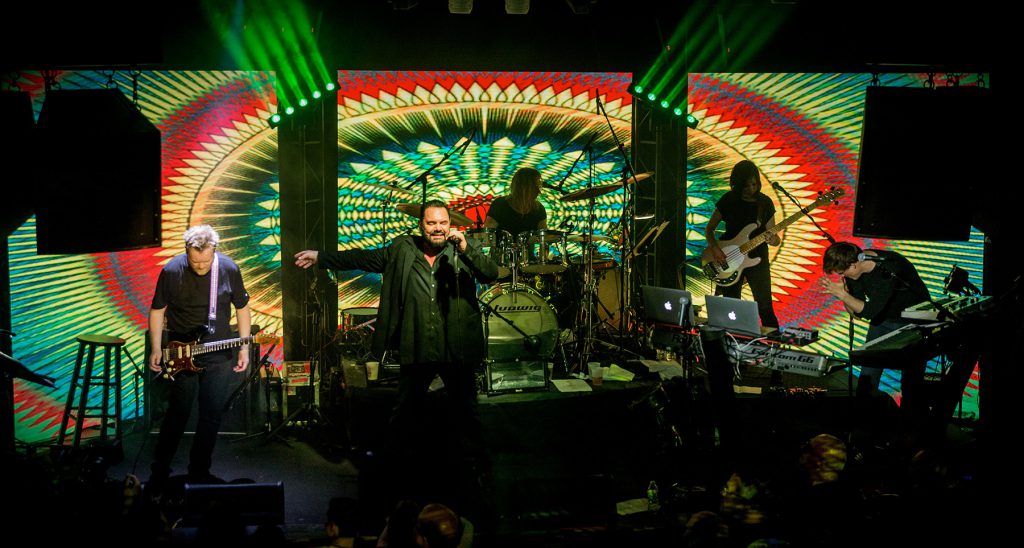 LOS ANGELES – It isn't very often that a live music venue gets inducted into the Rock and Roll Hall of Fame, but then nothing about Whisky a Go Go can be described as "ordinary." Since opening its doors in January 1964, the club on Hollywood's famous Sunset Strip has served as a launching pad for a galaxy of rock legends. At one time, The Doors were the house band here. The Byrds, Buffalo Springfield, Guns N' Roses, Van Halen, Linkin Park, Mötley Crüe, Soundgarden, System Of A Down and many other future stars from every rock genre and era made names for themselves at this 500-capacity venue.
Like many who grew up on rock, the members of German supergroup Alphaville always dreamed of playing at the legendary club. The synth-pop stars, who have multiple Top Ten hits in Europe to their credit, got their wish recently when they journeyed to the US and performed two Whisky a Go Go shows over the Memorial Day Weekend. Supporting their high-energy performance with an endless stream of fresh looks were eight CHAUVET Professional Rogue R1 FX-B LED fixtures.
"This was a dream come true not only for Alphaville, but also for many of their diehard fans in the US," said Richard Kay, who has been with the band as its lighting designer since 1998 and has toured 91 countries with them. "The whole experience was a bit surreal…LA…Hollywood…palm trees, who wouldn't love it? Marian Gold (the band's lead vocalist) always wanted to perform at Whisky a Go Go. We were on tour in the US last year; we all knew about Marian's dream so we did some sniffing, met some people – and presto, here we are!"
Like all dreams, however, Alphaville's Whisky a Go Go appearance required hard work to turn into reality. This was certainly true of Kay's lighting design. "Whisky was very different from the larger venues we typically play at," he said. "Space is at a premium on the stage. I Skyped Raffi Ganounian at Neptune Productions, the producer, to get as much information as I could about the venue and the house rig. What I learned was that the stage here is small, and it's in a corner.
"I had to fit five musicians comfortably on this stage with a fixed drum riser," continued Kay. "Plus, since Alphaville is very video oriented (the group won an Academy Award for a short film it made), we needed to have our entire back wall covered with 3mm video panels, three screens measuring 9'x9'. That also took up some room, so any fixture we added to our floor package had to make sense to justify the space."
Complicating matters for Kay was the 15' trim of the venue's house rig, which limited what he could hang from a floor package. "Luckily, Whisky had just added four CHAUVET DJ Intimidator Spots and some flat spots to the house rig," said Kay. "That served as a good foundation. Then it became a question of which fixtures to add for eye candy? The Rogue FX-Bs were my obvious choice, because I could do so many different things with them without taking up a lot of valuable space. They were my main show fixtures."
Drawing on the infinite pan and tilt rotation of the Rogue R1 FX-B's five individually controlled moving heads, Kay relied on the compact fixture to create "loads of geometric patterns," as well as ripple effects, sweeps and downstage light curtains. Thanks to the output of the fixtures, he was also able to have them serve as blinders.
Kay mounted his eight Rogue R1 FX-B fixtures vertically on two towers that were placed between the three video walls in the rig. He positioned the fixtures at heights from 2'-9' off the deck. "This configuration ensured that I got every band member from head to toe with any lateral sweeps I did," he said. "The pan function is impressive. I first saw the FX-B at a festival in Poland, and I asked the LD to set up some presets for me. It was evident from the first scenes that this fixture was great: lots of clearly defined beams of saturated color. It was a perfect labyrinth of moving beams. End of discussion!"
In addition to creating engaging looks for the live audience at Whisky a Go Go, Kay's design worked well as lighting for the live stream video of the band's performance. "I art directed and created Alphaville's last video for the single 'Heartbreak City,' so I have a basic knowledge of film and camera lighting," he said. "The film crew here was very happy with how things went. For me, I just concentrated on the show, making sure that this great band's appearance at this historic venue was documented in the best light."