Rogues Welcome Pope Francis To Mexico
Posted on February 19, 2016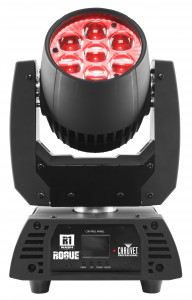 MEXICO CITY – The people of Mexico enthusiastically welcomed Pope Francis to their country with a warm reception that included traditional songs and dances, heartfelt tributes and richly colored light from a collection of 24 Rogue R1 Wash fixtures from CHAUVET Professional. Provided by Mexico City-based Kona Productions, the 15-watt RGBW LED Rogue fixtures were used to accent a variety of performances at Mexico's Papal visit welcoming ceremonies.
"When we were invited to collaborate on this project, a mixture of emotions swirled through us," said Andres Marroquín , Director of Kona Productions. "We were truly honored to participate in receiving a so distinguished and appreciated character for Mexico. At the same time, we also understood the enormous responsibility that was put in our hands."
The welcoming ceremonies for the Pope's visit featured mariachi and folkloric ballet performances of well-known pieces identified with Mexico around the world, including "El Son de la Negra", "El Jarabe Tapatío" and "Cielito Lindo." Colorful light from the Rogues added to the pageantry of the festive presentation.
Kona Productions placed the two dozen Rogue R1 Wash fixtures along two edges of the stage where the dances were performed. "We chose the R1 Wash for its fancy and compact design, which helped to get a clean look," said Marroquín. "The high power, color mixing and motorized zoom of Rogues allowed us to create eye candy for the TV cameras at the event, which was broadcast around the world and really became a big party."
Although the lighting display was woven seamlessly into the performances on stage, the Papal project was not without its challenges for the Kona team. The company's 20-person crew had a very limited time for load in and setup, while also having to operate under very tight onsite security.
"The compact size of the Rogue and its user-friendly features made it very good to work with," said Marroquin. "Other features of the R1 Wash that helped us simplify the configuration are its low power consumption and the ability to be power linked in multiple units. This allowed us to run a single cable through the drain-pipeline with a 6-way socapex connector to feed all the 24 fixtures."
Challenges notwithstanding, neither Marroquin nor anyone else associated with this project could feel anything but a great sense of pride when it was over. A historic visit by a beloved Pope got off to a wonderfully colorful and happy start, thanks in part to a well-planned and well-executed lightshow.