Roosevelt Dsouza Immerses For Gurdas Maan With CHAUVET Professional Color Washing
Posted on October 2, 2019

EDMONTON, CANADA – Punjabi music legend Gurdas Maan is guided by a simple theory when pursuing his art. People, he says, listen to songs "from their hearts, not just their ears." Appreciating this, he makes it his mission to touch the emotional core of his audience, leaving them feeling better about their lives and the world around them.
This spirit was evident as soon as Maan took the stage at The Northern Alberta Jubilee Auditorium on September 22 with his trademark tambourine in hand, an d dressed in traditional Indian gladrags. His audience erupted with an outpouring of affection, and he proceeded to treat them to stirring performances of his classic songs like "Sajna Ve Sajna," and "Heer," while also weaving in inspirational stories and sharing heartfelt emotions.
Underscoring the deeply moving tone of the evening was an immersive Roosevelt Dsouza lightshow that featured 40 Rogue R2 Wash fixtures from CHAUVET Professional.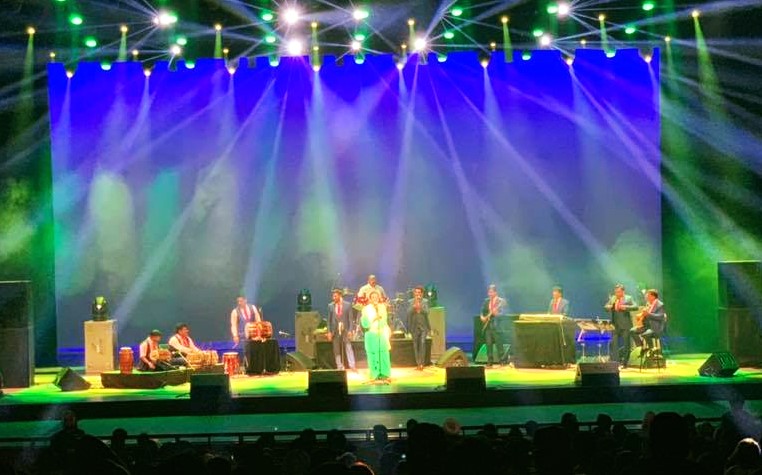 "There are many different moods that run through this show," said Dsouza. "Gurdas Maan is a performer par excellence, as well as a legend. His music is different from the other artists I have worked with. It's more Punjabi folk music. Through his music he talks about the qualities of being a good human being, and also a lot about the upliftment of the girl child. Color washing is very important to reflecting the deep emotional quality of this show."
Arranged on six overhead electrics, the Rogue R2 Wash fixtures provided a broad color palette that Dsouza used to convey different moods on stage. "I have a few color palettes that I use for all my shows, with Congo blue being my favorite," he said. "The color rendering of the Rogue fixtures is very realistic. They played off excellently against the large cyc that we had, and they worked well with the gobo patterns created with our spots."
Adding depth to the color washing were the streaks and specs of white light that Dsouza often mixed in with his rainbow of hues. "Mixing in some white with colors expands your range of looks," he remarked. "I also relied on the Rogues' effects to add depth to my show. The blend of colors and effects created interesting visuals."
Dsouza, who has been touring internationally with Maan for three years, also used the Rogue R2 Wash fixtures for audience washing. Seeing the fans in the crowd is essential to the Punjabi music legend and Bollywood film star, who even after three decades of touring, is as enthusiastic as ever about connecting to people.
"Gurdas Mann is down to earth and always caring," said Dsouza. "Working for him is a pleasure. He leaves everything to us and encourages us to do our best."
On this beautiful September night in Canada, that is exactly what the legend's lighting designer did.