Sugarland Tour Gets Festive Looks From CLLD and CHAUVET Professional
Posted on July 19, 2018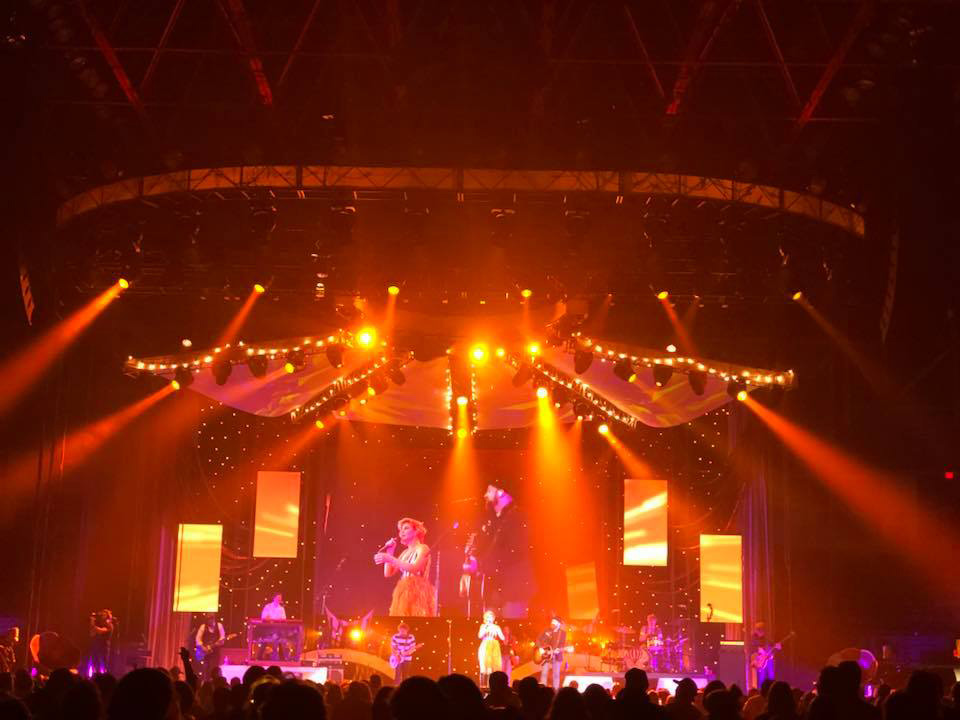 NASHVILLE – It isn't every day that a multi-Grammy winning group with over 15 million album sales to its credit reunites after a five-year hiatus. So, when Jennifer Nettles and Kristian Bush, the duo that is Sugarland, got together to record their new Still The Same album, they pulled out all the stops, even having superstar Taylor Swift do some songwriting and appear in one of their music videos.
Sugarland carried this enthusiasm over to planning the 2018 summer tour in support of their new album. Nettles, who had worked with lighting designer Chris Lisle on her solo tours during the duo's time apart, called on the Nashville designer to come up with some out-of-the-ordinary festive looks for the 48-city tour. Lisle and his team at CLLD, which includes associate designer and programmer Erik Parker, obliged, conveying the excitement of the duo's reunion in light with help from 22 CHAUVET Professional Rogue RH1 Hybrids, supplied by Bandit Lites.
"During an early discussion with the artists, they mentioned they wanted people to feel the stage has transformed into a circus tent," said Parker. "The idea was to take people to a different place as they sat in the audience – a place that many of us enjoyed going to growing up!"
To turn this vision into reality, the CLLD team formed a truss structure to create a "tent frame," which they connect with fabrics to suggest a Big Top Circus look. Through projection video, they are able to re-imagine that Big Top surface throughout the show.
"We bring in the industrial look of ropes hanging as you would in a circus and tie it all together with video screens that showcase circus posters," said Parker. "As the show builds, the environment transforms a little, but the theme of being in a circus never changes. Our entire lighting team of Daniel Rehbein, Cody Cheatham, Chris Noll, and Savannah Harden, as well as each other department under the leadership of Production Manager Mark Miles, deserve a lot of credit for making it all work seamlessly."
Adding critically important color, as well as a sense of excitement and glamour, to the visuals on stage are the variety of looks that the CLLD team is creating with its Rogue RH1 Hybrid fixtures. "We arrange the RH1s in groups to add some beams and ACL fans through the rig," said Parker. "There is one grouping of Rogues flown mid-stage that brings together the five 'spokes' that create the roof. We also have two other groupings of Rogues on half-circle upstage trusses that we use for aerial effects.
"The Rogues make the tent design come alive by creating a very wide variety of colorful eye candy," continued Parker. "They are bright, and we use them to produce many looks by themselves. The breakups and prisms, as well as the tight beams, give us a lot of diversity."
Drawing on the Rogue RH1 Hybrid's beam capacities, the CLLD team uses it to create dynamic crossing patterns of light during the show's higher energy songs. At other times the fixture is used as a spot to highlight individual performers. Its color rendering capabilities also come into play covering the stage with different hues to reflect different moods.
"The powerful looks and saturated colors we get from our lighting provide a good balance to our distinct Big Top scenic elements," said Parker. "We're very happy with how this whole thing came together; we're creating the fun-filled look we were after, while still providing some exciting lighting."